Everything You Should Know About What's Going On In St. Louis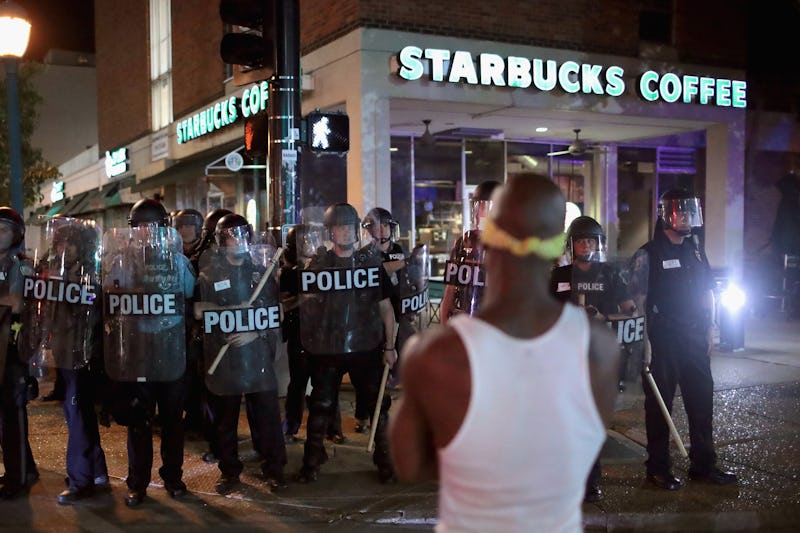 Scott Olson/Getty Images News/Getty Images
St. Louis, the sixth-most segregated city in America, is fighting back against its local government in the third straight day of protests. If you're just catching up on this news story, there's a lot to break down — here's what you need to know about the St. Louis police protests.
The protests began on Friday in response to the acquittal of former St. Louis police officer Jason Stockley, who fatally shot Anthony Lamar Smith in December 2011 after a high speed chase. The officers tried to arrest Smith for an alleged drug bust, but Smith was able to drive away. Stockley and his partner Brian Bianchi began to follow Smith, and eventually disabled his car by crashing their police SUV into it. Stockley exited his car and shot the 24-year-old victim five times through the driver's side window. He then ran back to his police vehicle and rummaged through a bag before returning to Smith's car.
Two key facts in the case indicated early on that the prosecution might be successful in charging Stockley. First, the gun that Smith had supposedly threatened Stockley with did not have its alleged owner's DNA on it, only Stockley's. Second, according to dashcam video, Stockley said that he would "kill this motherf***er" before shooting Smith. A final confounding factor: the St. Louis Board of Police Commissioners paid a $900,000 settlement to Smith's 1-year-old daughter for compensation.
According to the court record, Stockley was acquitted in part because Judge Timothy Wilson simply assumed Smith must have had a gun on him. "An urban heroin dealer not in possession of a firearm would be an anomaly," Wilson wrote in the final ruling on the case.
Since Stockley's acquittal, protesters have taken to the streets to argued against the perceived injustice. According to St. Louis Mayor Lyda Krewson, "the vast majority of protesters were nonviolent," but at least 100 people have been taken into custody. Protesters reportedly threw rocks at Mayor Krewson's house, and several police officers were injured in scuffles with protesters. Many local businesses have been vandalized as well, adding to the economic losses of the protests.
However, the protesters have not been the sole aggressors in this conflict. Several disturbing videos and allegations regarding the behavior the St. Louis P.D. during these protests have also come to light, further aggravating the public perception of the police.
One video depicted an older woman being beaten to the ground and trampled by police officers, then left lying semi-conscious on the ground without help for several moments. A security camera also caught a police car suddenly backing up toward a street crowded with protesters — the exact same way protester Heather Heyer was killed by a white supremacist in Charlottesville last month. St. Louis Post Dispatch reporter David Carson reported via Twitter that the police chanted "Whose Streets, Our Streets" after making several arrests. It's troubling behavior for an institution that's facing widespread public allegations of civil overreach.
St. Louis notoriously struggles with segregation and institutionalized racism, from its public school system to it police force. It's the birthplace of the Black Lives Matter movement, which sparked in the city's Ferguson suburb and eclipsed the region for months. This is a community that has suffered from extreme racial tensions for decades, and as it finally comes to a boiling point, there's hope for real change.
These protests won't reverse Stockley's verdict, but they're a humbling reminder not to forget about all the social justice issues that need attention, even when they temporarily fall out of the spotlight.