Starbucks' New Maple Pecan Latte Is Going To Be Your Fall Go-To Drink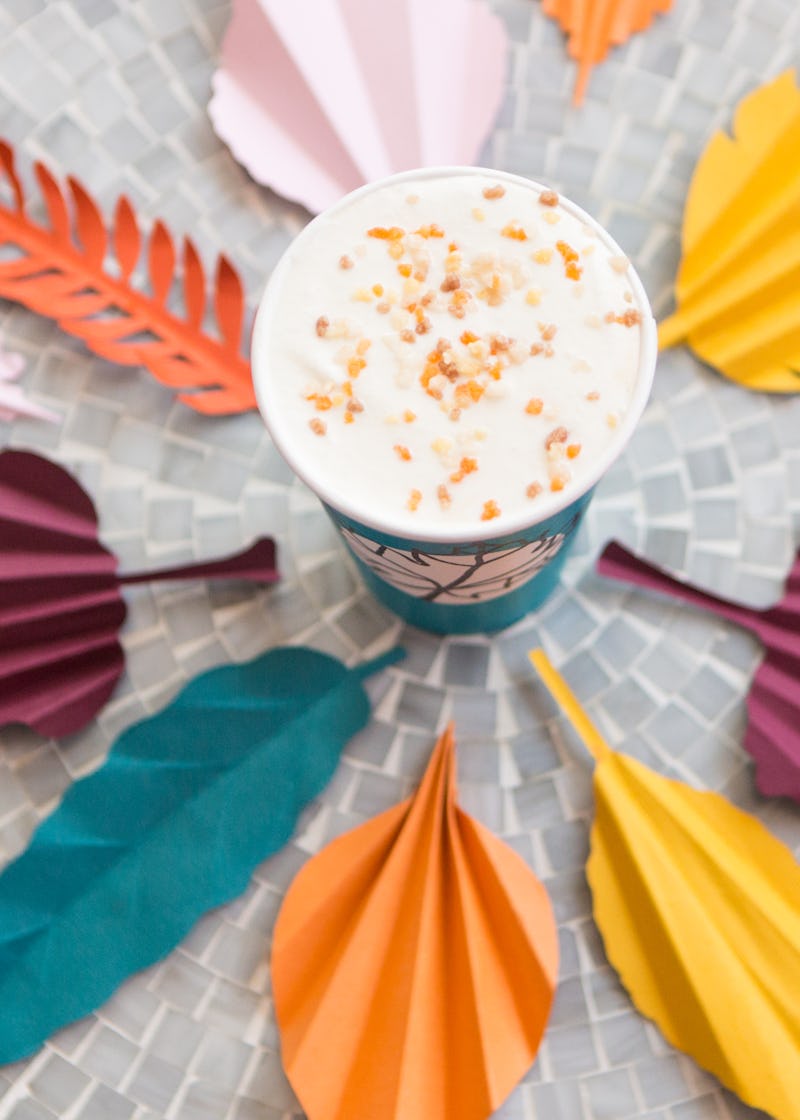 Starbucks
One surefire way to tell fall is coming is to pay attention to the little additions to Starbucks' menu as the year carries on — often times, they'll reflect the change of seasons better than the actual weather does. And this fall, things are no different: Capitalizing off of the popularity (and the pure deliciousness) of the Pumpkin Spice Latté, Starbucks is releasing the new Maple Pecan Latté — or the "MPL" — on Sept. 22 to celebrate the first day of fall. So, with the release date approaching quick, you're definitely going to want know what's in Starbucks' Maple Pecan Latté, because it's worth taking a break from that Pumpkin Spice life for. It's new on the menu and very much deserving of your attention.
And honestly, I think both maple and pecan are totally underrated when we talk about different members of the fall flavor line up. Maple is such a comforting and cozy flavor, and it's so tied to breakfast vibes, so it's perfectly natural that it would go well with morning coffee. It's like eating pancakes, but in a cup, with smooth frothy milk and little apple pumpkin sugar crystals! Additionally, I don't think people care enough about pecans. We see them in pies at the Thanksgiving table, but how often to we eat them, on purpose, throughout the rest of the year? Not enough, my friends. It's time to give pecans the love they deserve, especially because they really make this latté outrageously tasty.
Oh, and if you're thinking that a maple latté sounds familiar, that's because a different version of it was on the menu at Starbucks before — no, you're not going crazy. Starbucks tested out the Golden Maple Latte back in 2014 (only in Cleveland and Orlando) and have had a few other maple beverages on their international menus. They've also had maple bakery items on the menu — because duh, maple is one of the best sweeteners.
OK, but back to the Maple Pecan Latté — or the MPL, as you should totally call it — here's how it's made. First, your barista will brew up an espresso shot with their classic roast, because yes, you can get your caffeine on and your taste on at the same time. Next, they add steamed milk, but not just any steamed milk. This milk has been infused with maple, brown butter, and pecan flavoring to evoke all the fall flavors in one delicious pour. Then, they add some autumnal-themed sugar crystal toppings, because for one, they add texture and flavor, and two, they bring the latte to that next level Instagram-worthy place that you know you want it to be at.
The Starbucks Maple Pecan Latté is available in the U.S. beginning Friday, Sept. 22, while supplies last — aka, basically as long as the PSL is available. Which, if you know Starbucks, you know that it won't be around for too long. They sure like to make their menu special by only giving each drink a little bit of time to shine. And yes, sure, they'll definitely replace it with something that's equally as good, if not better, and more on theme for the time of year — but man, it's hard to get so attached to these drinks and then have to deal with their absence from the menu.
But for now, it's on the menu. So go ahead, take a chance and go for the Maple Pecan Latté this morning. Pumpkin Spice won't take it personally, and you won't regret branching out and trying something new. It might just be that perfect thing to change your week up just a bit.