What's In A Starbucks Tuxedo Hot Chocolate?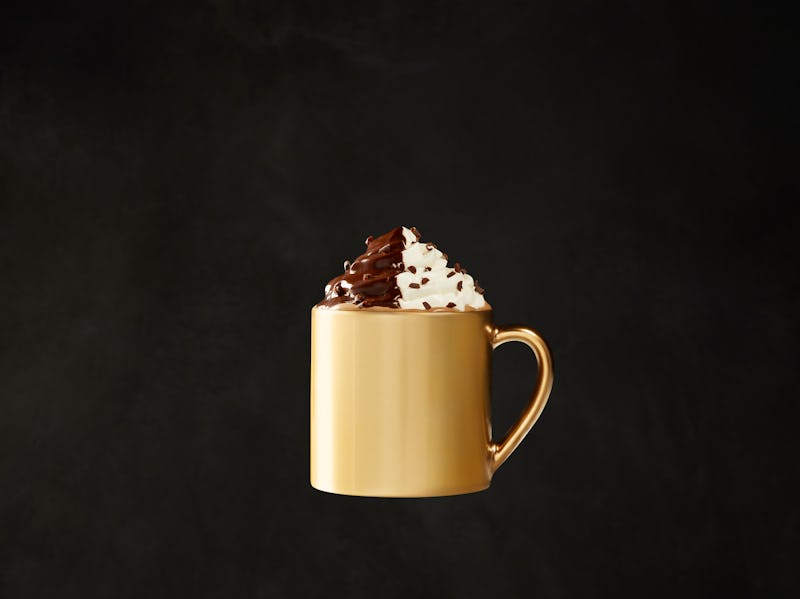 Starbucks
The holidays are in full swing, and that obviously means consuming far too much sugar. But if you ran out of fruitcake and cookies, I have good news. On Monday, December 26, a new trio of Tuxedo drinks became available at Starbucks, and they'll make any self-respecting chocoholic swoon. So what's in a Starbucks Tuxedo Hot Chocolate? The drink is perfect for the end of a chilly winter day — unlike the other two Tuxedo drinks, it's virtually caffeine-free.
The Tuxedo Collection might sound like something leftover from New York Fashion Week, but it's actually the title for Starbucks' newest holiday flavor. Tuxedo drinks come in three forms: Mocha, Frappuccino, and Hot Chocolate. As you've probably guessed by now, the flavor gets its name from the combination of white mocha and regular mocha sauces that mimic a classic black and white tuxedo. The drink is topped with whipped cream, half of which is doused in chocolate sauce to continue the black-and-white theme.
Like the Fruitcake Frappuccino released earlier this month, the Tuxedo beverages will only be available for a short time: Dec. 26 to January 1. So if you've been making grabby hands at the screen the entire time you were reading this article, you'll probably want to get yourself to Starbucks before the Tuxedo collection disappears.
Without further ado, allow me to break down what goes into a Tuxedo Hot Chocolate. Here's what to expect from the coffee-free option.