ColourPop's Glittery New NYE Collection Was Made For Lasting Past Midnight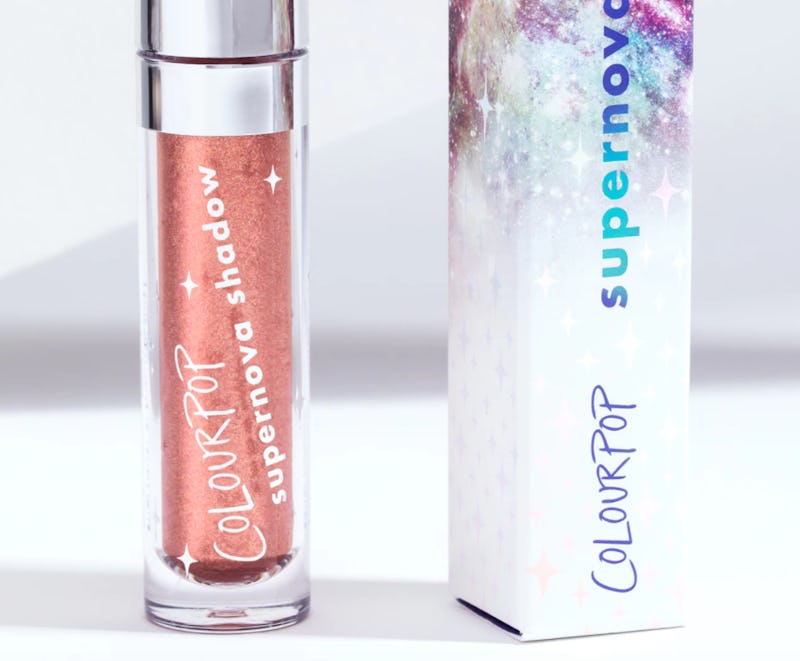 Courtesy of ColourPop
New Year's Eve is, by nature, a late night celebration. Therefore, you want your makeup to last well past midnight and into the wee hours of the morning. These party-proof ColourPop eyeshadows and lippies will serve as your official New Year's Eve makeup, since they will keep up with you and your festivities.
Six new Super Shock Eyeshadows, which are $5 each and come in a powder formula packaged in circular discs, and three Supernova Shadows, which are $7 a piece and come in tubes with wands, are available via the brand's site right now.
Along with these launches, the ColourPop x iluvsarahii Lip Trio arrives today. The bundle is $15, while you can purchase them a la carte for $6 per tube.
With these glitzy launches, you can effectively build your New Year's Eve makeup wardrobe without breaking the bank. Plus, ColourPop's shades are so on trend that you will be able to wear them through the year and until you hit pan. It's never too early to start planning ahead for your party looks. With all the chaos of the holiday season, it'll be New Year's Eve before you know it.
Here's the rundown of this "unofficial" New Year's Eve makeup collection from ColourPop.
The lippies are winter-appropriate rose tones. From left to right, there's Coquette, a rich merlot in the Ultra Metallic finish; Softii, a deep rose in the Ultra Matte texture; and Atole, an Ultra Metallic Gloss in a gold and pink tone.
See how these lippie shades pop against different skin tones? They are just right for the cold weather months.
ColourPop x iluvsarahii Lip Trio, $15, Colourpop
You could totally layer these babies for effect and still have plenty of cash leftover to buy a glittery 2018 headband.
Mothership Supernova Shadow, $7, Colourpop
The Supernovas are metallic, high-shine, and glitter-loaded shadows that are infused with water and are long-wearing. They can be used as a base, as a glittery accent, or as a foil. This is Mothership, a blackened teal dosed with silver glitter.
Running in Orbits Supernova Shadow, $7, Colourpop
This warm taupe with blue glitter shade will light up the room, your party, and your eyes.
UF-Woah Supernova Shadow, $7, Colourpop
This beautiful, icy rose with blue glitter will crush it as an accent shade and so much more. If you use it as a base, it will punch up whatever your layer over top.
That shimmery, liquid metal finish is so ace.
A Little Quarky Super Shock Shadow, $5, Colourpop
These NYE-ready Super Shocks are of the Ultra Glitter formulation. ALQ is a peachy gold with blue and silver glitter. Pop in the inner corners of your eyes or layer over black winged liner for that unexpected party effect.
Cosmic Charge Super Shock Shadow, $5, Colourpop
This warm taupe is laced with blue glitter and would work wonders as an all over wash on the lids.
Chromoscope Super Shock Eyeshadow, $5, Colourpop
This merlot shade, which is flecked with gold, would pair perfectly with the mulled wine hair trend.
Helio, Goodbye Super Shock Eyeshadow, $5, Colourpop
Get your copper on with this bangin' shade. It will layer wonderfully with the other Super Shocks in the bunch.
Set to Stun Super Shock Eyeshadow, $5, Colourpop
This icy rose shade boasts blue glitter, so your peepers will be pretty and high impact.
Lit Year Super Shock Eyeshadow, $5, Colourpop
A pop of teal along the lower lashline will make eyes poppity pop.
This set of swatches of the New Year's Super Shocks should provide some inspo on how to wear them while properly welcoming in 2018. Happy New Year.