Ellen DeGeneres Is Launching The CUTEST Clothing Line — At Walmart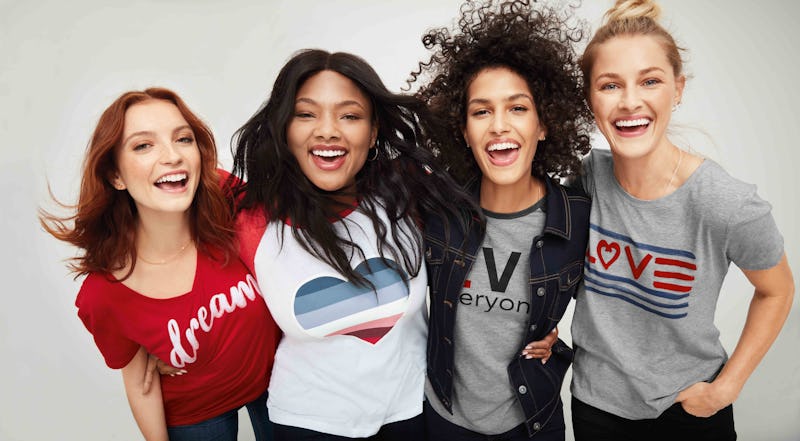 Courtesy of EV1/Walmart
Walmart is known as a place to grab all of your basics — detergent, shampoo, TVs, and more. But the retailer has long been working to establish itself as a beauty and fashion destination. Walmart and Ellen DeGeneres have launched EV1 (offers sizes XS to XXXL), an inclusive, affordable, adorable, and incredibly wearable women's fashion brand. Everything is $30 or less.
With brands like Hard Candy and Flower Beauty lining its self-care shelves, the Lord & Taylor Premium Brands Shop, and now EV1, Walmart is committed to these categories and customer experiences.
Meanwhile, the lovable TV host and comedian is known for her passion for sneakers and the EV1 collection is full of comfy, cozy, and cute pieces that complement any pair of kicks and more. Yes, sneaks are indeed a part of the offerings because duh! All of the EV1 items are meant to be mixed and matched and avail themselves of so many styling options.
EV1 features 60 pieces — everything from jeans to leggings to jackets to tees to accessories to shoes. Denim comprises the core of the collection, since the retailer and DeGeneres wanted to create something that any and every one could wear without sacrificing an ounce of style.
EV1 arrives on Sept. 10 and the entire assortment is available at Walmart.com, with select pieces sold in stores. Additional items will drop each season.
DeGeneres effectively summed up EV1 by saying, "Adorableness. Is that a word? The biggest inspiration was actually inclusiveness. That's definitely a word. EV1 promotes kindness and love and diversity."
She continues, "We wanted it to appeal and be available to as many people as possible. Plus, it really is adorable."
She's not kidding!
Another awesome thing about EV1? It also takes inspo from the host's own optimistic outlook. Therefore, the collection includes shirts boasting positive phrases.
EV1, whose name announces that it is a brand for everyone, arrives just in time to give your fall wardrobe a serious boost o' cute. It certainly furthers Walmart's rep as a fast fashion hub. DeGeneres quips, "EV1 is a brand for everyone. It's got the 'EV' for every and the '1' for one. We could've called it 'There's something here for literally every person' but EV1 is catchier." Indeed, EV1 is gonna love it!
DeGeneres, who dubs herself "Chief Design Enthusiast and Comfty Content Reviewer" for the brand, is pumped about the line, saying, "It's great quality, it's affordable, and it's right on trend." Those are the things most fashionistas are looking for.
As for her favorite piece? "That's hard because I love everything in this collection," she says emphatically. "I love the denim Love jacket and the Love t-shirt because of its message of love. And I love the Alex vintage jean because it's comfortable and relaxed and goes well with anything, like a fine wine or a great talk show host."
#Truth!
Below are some key pieces to shop.
1. The Denim Jacket
2. Tees
3. Sock It To Me
4. Kicks
5. Skinny Jeans
You can build a full outfit with EV1 pieces or you can grab pieces to build around or to serve as accents.
There is a lot to love about EV1.
Go forth and build your fall wardrobe without breaking the bank thanks to EV1.