This Lisa Frank Makeup Collection Will Transport You To The '90s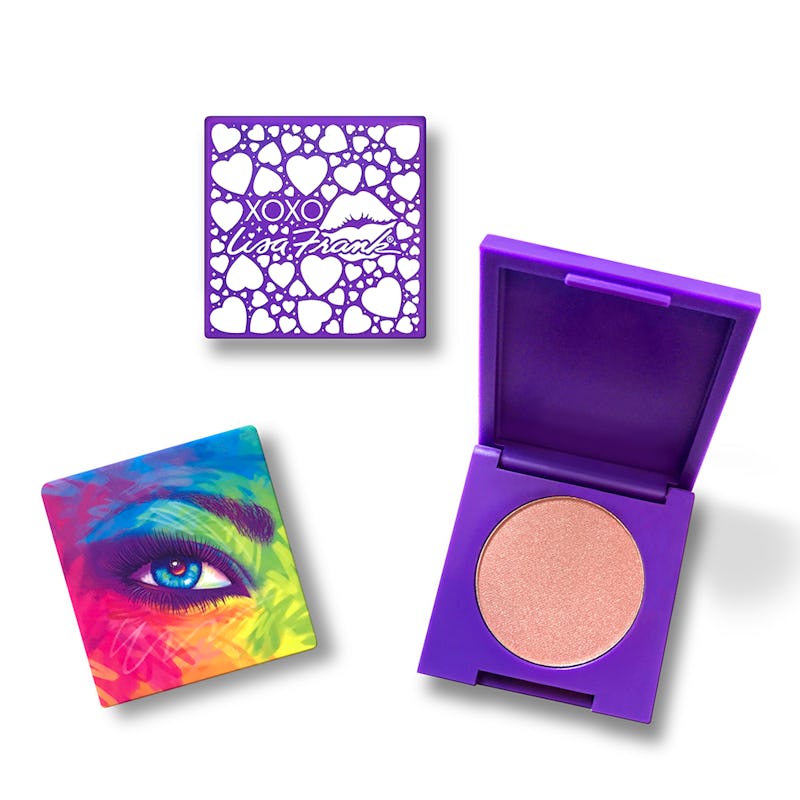 Courtesy of Glamour Dolls
Your inner '90s child is about to be seriously shook. There's a new Lisa Frank makeup collection, and it will give you all of the nostalgic feels. The collection by indie cosmetics company Glamour Dolls is whimsical, bright, and filled with the iconic animal prints Lisa Frank is known for. The collection will also give you gloriously bronzed skin and pink dusted eyelids, thanks to the products themselves.
The initial installment of Lisa Frank x Glamour Dolls, which released in March, featured beautiful (and somewhat sentimental) brushes. The new collab boasts actual color cosmetics, which arrive on Friday, Nov. 10. If you want to take a second to program a reminder about the availability date in your phone, have at it.
This edition of LF x GD is small, but focused on the essentials. It includes a matte bronzer in the shade Bitten & Bronzed, which features to-die-for packaging. Lisa Frank x Glamour Dolls Version 2.0 also includes a single serve eyeshadow in Picnic, which is a shimmery and peachy pink that will work as a wash of color on the lids or as a base for a smoky eye. It's such a universally wearable shade that will acclimate itself with your previously existing eyeshadow wardrobe.
The brands previously released an angled blush brush and a blending brush modeled after Frank's iconic style. These Lisa Frank x Glamour Dolls brushes are ace because the handles are defined by the signature Lisa Frank graphics and unicorns. And the ombré bristles ain't so bad, either.
It's important to mention that Glamour Dolls products are all under $7. So both your '90s self and your bank account will be stoked at the outrageous affordability.
Matte Bronzer in Bitten & Bronzed, $5, Glamour Dolls Makeup
You can appreciate the matte texture of this true bronze compact. No shimmer means a deeper, sharper contour.
The rainbow-speckled tiger on the bronzer box is too cute. Are you already thinking of ways to repurpose the box rather than recycling it? After all, it's too adorbs to toss.
The compact itself is delightfully Lisa Frank. If you whip this out for a touch up, you can pretty much expect your peers to reminisce about their favorite Lisa Frank-decorated memories from their youth.
Lastly, the all-important swatches. All of these elements will have you pulling out your credit card to scoop up every piece.
Single Eyeshadow in Picnic, $7, Glamour Dolls Makeup
What a perfect shade of pink for your lids or for your brow bone highlight.
This packaging also begs to be reused in some creative and clever way. It's so Lisa Frank, but with a bold beauty upgrade.
Hearts and lips adorn the reverse side of the compact. Lisa Frank imagery is so iconic and instantly recognizable, especially on these products.
Once more, with feeling! The new Lisa Frank x Glamour Dolls cosmetics will no doubt fly off the digital shelves. So if these products speak to the you, don't delay in snapping some up, especially given the low price. And maybe grab a brush along the way...
Angled Blush Brush, $5, Glamour Dolls Makeup
It's all about the details. The unicorns on the handle are a most excellent companion to the ombré pink and white bristles.
Blending Brush, $5, Glamour Dolls Makeup
From the graphics to the pink-dipped hairs, this eyeshadow brush is a makeup magic wand on multiple levels. The fibers are synthetic and cruelty-free, so they are as conscientious as they are cute.
The Lisa Frank x Glamour Dolls brushes have met their product match with the upcoming bronzer and eyeshadow launches. Let's face it, you can never have too many rainbows.