This Eyeshadow Palette Was Made For Cat Lovers & You Can Buy It At Any Drugstore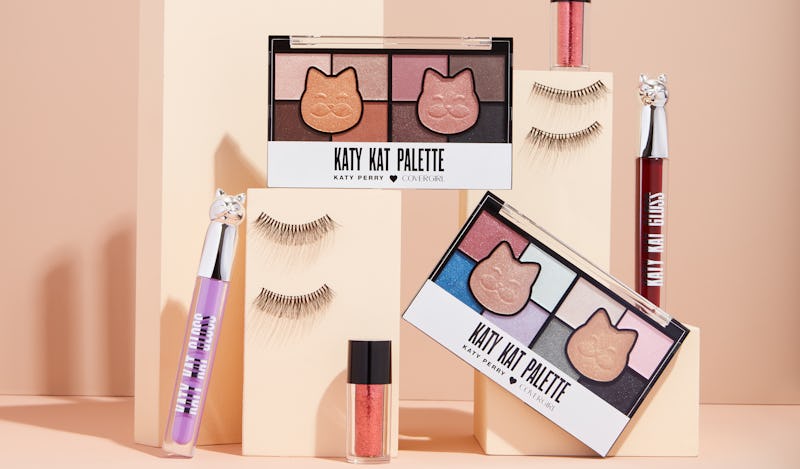 Covergirl
Move over unicorns and mermaids, because this singer is single-handedly bringing a new animal into the mix. Katy Perry's Covergirl Katy Kat Wink Collection is filled with quirky packaging a bold colors that will have your ears perking up at first glance. There's brand new lip formulas, lashes, and a brand new palette that will make cat-lovers purr with joy.
The Katy Kat beauty line is nothing new. The singer first teamed up with Covergirl in 2016 and now it's back with bolder colors, new formulas, and even quirkier products, if you can believe it. As teased earlier in the year, glosses are now included in the line along with mattes and bullet-shaped lippies. There's also two super affordable eyeshadow palettes and brand new lash creations. Plus a little bit of glitter to make for the ultimate shimmer lip.
All of the items will make you remember how adorable cats are. The glosses has feline-looking caps, the palette has an entire animal-shaped pan, and the glitter, well, it's just there to make the line that much better. When you see the entire collection your inner child will make you want every single item. Cats are officially back, my friends, so get your wallet ready.
The cuteness is this collection is on another level. Katy Perry and Covergirl have done an incredible job of making this collection the perfect mix of quirky, cute, and completely practical. The Katy Kat Palettes have ten different shades in them and a giant cat-shaped pan in the middle. There's the "Hot Cat" and "Cool Cat," so you can choose between your personal favorites. Although you're going to want to stock up on both of them after seeing how adorable they are.
After teasing a new lip formula, the brand did not disappoint. The Katy Kat Glam Kit comes with a high pigmented and moisturizing gloss with a loose glitter to make any look a little extra. You can use the loose pigment on your eyes as well, making it super versatile. Not to mention that there are 12 different shades to choose from.
Last, but definitely not least, there are brand new lash styles to choose from as well. Each pair comes with its own set of lash glue, making it super easy to take with you no matter where you're getting ready.
If all of that sounded great, you're going to freak when you see the price. Every single item is available at the drugstore for drugstore prices. You can shop the collection wherever Covergirl is sold and stocking up on every single item won't cost you. The lashes are only $6.99, lipsticks are $7.99, and the eyeshadow palettes are $10.99. That makes it easy to stock up on all the goodies that your little cat-loving heart desires.
The price is great, because it will be hard for you to decide on just a few items. Whether you're into classic colors like pinks and reds or are looking to stock up on spring shades of lilac and navy blue, you truly can have it all. Not to mention you'll have the option of glitter to add to the top.
The shadows are the same way. One palette has cool colors like blues and pastel pinks, which is perfect for the bold color lovers out there. Or you can stick with classic pins and browns. Basically, you can completely convert your makeup bag from winter to spring with just one haul.
The entire collection is available right now at the drugstore. So put on your collars, grab your wallets, and go get to shopping. Because a collection this good won't be around for long.