What's In Lush's Mother's Day Collection? The 15 Products Celebrate Strong Women Everywhere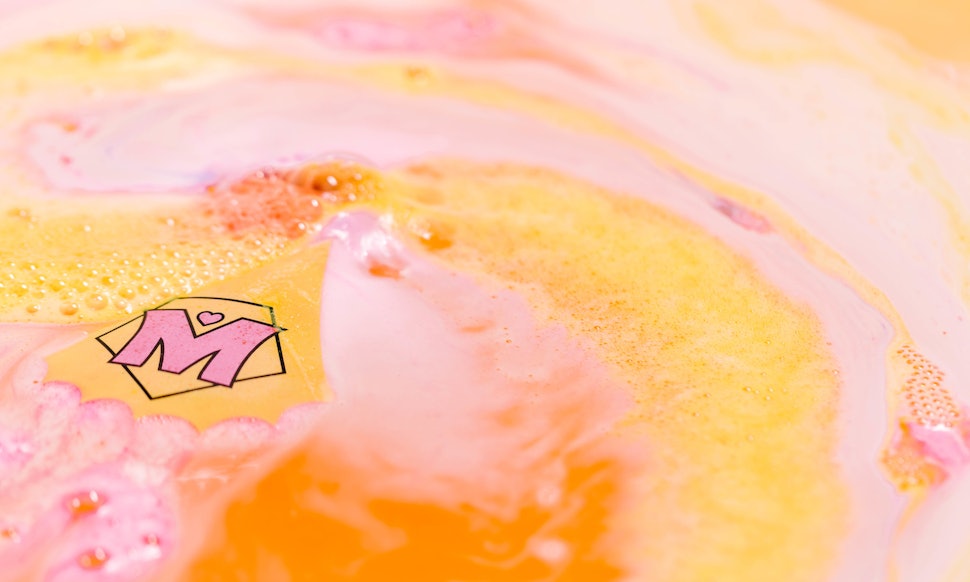 Courtesy of Lush Cosmetics
Leave it to Lush to take a holiday like Mother's Day, which celebrates strong women, and make it even better. And we're not just talking about the skin-pampering, body-loving, and sense-stimulating products that comprise the new Lush Mother's Day 2018 Collection. Those are pretty —and customarily— amazing, though. But the 15 products in Lush's Mother's Day range celebrate all of the strong women in your life.
The products honor women of all ages — mothers, sisters, daughters, friends, and beyond — with their details.
Like Beyonce said, girls run the world! The collection includes the company's signature Bath Bombs, Bubbleroons, soaps, massage bars, and shower gels, most of which are packaging-free.
Everything smells yummier than a bakery or a garden and will add a dose of pretty, spring-ready colors to the user's shower or bath.
The Lush Mother's Day collection will transform bathrooms into spa-like sanctuaries. The items are as fragrant as they are visually appealing.
Self-care routines will take on a whole new timbre and will remind you to celebrate yourself as a strong woman. You can also gift one, two or six of these products to the strong women in your life. The range is an easy, affordable, and thoughtful way to let them know you love, respect, and adore them and their strength.
1. Incredible Mom Bath Bomb
Moms are the superheroes of our lives. This zesty, mask-wearing bath bomb, which features bergamot and ylang ylang, will turn her tub into fragrant sanctuary.
Buy Now
2. Mom In A Spin Reusable Bubble Bar
Pink water. Fluffy bubbles. A lavender and tonka scent. Multiple uses. Your mother will totally love this reusable bath treat. Notice how it spells out "Mom" with a heart. Aw!
Buy Now
3. Antiope Naked Shower Gel
Here's a simple but effective way to repay the strong women in your life who've lifted your spirits at some point or other. This deep-cleansing, Amazonian clay shower gel boasts Brazilian orange oil, which will in turn awaken her senses and smooth her skin.
Buy Now
4. Rosebud Soap
Your mom and her skin will love you for gifting them with this mega moisturizing soap, which is comprised of extra virgin olive and coconut oils and fair trade organic cocoa butter. It also has a floral scent. Ah!
Buy Now
5. Madame President Bath Bomb
The future is female! Hail to the chief with this fizzy, pink, and blue tub treat.
Buy Now
6. Mother of Pearl Marbled Bubbleroon
This jasmine-scented bubbler offers the ultimate bath assist. It's almost too pretty to use. But its best qualities are the fluffy, intoxicating bubbles that are released when you crumble it under the running water.
Buy Now
7. Mom, Look What I Made For You Bath Bomb
Who wouldn't want to sink into a sweet soak courtesy of this bomb? It's made of coconut milk powder, almond essential oil, cocoa absolute, coconut blossom nectar, and chocolate extract. What a sugary, soothing experience.
Buy Now
8. Baa Bar Bubble Bar
It's alway exhilarating to take a dip after a long, exhausting day! Baa Bar will lull users into a dozy state, since it smells like Lush's Sleepy Body Lotion. It'll take the edge off, prep you for a snooze, and soften skin at all once. That's a perfect storm product.
Buy Now
9. Lemon Zest Soap
This sassy soap will stimulate all your senses. Scrub a dub!
Buy Now
10. Purple Drain Bubbleroon
Who needs "Purple Rain" when you can slip into the tub, indulge in warming clove bud, black pepper, and peppermint-scented bubbles, and be left with a purple drain? Get it?!
Buy Now
11. Purple Loosestrife Soap
A floral soap is always a solid gift for the No. 1 lady in your life. She'll think of you every time she lathers up.
Buy Now
12. Citrus Are Doing It For Themselves Bubbleroon
Bubbleroons are essentially cakes for the bath. This is a pretty tub pastry.
Buy Now
13. Raspberry Milkshake Soap
Milkshakes are yummy. But this bar soap, boasting Sicilian lemon oil, sweet vanilla, and fruity davana oil, is the yummiest. Skin will drink it up.
Buy Now
14. Chamomile Lawn Soap
Suns up, suds up with this soothing, garden-like soap.
Buy Now
15. Honey Bear Massage Bar
It's Mama Bear in massage bar form. The decadent mix of honey, vanilla absolute, vegan dark chocolate, and tonka absolute offers sweet relaxation, along with the softest, most skin-conditioning ingredients.
Buy Now
Even the strongest people in your life need some relaxing downtime.
Lush's Mother Days collection is full of fluffy, fragrant, and fun products to enhance that endeavor.