MAC's New Snowball Collection Will Make You Feel Like A Real Life Queen Elsa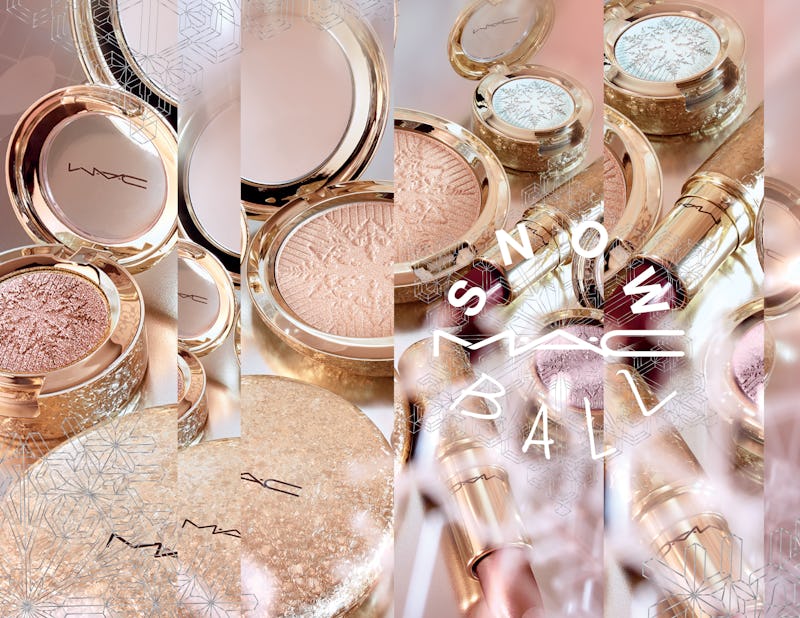 Courtesy MAC Cosmetics
It might only be October, but the holidays are in full swing. Tons of brands have already launched their winter collections, and MAC just made your shopping list a little longer. MAC Cosmetics' Snowball Collection is made for all the real life snow queens out there. The line of singles and sets is glittery, sleek, and has everything you could possibly need to to get in the holiday spirit. The only catch it that it won't be around for that long.
There's a fine line between getting your makeup bag ready for the holidays and walking around looking like a living disco ball. MAC's Snowball Collection is the perfect in-between. It has all the glitter you can possibly imagine, but in the most wearable way. From glittery shadows to metallic, foiled gold packaging, everything about the Snowball Collection scream holidays — except for the release date.
According to the press release, the MAC Collection will only be available from Oct. 19 to Nov. 30. That's right. The perfect winter makeup won't actually be here for the holidays. So if you want your dose of holiday spirit, you'll have to plan a little early.
Everything from the packaging to the stunning shades looks like they came right out of Frozen. The shimmer is high, the feel is elegant, and you'll instantly be in the holiday spirt with just one swatch.
As gorgeous as it is, there is a whole lot to take in. The collection has 16 single products including highlighters, lipsticks, and eyeshadows. On top of that, there are also 12 sets to choose from. That's a whole lot of sparkle, my friends.
Since the collection won't be available for that long, you should start making your list now. Here's a look at every item in the collection, so you don't miss a single thing.
Single Shadows
Extra Dimension Eye Shadow, $20 Each, MAC Cosmetics
The collection has five different shadows to choose from. Each one is shimmery and imprinted with a snowflake on it. These might not be the bright pops of color that make a statement, but they're the perfect way to get ready for winter.
2. Brush Kits
Snowball Brush Kit in I'm Glistening, $50, MAC Cosmetics
Does it get any more festive than this? That's a rhetorical question. The five-piece brush set comes in the classic winter white and silver, so you can color coordinate your tools to match the rest of you holiday vibes.
3. Highlighters
Highlighters, $34 Each, MAC Cosmetics
Of course, no holiday collection would be complete without some cheek shine.
4. Eye & Lip Kit
There's a stunning rose gold eye and lip kit, and a funky purple one. Add to that a classic black glitter liner, and you'll be completely ready for an holiday occasion.
5. Lashes
Lashes, $17 Each, MAC Cosmetics
MAC thought of all the details in this collection. Because if you're going to have shimmer on your eyes, lips, and cheek bones, you might as well add a little extra glam to your lashes.
6. Eye Set
Get the ultimate eye set and the perfect little winter bag to go with it. The kit comes with a choice of black or brown shadows.
7. Eyeshadow Palette
Eyeshadow Palettes, $30, Each, MAC Cosmetics
If the single shadows aren't enough, you can splurge on the ultimate winter eye palette.
8. Single Lipsticks
The six single lipsticks in the collection have all their neutrals and pops of color that you could need to last you all season long.
9. Lip Bag
Snow Ball Lip Bags, $40 Each, MAC Cosmetics
Looking for the perfect red lip? Look no further. You'll get a matching liner, lipstick, and gloss. This collection also comes in a neutral shade option.
10. Mascara Kit
There's even something for the mascara lovers out there.
11. Mini Brush Set
Mini Brush Set, $30, Sephora
If you're doing some traveling this season, this is the perfect way to take the holiday spirit with you.
12. Mini Glitter Pigments
Mini Glitter Pigment Sets, $30 Each, MAC Cosmetics
These pigments are all you need to stay merry and bright — at least on the eyes.
13. Mini Lipglosses
Mini Lipgloss Sets, $30 Each, MAC Cosmetics
This pink is definitely on-point for the holiday season. Especially paired with the wintery glitter shades.
14. Mini Lipstick Kit
Mini Lipstick Sets, $30 Each, MAC Cosmetics
This is one of my favorites in the collection. There are four different mini sets to choose from. Because how often do you go through an entire lipstick?
15. Shadescents
A matching lipstick and scent? I hope you're on the nice list this year.
16. Mini Lipstick Set
Last but definitely not least is the 12-shade mini lipstick set. Woah.