What's In Nubian Skin's New Shoe Collection?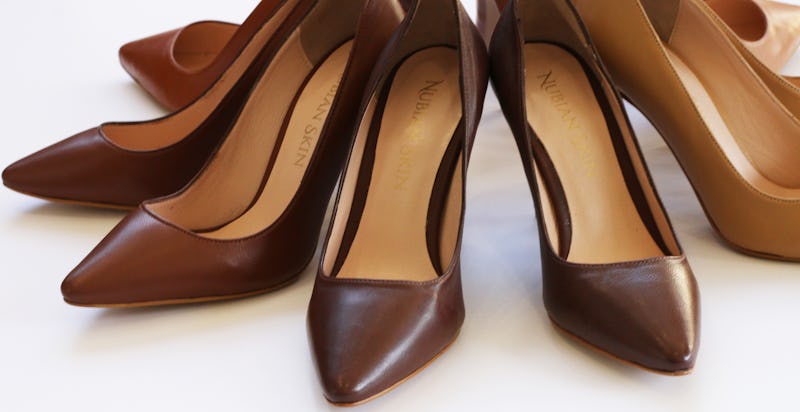 Brown babes, rejoice! The game-changing brand that brought a line of nude bras catered to women of color and plus-sized hosiery for curvy girls has given new meaning to neutral fashion. Nubian Skin's Shoe Collection is now available, so butter pecan tan beauties and espresso toned trendsetters can now get their hands on footwear guaranteed to be a perfect match.
Nubian Skin is obviously no stranger to redefining fashion, having launched one inclusive line after another. Now featuring two styles perfect for heel lovers and the girl on the go, Nubian Skin's recently introduced shoe line applies the brand's WOC friendly concept of "nude." Crafted with butter soft leather, each pair is available in the most diverse nude shades that compliment a variety of skin tones, from ebony to golden tan.
"This is something that I've wanted to do for a long time, and I'm so happy to see it come to fruition," Nubian Skin founder Ade Hassan tells Bustle. "I chose styles that I would love to wear, and having a nude that matches my skin tone really is amazing."
So, what's in the collection? Here are some of the incredible offerings.
Café Au Lait Classic Leather Ballet Flat, $95, Nubian Skin
A comfy must-have, the Nubian Skin Ballet Flat features canvas lining and a delicate bow at the front.
Champagne Classic Leather Ballet Flat, $92, Nubian Skin
Including an option for lighter skin tones, Nubian Skin took customer demands into consideration when crafting their new shoe line.
"We've had quite a bit of feedback that a lighter shade was needed, so we decided to respond to that with the new shoe collection to test it out," says Hassan. "We're excited to be able to give our customers more of what they want and hope to continue to do so."
Flat Berry Classic Leather Ballet Flat, $92, Nubian Skin
Expect to find this simple and chic flat in five neutral hues, from a rich berry shade to a warm cinnamon brown.
Cinnamon Classic Leather Pointed Toe Heel, $122, Nubian Skin
There's also a dressier shoe option for stiletto wearers. The Classic Leather Pointed Toe Heel comes stacked with a 3.5 inch rise, just tall enough to mean business.
Caramel Classic Leather Pointed Toe Heel, $122, Nubian Skin
Available in the same five shades as the ballet flat, Nubian Skin offers something for every WOC with this professional style.
Berry Classic Leather Pointed Toe Heel, $122, Nubian Skin
You can take these heels from the office to a night out on the town, solidifying this shoe as a wardrobe staple.
It's obvious that Nubian Skin has done it again. There's not a women who will be left out with shoes as diverse as this collection.
Images: Courtesy Nubian Skin