Snatch Seasonal Must-Haves During Tarte Cosmetics' Friends & Family Sale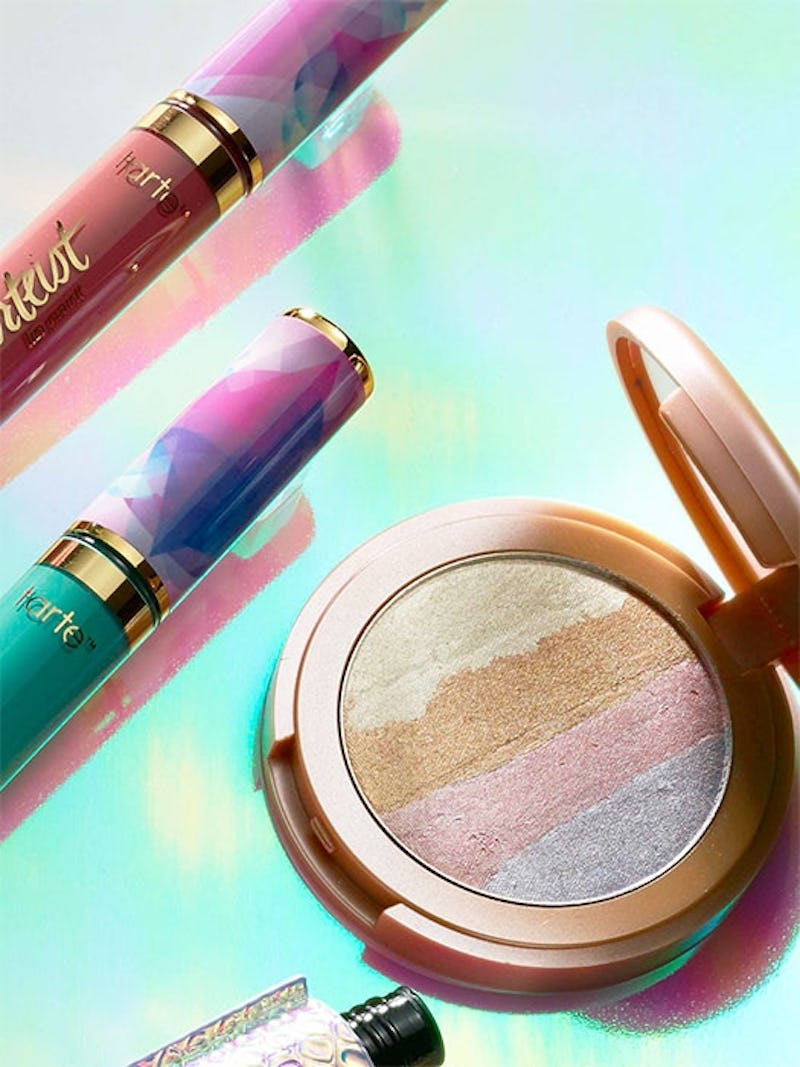 Courtesy Tarte Cosmetics
Who needs spring cleaning when there could be spring shopping instead? Rather than clearing out my makeup bag this season, I'm focused on filling it! Tarte Cosmetics is making it so easy for me to reach my overflowing-cosmetics-clutch goals with their latest savings opportunity. What's in Tarte Cosmetics' Friends & Family Spring 2017 sale? Get ready to stock up on these must-haves.
If you head over to the Tarte website between now and Apr. 6, you'll be able to score 30 percent off on most products and receive free shipping on orders over $40. Use code "FESTIVAL" at checkout to redeem the offer. And yes — this goes for nearly the entire site! You can save on everything from lipstick to unicorn-inspired items, so get those credit cards ready.
When you read the fine details regarding the sale on the Tarte Cosmetics website, you'll find that the only items not eligible for the promo are Tarte's Shape Tape Concealer and the limited edition Magic Wands Brush Set. Other than that, the entire site is fair game for savings, so let the beauty-buying begin! The sale lasts until exactly 11:59 p.m. ET on Apr. 6, so there's plenty of time to fill your cart between now and then.
You can't beat this deal. Get ready for the most fun you'll have all spring.
Thought you were done buying makeup? Think again! It's going to be hard to resist making a purchase. One look at the Tarte website, and you'll be hooked.
1. Rainbow Highlighter
Spellbound Glow Rainbow Highlighter, $30, Tarte Cosmetics
Festival season is the time to rock a multi-color highlight, so make sure you add this baby to your cart while the promo lasts.
2. Waterproof Liner
Clay Pot Waterproof Shadow Liner, $21, Tarte Cosmetics
You'll need a liner that won't budge for all of your outdoor activities. These come in a variety of bold colors, so you may even want to rack up on a few of them! A girl can never have too much eye liner, after all.
3. Bronze & Highlight Duo
Glow Girls Bronze & Highlight Duo, $16, Tarte Cosmetics
Sweep some major color and shine on your cheeks with this bronzer and highlight combo. Buying this set will make your beauty routine so easy.
4. Quench Lip Rescue
Quench Lip Rescue, $19, Tarte Cosmetics
A moisturizing balm with sheer color will help you meet all of your minimal makeup goals.
5. PRO Amazonian Clay Palette
PRO Amazonian Clay Palette, $53, Tarte Cosmetics
Palettes make traveling super easy. You don't have to stress about what beauty items to take on your trip. Just pack up the palettes and go! So, might want to add this eye shadow range to your weekender, espeically while you have the chance to save money when you shop.
6. Tarteguard Tinted Moisturizer
Tarteguard Tinted Moisturizer, $36, Tarte Cosmetics
Products packed with SPF will be your BFFs this season. Be sure to stock up on this stuff!
It's just not springtime until you've completely updated your makeup collection. So, happy shopping!