There's Now An 'Alice In Wonderland' Bag Collection — And The Cheshire Cat Backpack Is So Cool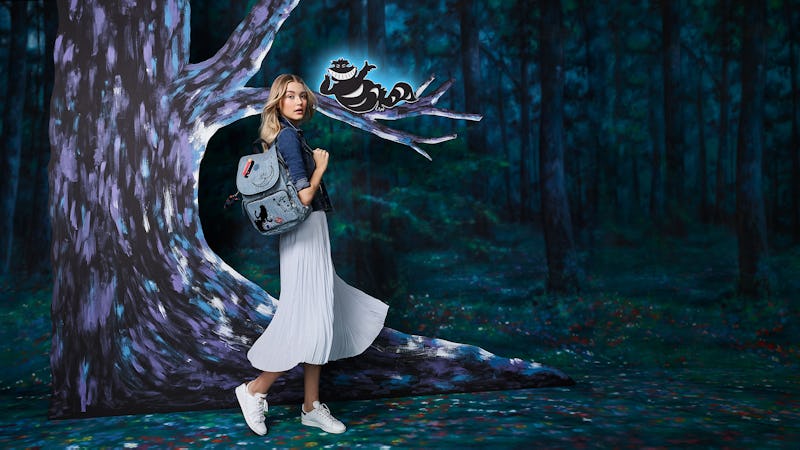 Courtesy of Kipling
It's time to go down a rabbit hole filled with adorable accessories. A Kipling x Alice in Wonderland collection launched on Feb. 1, and it features handbags, backpacks, and other accessories. The range, which boasts imagery and details from one of the most loved characters in Disney history, will have you swooning in no time.
The bags are now available via the Kipling site and Disney.com. They are also sold at 35 Kipling retail outposts and other department stores in which Kipling is sold.
There are 19 styles total and the range includes totes, wristlets, cosmetics cases, and keychains. The collection starts at $18 and goes as high as $169.
The Kipling bags takes direct inspo from Alice and her free spirt. The goods are defined by pastels, florals, and pops of color. The collection is ultimately a fashion harbinger of the coming spring season.
"Given [that] this is our spring collection, we incorporated an abundance of playful florals and vibrant colors to make it a natural fit for the season," lead designer Christine Lee tells Bustle via email.
Familiar faces, such as the always-grinning Cheshire Cat and The Queen of Hearts, are prominently featured in the pieces. It's a whimsical collection that will speak to all fans of Alice in Wonderland.
Some of the smaller styles are adorned with actual scenes from the film, while the larger backpacks and totes boast prints pay homage to the enduring story. Yes, Kipling's monkey mascot hangs from every bag.
"This collection was inspired by adventurous Alice," Lee further says. "The designs, prints, and colors were selected to capture her courageous, sassy, rambunctious, and ambitious spirit."
Mission accomplished. Alice's energy emanates from the designs.
Alice, her style, and her story continue to resonate with the modern-day millennials. Her essence was easy for the brand to capture and distill into the collection. "Alice in Wonderland inspires a sense of nostalgia in customers of all ages who have memories of the story, animated film or live-action adaptations," Kipling North America president Nina Flood tells Bustle.
In fact, Kipling customers relate to Alice on another level. As Flood explains, "Our customers turn to us for pieces that capture their personal style, inspire joy and wonderment, and are delightfully carefree, much like Alice."
Citypack Printed Backpack, $169, Kipling USA
Lee nods to the backpacks as the "statement" pieces in the range, since the bags are so iconic to Kipling. She specifically points to the denim backpack, featuring the silhouette of Alice and the Cheshire Cat's grin.
"It's definitely made to stand out," she explains.
While the silhouettes are subtle, any tried 'n' true Alice fan will recognize the characters instantly. The light wash is adds a vintage vibe.
Citypack XS Printed Backpack, $114, Kipling USA
Lee also suggests pairing the mini floral backpack paired with blue jeans, a simple white tee, and a pair of white sneakers, calling it "the perfect mix of casual and cool."
Ellettronico Pouch, $59, Kipling USA
If you are thinking about upgrading your accessories wardrobe for the upcoming warm weather seasons, the Kipling x Alice collection is your best bet. The wristlets allow you to tote absolutely essentials stylishly.
Heart Keychain, $18, Kipling USA
You can decorate bags that you already own with the mischievous key rings.
Shopper Medium Print Tote, $119, Kipling USA
Alice will accompany you wherever you go with this roomy bucket bag.
Sabian Printed Crossbody, $59, Kipling USA
Crossbodies are usually super utilitarian. But this Alice-adorned version will add some spice to whatever you wear it with.
Ellettronico Pouch, $49, Kipling USA
The Cheshire Cat's grin is instantly recognizable. It lights up a room and a wristlet like no other.
Kichirou Printed Lunchbag, $59, Kipling USA
Alice x Kipling is the second in a series of collabs between the brand and Disney. Additional collections, featuring Disney Princesses and other classic characters, are on deck for this year and next.
Seoul Printed Laptop Backpack, $134, Kipling USA
But for now, enjoy the whimsy and the wonder of Alice.