Bretman Rock Just Released His First Makeup Collection & It's All About That Mermaid Glow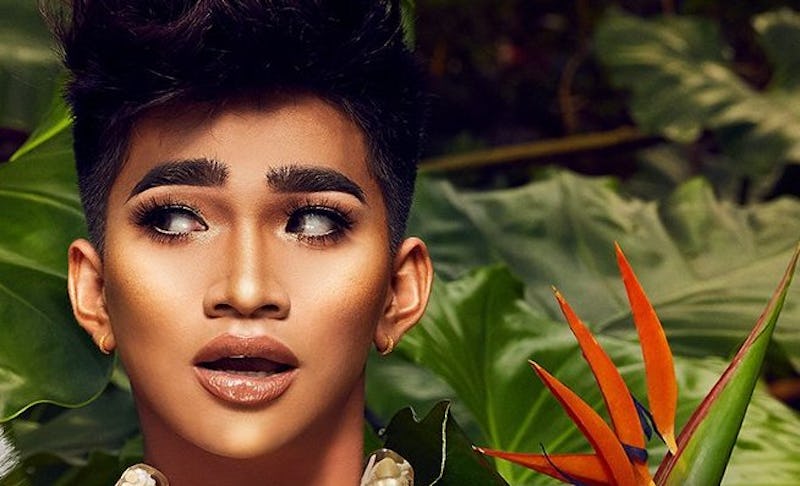 Morphe
We may be suffering through the last vestiges of winter. However, beauty influencer and noted merman Bretman Rock and internet-loved brand Morphe Brushes want to transport you to a sunny, island paradise right now. How so? Oh, just through the Morphe x Bretman Rock "Babe in Paradise" collab. The partnership consists of a highlighter palette and it also includes a branded fan brush. You can (and will) glow, baby, glow.
The palette drops via the Morphe site on March 13 at 11 a.m. ET/8 a.m. PT.
The palette features six large pans of highlighter in white, sand, golden, rose gold, peach, and bronze shades. You can focus on one highlighter hue per feature or do a monochromatic look. Or you can totally go rogue and grab a fluffy brush and mix a few or all of them together for a custom, dewy sheen.
That's the beauty of this collab — there are no rules. Do as you wish in order to achieve that sun-smooched glow.
The Babe in Paradise palette is $29, so each pan of color shakes out to less than $5 a piece. The cheeky names slay too. They are as follows: Behbeh Girl, Vaygaytion, Mahu, Get Lei'd, Cheehoo, and Shady Bitch.
Morphe x Bretman Babe in Paradise, $29, Morphe
Your skin is about to be so lit due to this palette. Oh, let's just christen it a "pal-lit." Since that's what it is and will do.
The rebellious and fabulous Bretman Rock, who his start on Vine, grew up on the islands. Therefore, his background informed his unique perspective on the world and beauty trends. The highlighters were inspired by paradise beauty and aim to capture the essence of the islands. Judging from the Insta images, Bretman Rock and Morphe succeeded in that mission.
The authentic island vibe — seriously, even the packaging is ocean blue— is what makes Babe in Paradise stand out from the sea of highlighter palettes lining the shelves at Sephora and Ulta, and other e-commerce platforms.
The highlighters can be used on the Cupid's bow, along the brow bone, across the forehead, popped in the inner corners of eyes, dabbed across the bridge of the nose, and on any other facial features that could use a lil' glow. You could totally mix these shades with your moisturizer for a body glow, too. Make your own rules — just like Bretman Rock does.
The inside of the palette also features a sweet and sassy note from Bretman Rock himself. It's like he will greet you personally every time you crack open Babe in Paradise.
Twitter already voiced its opinion about this palette, which Bretman tweeted that he has worked on for two years. So you can be confident when parting ways with your cash that a lot of love, care, and effort went into this project.
That's a serious testament to Bretman Rock's influence. Even a non-makeup user is all in.
This user overseas is coveting the palette. Glow is global. Bretman understands that, thanks to his island upbringing.
That's because Bretman is a fabulous merman, so much so that he is otherworldly.
It's totally a worthwhile present with which to gift oneself.
The excitement is palpable, as evidenced by this tweet and meme.
Beyond the gorgeous glow, fans are also stoked that Bretman is paying homage to his heritage and to diversity. He is from the Philippines and eventually moved to Hawaii and wanted the palette to honor both.
Bretman Rock is breaking down barriers and erasing boundaries with his palette and his brand. No wonder the internet crushes on him so hard.
There's a lot of this going around the Twitterverse.
He posted a nearly 30-minute video revealing the palette and the deeper source of inspo. He lovingly refers to the palette as "her," too. He shared that he wanted it to scream "Hawaii" and "bad bitch." If you snag Babe in Paradise, it will take you on quite a makeup journey.