These Vintage-Inspired Mickey Mouse Shirts & Sweaters Are Every Disney Fan's Dream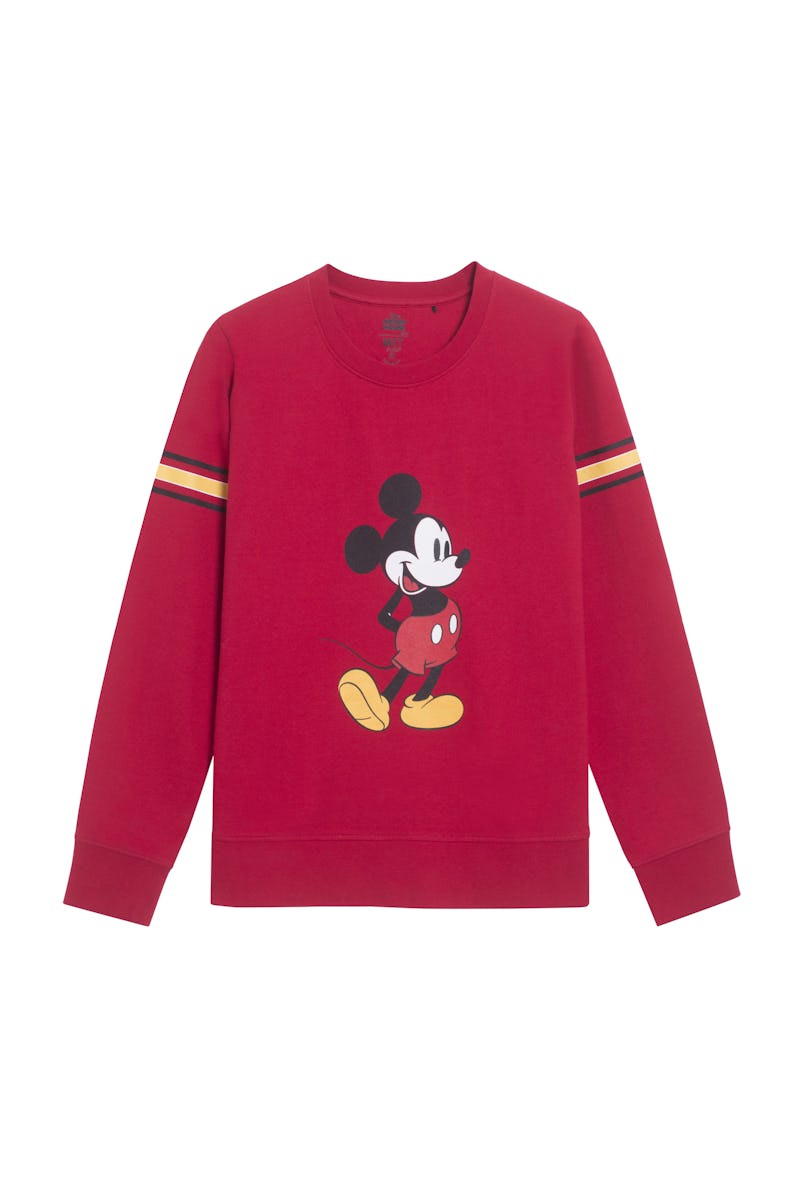 Courtesy of MKT
2018 truly is the year of Mickey and Minnie Mouse. The dynamic duo is celebrating its 90th (!!!) anniversary with a variety of accessories collabs. There's the polka dot-driven Minnie Mouse x New Balance sneaker collection and the new Alex & Ani "Mickey and Minnie" necklaces. Now, there's the Disney x MKT Studio fashion collection. Some of the pieces will be shoppable via Shopbop in March.
The French women's fashion brand has created a collection that celebrates nine decades of Mickey Mouse. The range is specifically inspired by the '60s era of the beloved character. Therefore, the sweatshirts and tees have a vintage vibe.
Ultimately, ot's a wonderfully executed collision of French je ne sais quoi and American pop culture.
One thing is for sure — Mickey Mouse never, ever goes out of style. He's an icon who translates terrifically on a shirt.
You are going to want to incorporate every Disney x MKT Studio piece into your wardrobe. The shirts will work with plenty of things you already own. The tees certainly go with skinny jeans or denim skirts. So do the sweaters. Got a pair of leather leggings? Great! You can add a playful touch courtesy of any of the Mickey-adorned shirts.
The Disney x MKT Studio collection certainly captures the essence of French Girl chic —namely via the stripes and the minimalist touches.
The tees are $70, while the sweatshirts are $145.
Cropped Tee
This cropped, heather gray tee feels like a classic piece from another era, thanks to the graphics and design. It looks like such a thrift shop find. Don't worry — the fact that it isn't will remain our little secret.
Stripes
The red and white pinstriped tee emits so much nautical energy. It also boasts a classic image of our pal Mickey, wearing an ear-to-ear grin while his hands are perched on his hips. Wear this and you will announce your Mickey Mouse fandom. Show it off — it's totally something to be proud of.
The Ringer
The black-trimmed ringer tee is anything but basic. The sketched image of Mickey feels delightfully retro. He's a work in progress in this design. Just like the rest of us.
Sweatshirt Weather
When cold weather clothes are this cute, you can totally withstand the bitter chill of the season. You can also layer for additional warmth. This varsity-inspired sweatshirt boasts arm stripes in colors that match Mickey's signature ears, shorts, and shoes. It's all about those details. You can wear it with a long tank or an untucked button down and slay that layered look.
This sweatshirt is red hot and oh-so-Mickey.
Vintage Vibes
This white tee will give you all of the vintage vibes. It looks lived in, despite being brand new. It also features Mickey rocking tons of different poses. All of your friends will assume you unearthed it in a secondhand shop or that you've owned it forever. That's a testament to the classic design.
The Mickey x MKT Studio fashion collection seamlessly combines French flair with American oomph.
Disney Mickey Ears Hat Expandable Necklace, $45, Alex and Ani
If you want to add some Mickey Mouse-themed accessories to your outfit, go all in with the Alex & Ani necklace. The pendant features Mickey's signature ears. It comes in gold and silver finishes.
Disney Minnie Ears Expandable Necklace, $45, Alex and Ani
You can balance your outfit with a Minnie Mouse touch, courtesy of the polka dotted Minnie Ears necklace. Since the stackable necklace trend remains hot in 2018, you can grab both and layer them. Since the chains expand, you can play with the styling. The necklaces are online exclusives, as well.
The 90th anniversary of Mickey and Minnie is certainly a fashion win for modern-day Disney diehards. Fans get to express their love for M&M through multiple collections. Happy shopping!