Here's Everything In The Face Shop x The Simpsons Collection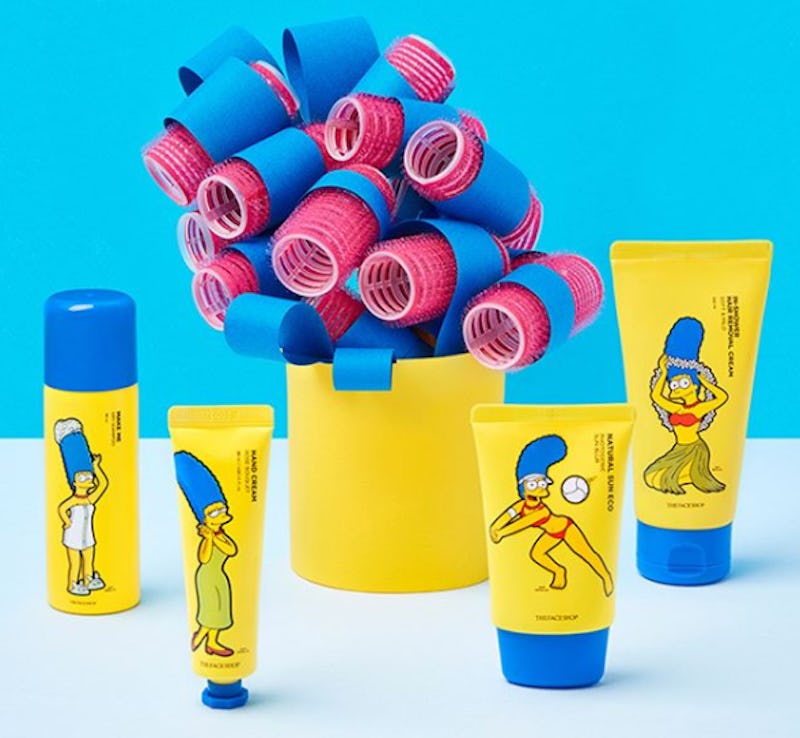 The last person you would think you would get beauty advice from is Homer Simpson, but here we are. If there's one thing the Face Shop x The Simpsons collection teaches us, it's that the cartoon family has a spot in the beauty world. The K-Beauty brand The Face Shop has just announced a multi-product skin care collection, offering up everything from sunscreen lotions to sheet masks. And while the products are going to be amazing for your skin and complexion, the packaging is what makes this collection truly fun.
But what's in The Face Shop x The Simpsons collaboration, exactly? It's going to cover all your skin care needs and then some. First up is a series of five hand creams, each one dedicated to a member of the Simpson family. You can get softer skin using Homer's lotion, or perhaps Maggie's for baby smooth skin. For your face, there are volcanic lava nose strips, and they come with either Homer or Bart pictures. For your sun protection needs, there are an array of sunscreens available: One being a "no shine" hydrating sunblock that comes in SPF 40, while the other is a "Photogenic Sun Blur" is SPF 50. They come with different characters on the bottles, so you can choose which one you love the most.
Perhaps the best part? Most of the products are in yellow tubes with bright blue caps — in other words, they all look like Marge (who would probably love to use some of these products herself).
For your underarm needs there is a brightening deodorant and a deodorant spray, as well as an in-shower hair removal cream. If you want a summertime glow without the sun damage, there is a Make Me Gorgeous Bronze Tanning Oil. But the real standout item in this whole K-beauty line is the bevvy of sheet masks. There will be three different ones to choose from, coming in varying sizes. They will carry printouts of the characters' faces, and you can choose to stick on either Homer, Marge, or Lisa.
"Mask enthusiasts will be especially delighted to try out the Homer, Marge, and Lisa printed sheet masks, which come in three different sizes, the largest being Homer and the smallest being Lisa," PopSugar reported.
While the collection looks amazing, there's a catch as of right now: It's only available in Asia. According to Be Asia, the collection just launched in South Korea but the site says they "Assume it will be available at all The Face Shop stores across Singapore, and online at Sephora in no time at all."
If you don't want to wait until that happens, PopSugar helpfully suggested looking for it on eBay, so it's possible to get a head start that way. It's definitely worth the hunt in order to have a Simpsons product or two in your makeup bag!
Images: The Face Shop (1)