LipSmacker's Holiday Vault Is Full Of Flavors You Haven't Tasted Since The '90s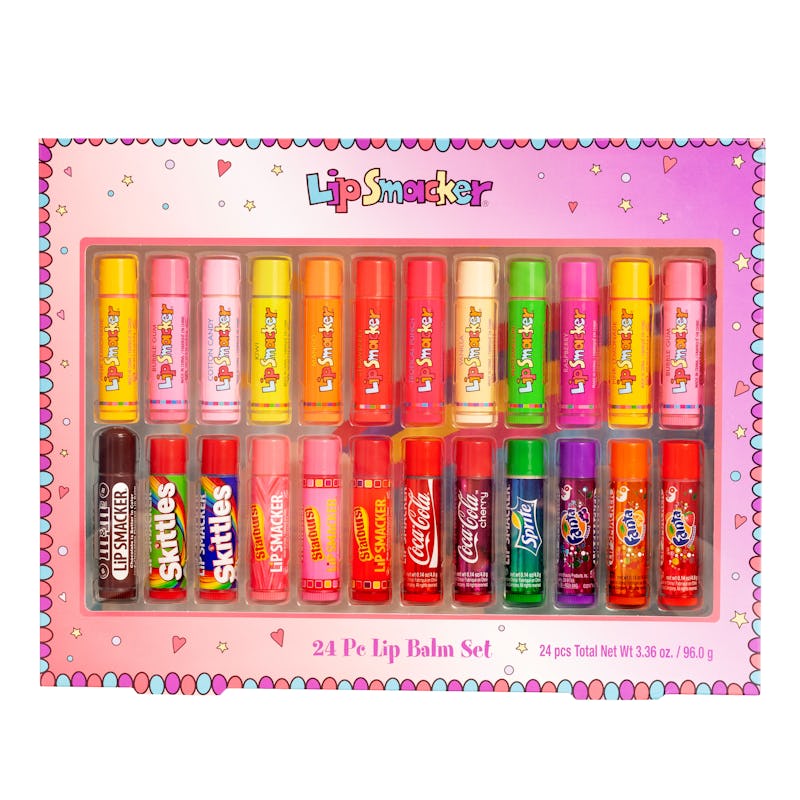 What's better than a heaping dose of nostalgia from a beloved '90s beauty brand? Oh, just '90s beauty brand nostalgia packaged in festive, flavorful, and incredibly affordable holiday sets. That's exactly what LipSmacker is doing this holiday season. LipSmacker's 2018 Holiday Collection is chock full of '90s flavors — along with the brand's familiar, playful, and lower-case block letter logo from the era. That design is featured prominently in the packaging and on the actual tubes of sweetly-scented and yummy-tasting lip balms.
It's a delish throwback.
You'll so want to scoop up these flavored Lip Balm Vaults for yourself — and for all of the beauty lovers lucky enough to be on your shopping list.
There is a massive, 24-balm set. There are also two sets featuring 10 flavors each in collectible tins.
Some of the flavors across all three of these sets include Pink Lemonade, Bubble Gum, Cotton Candy, Kiwi, Mango, Strawberry, Tropical Punch, Vanilla, Watermelon, and Wild Raspberry.
Is your mouth watering yet? No?
Here are some more flavors: Apple Pool Party, Cookie Climbers, and Candy Carousel. Yum with a side of yum. The 24-piece assortment features candy flavors like Skittles and Starburst, as well as soda pop "varietals" like Sprite and Cherry Coke.
Here's everything else you need to know about the throwback sets for the holiday season.
This limited edition Lip Balm Vault will have you pulling out your trusty tubes to apply and re-apply your fave flavors over and over again. With 24 flavors contained within, choices abound. What's old is new — and yummy — all over again. At just $20, the mega vault is also super economical. It averages out to just over a dollar per tube.
The $10 Lip Balm Vaults are comprised of collectible tins featuring 10 of the original flavored balms. The tin can be repurposed to store private valuables, necklaces, cash, and other stuff. The Dream Playground Rainbow retro tin pictured is ultimately and gloriously vintage.
Here's what's under the hood — a whole lot of lippies to get you through 2019. Your pout will be soft, hydrated, and smell like heaven. It's a vicious 'n' delicious cycle, though. Once you slick your pucker with a few layers of the balm, you will impulsively lick it off to enjoy the flavor. That will cause you reach into your pocket or your bag so you can re-apply. The cycle will repeat — tastily.
The adorbs-ness of the Riding on a Rainbow tin is off the charts. It's collectible and reusable. What purpose will it serve and what items can it store? That's entirely up to you.
Check out the flavors inside. The instantly recognizable logo and the scents of the balms should remind you of a much simpler and sweeter time.
This truly the LipSmacker lip balm mothership. You can indulge the nostalgia for yourself and/or gift your childhood bestie with the mega vault. Or you can introduce a makeup and product novice tothe LipSmacker brand and its awesomeness with the 24-balm vault or the 10-count collections.
The Vaults are '90s and yummy AF.