A YouTuber & This Cult Fave Brand Rolled Out A Sunglasses Collab & Fans Can't Get Enough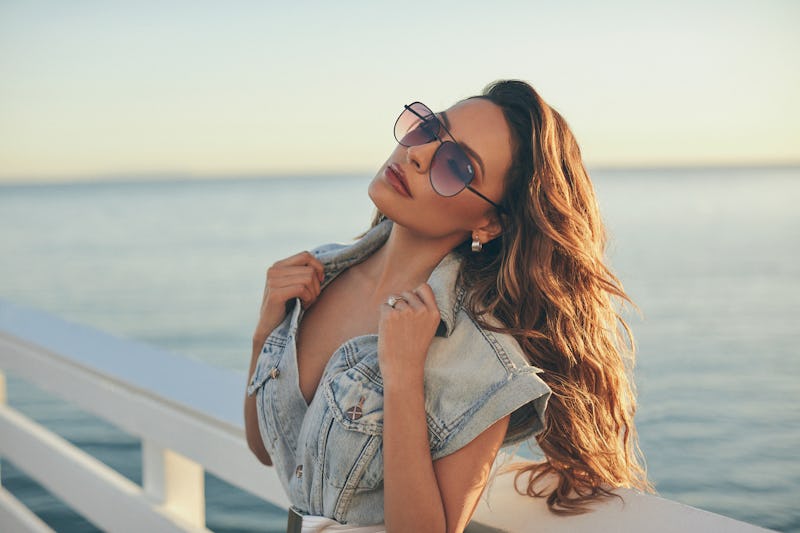 Courtesy of Quay
When it works, it works. The Quay x Desi Perkins sunglasses collaboration has been extended due to popular demand — because it's working for both customers and fans. The Aussie shades brand and the YouTube influencer have partnered for several pairs of sunnies in the past. Their frames are instant hits and are worn by celebs like Kourtney Kardashian. The latest Quay x Desi sunglasses drop features the ever-popular Sahara frames in three new colors. The latest shade extension for these fashionable metal aviators is available now via the Quay site.
The new Quay x Desi Sahara shades boast transparent lenses that were inspired by the desert landscape. Still, they look cool AF. With the warmer weather on the horizon and festival season straight ahead, you might want to pick up a pair or three. These shades will protect your sight and the sensitive skin around your eyes from the harsh rays of the sun, all the while ensuring you remain stylish and trendy.
The new colors are also chic. There are matte black frames with lenses that fade from purple to pink; shiny gold frames with lenses that fade from smoke to taupe; and matte gold frames with taupe lenses. The brand is also restocking the shiny black frames with olive lenses from a prior drop.
The Saharas come with a limited edition, clear carrying case and a cleaning cloth. Each pair costs $65.
Isn't it time to refresh your sunglasses wardrobe? Yeah, it is! As of press time, the new Quay x Desi Sahara shades are not sold out on the Quay site. What are you waiting for?!
The matte black pair has such a classic shape. But the pink lenses are super trendy. You should totally look at life through rose-colored glasses.
A view from the front! We know — it's so hard to pick a favorite. But since they are under $70 a pair, you can totally grab all three without going into massive debt. Plus, you can enjoy an accessories makeover and wear any of these shades all through the year.
The gold matte version is timeless and will never, ever go out of style.
The contrast of the shiny gold frames with the dark lenses makes this pair a little more funky and fashionable. Ultimately, the new generation of Quay x Desi frames is the ultimate in casual cool.
You can wear these frames during any activity or occasion that requires you to be outside. But you can totally upscale them and rock them at fancier events, like an outdoor wedding, a graduation party, or a lunch with a client.
Daylight Savings Time is about to expire, meaning more sunlight is in your future. You will be wearing your shades for longer periods of time. So, really, there is no time like the present to update your collection of shades.
All three of the new variations will go with everything already in your closet. Both the frames and the lenses match anything. They are truly universal shades.
Fans immediately flocked to the Quay site to purchase pairs. They also humble bragged about scooping them up on Twitter.
Not all shoppers were able to get exactly what they wanted. They didn't hesitate to take to Twitter to express themselves accordingly.
The purple fades seem to be the most popular so far.
However, some Quay customers simply went for it and nabbed multiple frames.
Sometimes you just can't help yourself when it comes to on-trend, affordable, and quality shades. A Quay x Desi Perkins drop is always an "event" for sunnies lovers.