This Is What's In Nikkie Tutorials x OFRA Collab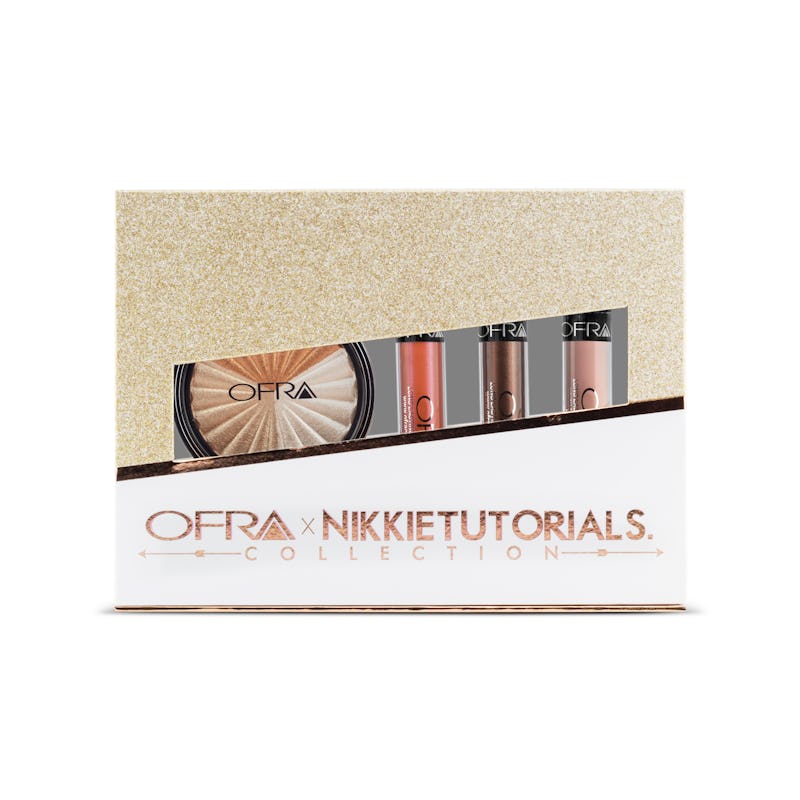 The blogger x brand collaboration template continues to rule the school. The makeup school, that is! Nikkie Tutorials has teamed up with OFRA Cosmetics for a limited edition collection that drops on Wednesday, Mar. 29. The collection focuses on two features — the lips and the face. What's in the Nikkie Tutorials x OFRA collab, which was created by the online makeup artist herself?
The collection has four elements.
This is glow queen Nikkie Tutorials we're talking about, so of course there is a highlighter. Duh! The three-in-one Everglow mixes a frosty white, neutral shimmer, and sun-kissed copper in one circular compact. It looks like a pie and yes, I want a slice of each! You can sweep a brush over all three and create a custom hue and enjoy a DNA-distinct glow.
There are three custom liquid lipsticks, as well. Nude Potion is what its name suggests — a light, neutral nude. Coven is a metallic brown, which is on trend, as '90s browns and metallics are so in. Lastly, Spell is a neon coral pink. All three are long-lasting and have witchcraft-inspired names, since Nikkie Tutorials is pretty much a sorceress when it comes to makeup!
Bustle reached out to OFRA to inquire about the bundle price and whether or not the items in the collection will be sold separately.
UPDATE: OFRA reps responded via email to confirm that the collection will only be available as a bundle. The price is $79, but customers can use the code "NIKKIE" to save 30% and pay $55.30 for the collection.
It's all about neutrals x glow! Nikkie x OFRA will be available via the brand's site, which is its sales platform!
It's such a spring-ready collection, that's for sure.
There it is in black, white, and glow. The collab is LE, not permanent. For now. It could change based on customer reaction.
Glow, baby, glow!
Who needs Love Potion No. 9 when you have Nude Potion?
Coven squarely hits on the '90s, brown lip trend.
Cast a spell with your spellbinding pout, thanks to this bright shade.
Based on images and swatches alone, Nikkie Tutorials x OFRA has all of the crucial elements to ensure that it will be a hit.
Images: OFRA Cosmetics/Instagram (1); Courtesy of OFRA Cosmetics (6)