Here's Everything In *NSYNC's New Holiday Clothing Line — And It's Better Than You Imagined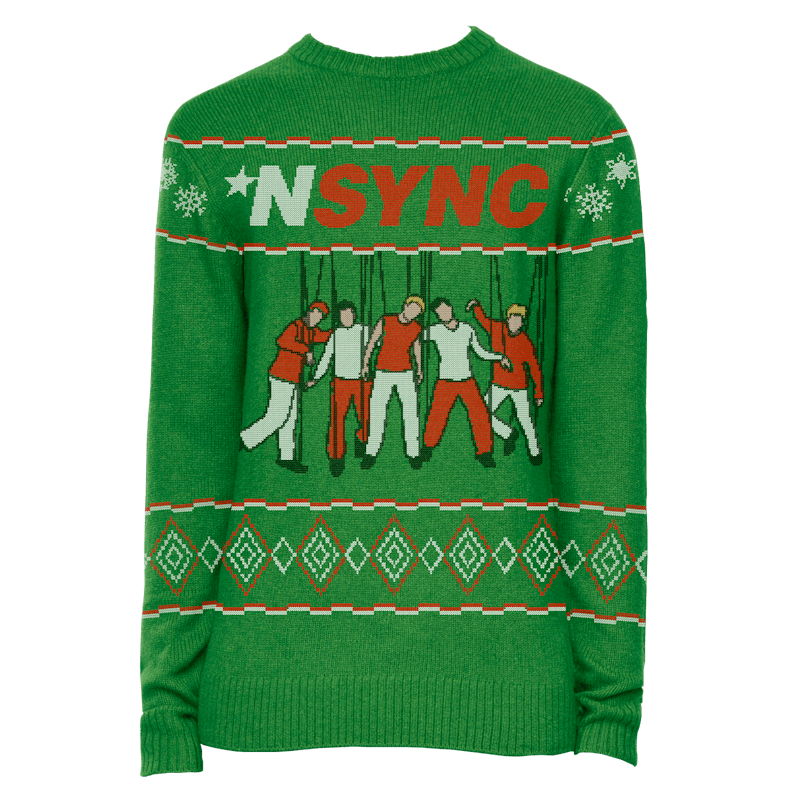 Say "Bye, bye, bye" to the lack of fresh *NSYNC merch. The iconic '90s boy band just released holiday merch, and it totally "sleighs." Following the announcement of a new deal with Epic Rights, which will flood the market in 2018 with *NSYNC-branded items, such as tees, loungewear, track suits, home decor, collectibles, and more, the band has dropped an amazing line of holiday merch. You will want to shop every piece for your own wardrobe, in addition to scooping up stuff for your Justin Timberlake-loving BFF.
As the welcome note on the boy band's official site says, "We don't wanna spend one more Christmas without you." #Swoon.
The dearth of *NSYNC apparel and accessories has long been a problem plaguing fans of the '90s boy band. But the drought is O-V-E-R, and *NSYNC is making up for lost time with the holiday pieces. The collection features the most adorable ugly Christmas sweaters you've ever seen, as well as a pin, a patch, an ornament, shoes, a knit hat, a mug, and a stocking to hang over the chimney with care.
No Strings Attached Sweater, $79.95, nsync.com
The iconic album cover is recreated in ugly sweater form. The unisex piece comes in sizes XS to 2XL, making it pretty inclusive. As the product description says, the green knit sweater is "Ugly, but not so ugly, and actually pretty rad Christmas sweater. Be the talk of the ugly sweater party, in a good way." Um, yes!
It's Gonna Be Sleigh Tee, $24.95, nsync.com
Because who doesn't love a holiday-themed lyrical pun plastered on a T-shirt?
Bye Bye Bye Santa Crewneck, $44.95, nsync.com
Timberlake, Lance Bass, JC Chasez, Joey Fatone, and Chris Kirkpatrick are cruising in a sleigh in this fun and festive sweatshirt.
I Guess It's Christmas Time (Crewneck), $44.95, nsync.com
A frosty version of the *NSYNC logo adorns this merry, cherry red sweater, which will inject a maj dose of holiday cheer into your wardrobe. Don't you want to sport this at any and all holiday fetes?
It's Gonna Be Sleigh Shoes, $39.95, nsync.com
How about these cozy slip on kicks? You will want to live in these babies.
Tearin' Up My Hat, $34.95, nsync.com
The puns, the puns! The names of the items are plays on song titles and lyrics, which tried and true *NSYNC fans will appreciate. This knit hat with the fuzzy ball on top will keep your noggin warm, all the while openly displaying your fandom.
Under My Tree Enamel Pin, $9.95, nsync.com
If you aren't ready to take the plunge and rock the ugly holiday sweater, you can ease into the season with this enamel pin. Add it to the lapel of your leather jacket to soften up an otherwise tough item of clothing. It's all about juxtaposition!
Just Got Pinned Pin, $9.95, nsync.com
The best thing about this glittery pin is that while it's designed in Christmas colors, you can still rock it all year 'round.
Some items are currently available for pre-order and will ship the week of Dec. 4. So you should, theoretically, receive them in time to wear for all your holiday gatherings.
Welcome back, boys!