Paris Hilton Is Launching A Clothing Collab & The Early 2000s Are Back, Baby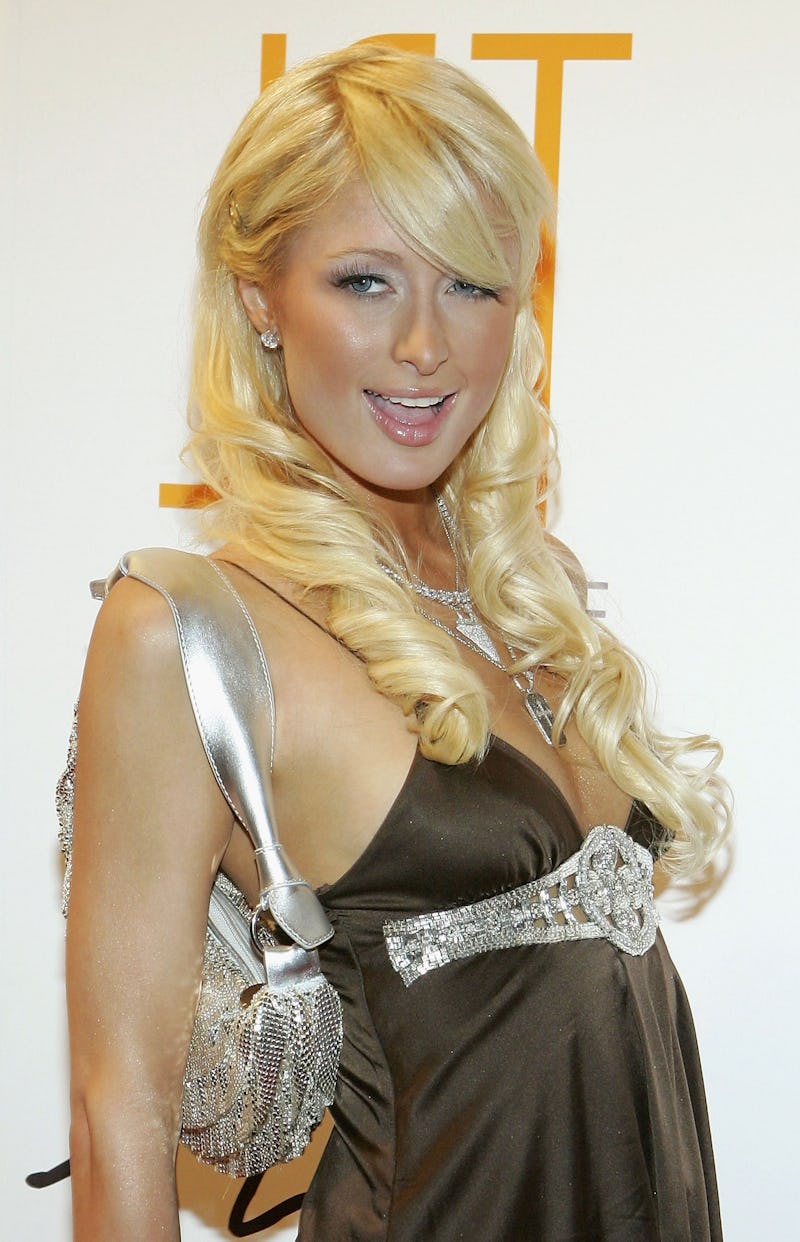 Ethan Miller/Getty Images Entertainment/Getty Images
If you love and miss the fashion of the '00s, get ready for a reprise. Paris Hilton and Boohoo.com collaborated a new fashion collection that is unapologetic about its love of all things 2000s. Yes, there will be tracksuits! The Britneys, J. Los, and Nicole Richies of yore are beyond stoked. So are you. And that's a totally acceptable reaction! You can and should have affection for the '00s and the fashions.
Women's Wear Daily reports that the Hilton x Boohoo range will launch internationally on June 20. It will include clothes and swimwear. The aesthetic nods to Hilton's fave current trends as as well as those that dominated the early '00s.
As you likely recall, the aughts were defined by velour, matching two-piece sweatsuits, low-rise jeans, platform sneakers and flip flops, flared denim, slide sandals, body glitter, and lip gloss. It was the decade in which the hotel heiress reigned supreme and she's dragging it into the present via her collab with the fast fashion giant.
But it's not "retro." It's "inspired by" and modernized.
Here's what to expect — there are 70 pieces to shop and they boast animal prints, metallics, and slogans. Slogans? Yes, phrases like "That's Hot" will be featured in the pieces.
That was Hilton's signature catch phrase from the era and it's getting a well-deserved encore. The clothing will also have palm prints, which is an homage to her Beverly Hills hometown.
The '00s style has been upgraded for the here and now!
Hilton's Boohoo collection is totally self-referential. As if you expected anything less from her!
Hilton x Boohoo is also inspired by her style and Ibiza. That's what the former party girl told WWD. It sounds like the now-shuttered L.A. boutique Kitson has been encapsulated in fast fashion form.
The Beverly Hills Hotel is also a source of inspo, as that's where the team and Hilton first met. Even Hilton's beloved dogs factor into the range.
The collection is currently slated for a single season, according to WWD. It won't break the bank, either. Pieces start as low as $15 and go as high as $70. So if your current wardrobe needs a '00s refresh, you can do so affordably thanks to P. Hilt.
This collab may be steeped in the fashion of the '00s but it came about in the most "right now" way. Hilton found the brand via Insta and fell in love with the posts of its products. It doesn't get any more current than that.
Boohoo believes that the fondness and nostalgia that fashionistas have for the decade will propel the collection. Natalie McGrath, vice president of marketing at Boohoo USA, told WWD that the brand wanted to own the '00s trend with a collaborator, saying, "What better to follow with an icon from that era, Paris Hilton." You will get no arguments here. Hilton is so emblematic of the period. But she isn't simply slapping her name on the products. She rolled up her velour tracksuit sleeves and got to work. She was specific with her input and weighed in on everything from the colors to lengths of the dresses.
While Hilton is no longer the girl-about-town with a visible nightlife like she was during the '00s and has stepped aside to let Kim Kardashian and the KarJenner krew take the pop culture reigns, she has remained relevant with her fragrance portfolio and her DJ career. It's amazing to see Hilton having a Renaissance and capitalizing on our love of all things '00s.
If your inner '00s child has been dormant and waiting to seize the right opportunity resurface, this is certainly it.