Starbucks' New Cherry Mocha Is The Valentine's Day Treat You've Been Waiting For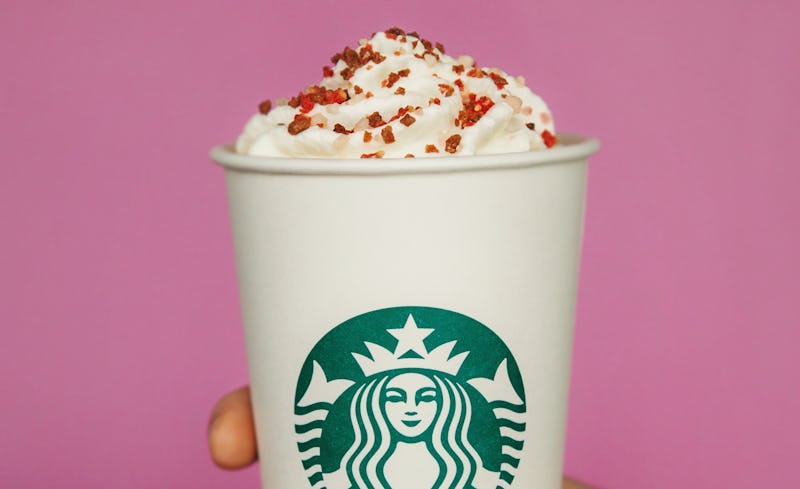 Starbucks
If Cupid is going to strike this Valentine's Day, you'll probably be standing in line at Starbucks when it happens — because the coffee house has an all new drink available for a limited time to celebrate the holiday beginning on Feb. 7, 2018. So, if you're wondering what's in the Starbucks Cherry Mocha, aka the limited time drinks Starbucks has released to celebrate Valentine's Day, here's what you should know. Spoiler alert: there's a lot more to it than arguably the single most important ingredient: love.
If you're looking for the perfect gift to replace a dozen roses, look no further than a Valentine's Day-themed drink. You can write a love letter on the cup and hand it off to warm the hands of someone you love. Roses wilt, but a Cherry Mocha stays vibrant and remains appreciated in the delicious moments you have to sip it. Every sip of this limited time drink is infused with flavors that'll make your heart beat and swoon sip after sip. It's packed with notes of sentimental value. Like warmth and kisses and hugs. Whether you have a significant other or not, with this drink in hand you'll certainly feel the love.
You'll have to get in your horse drawn carriage as soon as possible. The Cherry Mocha will only be available in participating stores from Feb. 7 to Feb. 14, when the menu will turn back to its regular items. I wish I could say it will turn back into a Pumpkin Spice Latte at midnight, but you'll have to wait until fall for that fairytale.
It's no secret that love is the secret ingredient in the food and drinks we think deserve Michelin stars. While it's not an ingredient you can stock up on in the grocery store, it is always in abundance in a cup of coffee. Starbucks's Cherry Mocha takes that to the next level. On top of love, the elusive elixir flavoring our favorite drinks, you'll be delighted to be embraced by a flavor of summer combined with the holiday's classic chocolate.
A spokesperson for Starbucks tells Bustle, "Inspired by chocolate covered cherries, the new Cherry Mocha starts with hot espresso pour over a slightly sweet mocha sauce and candied cherry syrup, melted into a wonderfully rich concoction. We then add steamed milk and top it with whipped cream and sugar and cocoa Valentine's sprinkles." You guys, Starbucks does a lot of things well. But if I had to point out one thing that sets them apart, it's the whipped cream topping accoutrements. Sugar and cocoa Valentine's sprinkles freckling a creamy whip pyramid might be better than a whole heart shaped box of chocolates.
Pick one up for you and your bestie or your mom or your lover, or just you because self love is significant. You can order the Cherry Mocha hot, iced or blended between Feb. 7 and Feb. 14 at participating stores. So skip, trot, twirl your way down to the nearest Starbucks to fuel up on love.
While you're there, there's no better way to complete the Valentine's Day specific order than with a Confetti Hearts Cake Pop or Heart Sugar Cookie, now available in Starbucks stores nationwide. Sip and chew on love in many forms this Valentine's Day. Whether Cupid strikes you or not, I firmly believe that one sip of this chocolate covered cherry inspired mocha will you have weak in the knees anyways. The perfect way to show love this holiday is by heading to your favorite Starbucks store and thanking your barista for constantly keeping you fueled throughout the week. After all, there's no relationship like the one between you and your coffee.