Starbucks' New Christmas Tree Frappuccino Looks Like A LITERAL Christmas Tree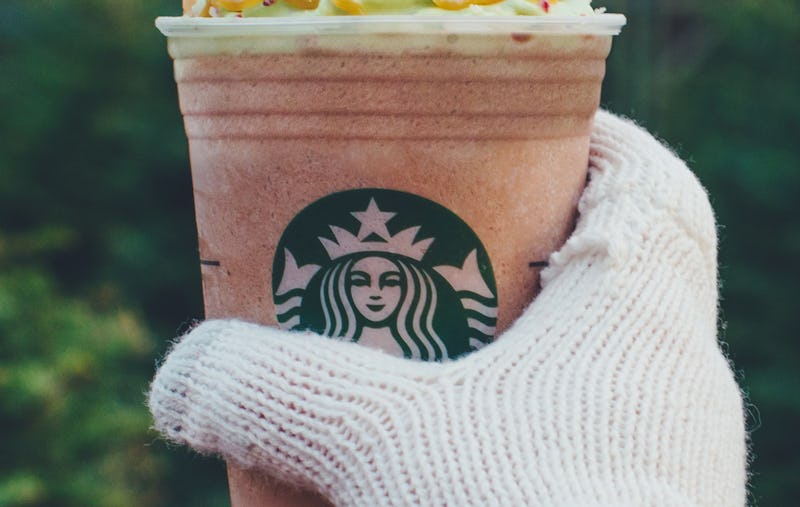 Starbucks
It's gift-giving season. And while you're out scurrying from store to store to find that perfect something, you shouldn't forget to gift yourself. Starbucks makes that easy: The coffee roaster takes this merry season so seriously that they created an entire Frappuccino for it. If you're wondering what's in the new Christmas Tree Frappuccino at Starbucks, you won't find any actual ornaments. There won't be any gifts under it but that's only because the entire beverage is a gift within itself.
There's no denying that Starbucks is the ultimate at imagining how to take the best of a season and pour it into a cup for us to blissfully slurp up. In the fall our fraps get a magic dusting of pumpkin spice. This past Halloween, Starbucks customers got to enjoy brains — well, not really, but kind of — with the limited release Zombie Frappuccino. Now, just when you thought the season couldn't get any more jolly, the creative coffee ~designers~ at Starbucks swooped in on their sleigh to gift us a limited edition Frappuccino that will jingle your bells. The delicious concoction is full of flavors of the season. Don't wait for Rudolph to lead the way to your nearest Starbucks. This drink will only be available from Dec. 7 through Dec. 11. Get ready to rock around this Christmas Tree.
If you think about it, the Frappuccino, complete with a dome of matcha whipped cream, is the perfect beverage to morph into a Christmas tree. Starbucks is no stranger to dressing up drinks, and so decorating a Frappuccino makes complete sense. While you won't find any pine needles in this creamy and cool delight, you'll certainly get a whiff of the Christmas spirit with what's found inside the cup.
Wrap your mitten clad hands around a Christmas tree, whether it's a humble "tall" or a ceiling scratching "venti" and ingest the best of Christmas. According to a Starbucks spokesperson, the drink is a "blended beverage [that] starts with a Peppermint Mocha Crème Frappuccino." The minty base is reminiscent of all the candy canes that dot the leaves of the Douglas Firs we welcome into our living years every December. Topping the perfectly cool base is a "majestic Matcha whipped cream", because obviously. Not only does Matcha taste delicious, its natural green tint lends the perfect vibe to the caffeinated, edible tree. It couldn't be more perfect.
The tree doesn't stop there. Wrapped around the Matcha mound — I mean, tree — is garland of caramel drizzle. Freckling the creamy tree are ornaments fashioned out of candied cranberries, a garnish that remains one of the best in Starbucks history. But the decorating doesn't stop there. Every complete tree has a topper, the grand finale that crowns it a Christmas tree. For this, Starbucks tops each coffee tree with a strawberry. Which is perfect because hello, classic red and green Christmas color theme.
Every slurp conveys the joyous vibe circulating the chilly air around this time of year. It is literally a gift we never knew we needed to put on our Christmas lists. Add it to yours right now to be sure you get to taste the spirit. The drink will only be available in participating US and Canada stores from Dec. 7 until Dec. 11. Gather your team of reindeer, or just get your car warmed up, and mush over to your nearest North Pole, I mean Starbucks, for your Christmas Tree Frappuccino. You're sure to find a lot of cheer within your cup. And, if you don't yet have a tree in your living room, maybe you'll feel inspired to get and decorate your own after a few sips of this.