Starbucks' New Toasted White Mocha Is Going To Be Your Fave Holiday Drink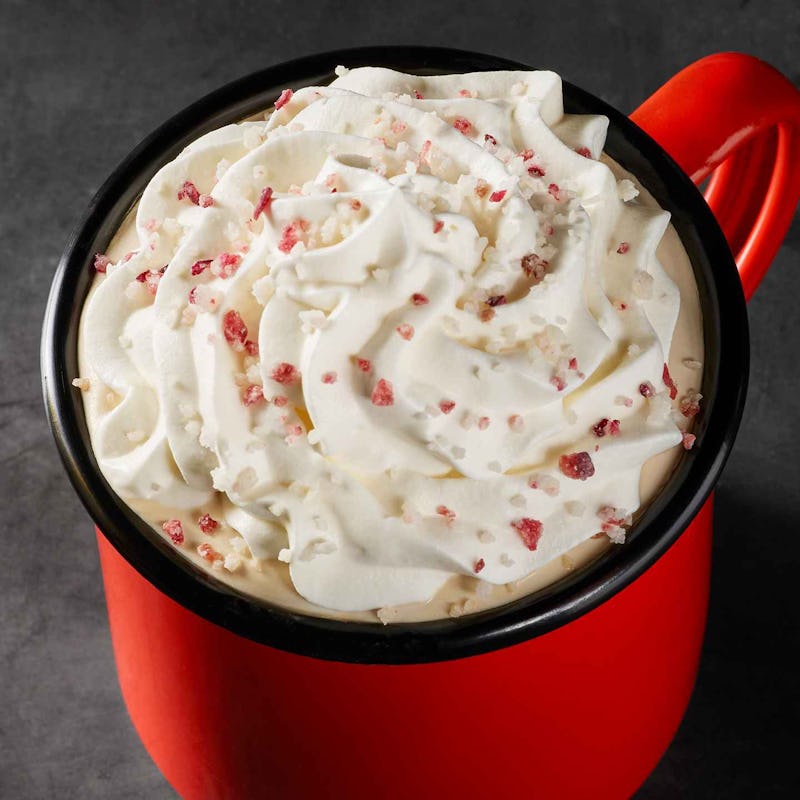 Starbucks
When it comes to your Starbucks order, it's never too early to get festive. As we all know well, the coffeehouse leads the game when it comes to holiday drinks. And this year's round of specials will have you hanging up your stockings before Dec. 1 — especially if you order their new holiday drink, the Toasted White Chocolate Mocha. But, as with any new drink, you might be wondering what's in the Starbucks Toasted White Chocolate Mocha — besides joy, cheer and holiday spirit, of course. Well, the short answer is, there are a whole lot flavors that will have you caroling at first sip.
As the temperature shifts from crisp to cold and sweater weather becomes down jacket weather, drink orders are in for a change too. A cup of coffee basically becomes a hand warmer in the winter months. While I typically waltz up to the counter and order a hot chocolate to keep me warm, this new Starbucks order might have me actually skipping to my nearest store. Because according to Starbucks, the Toasted White Chocolate Mocha involves "candied cranberry sugar." You guys, cranberry sugar. That's like a bow on a present. The holidays have certainly come early.
So, get into the spirit because this drink will only last on the menu for so long. Skip into stores starting Nov. 9 and through the end of the holiday season to grab your new favorite holiday drink.
You'll definitely want to get a taste of this new, cheerful take on a mocha based on what's in it. This isn't your everyday mocha concoction. This is what nice lists are made of. Everything you've ever dreamed about an edible winter wonderland has somehow made its way inside a Starbucks cup. So, get your Venti fill of it when you need not only a boost of energy in the morning, but a pep in your spirited step.
The drink is full of festive flavors like toasted white chocolate that evokes feelings of lounging in front of a roaring fireplace, draped in cable-knit sweaters. The toasted white chocolate flavor adds a caramelized, sweet touch to the rich espresso this beverage is known for. Topping the mocha is a mound of whipped cream, which is not unlike the first fresh heaping of snow. And bringing it all together is a light dusting of a candied cranberry sugar. The tartness of cranberries combined with the sweetness of sugar makes for a magical touch you only thought possible to exist in the North Pole. I would suggest nudging your barista to not be shy when applying this to the top of your whipped cream. As far as I'm concerned, let it blizzard candied cranberry sugar this holiday season.
Erin Marinan, the miracle maker, I mean Starbucks development team dream weaver who created this flavor says of the drink's conception, "When thinking about a new holiday beverage, we started with the idea of gifts from the heart, and how traditional recipes often become gifts to share." She describes the flavoring process, the best part, saying, "we took white chocolate and applied a culinary twist by slowly roasting white chocolate to brown the cocoa butter and caramelize the milk and sugar. This deepens the flavor, makes it more complex and brings out toasted nutty notes that linger as you sip the beverage." Slowly roasting your way quickly into our hearts, Erin.
Get your wintery white chocolate take on the classic mocha in stores today, November 9th through the Holiday season. And again, as a friendly reminder, let it snow candied cranberry sugar. Let it snow, let it snow, let it snow.