Stellar Is The Newest Makeup Line To Get To Know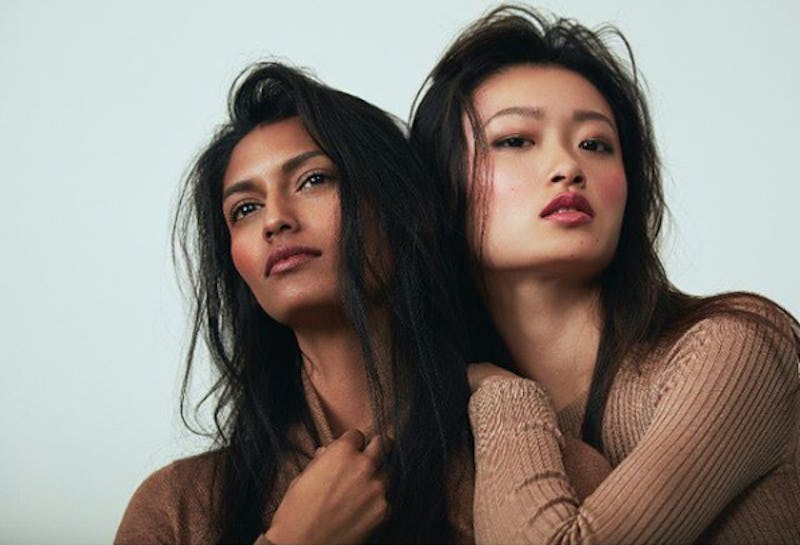 Red alert: an entirely new line just dropped at Sephora. The makeup brand Stellar looks like an Instagram beauty lover's dream in the very best sense. With 22 foundation shades, basics like mascara covered totally covered, and a molten metal lipstick and "cosmic" powder to boot, it's a masterclass in trending — and decked out in chic, minimal packaging that will look great on your vanity (or your social feed). It might just be the next Milk Makeup! Here's a run down of what's in the Stellar makeup range so you can make that shopping list.
In an industry that can often feel like it's at critical mass (at least highlighter-wise) what drives the need for another line? The company claims via a video on their Instagram that their focus on products for medium skin tones sets them apart from the competition. Their selection does indeed focus on mid-tone colors fine-tuned via undertones. It's worth noting that their complexion products have fewer options for those with very dark or very pale skin at the moment, but they also have a range of blushes, lipsticks, and more.
If you've always struggled to find your exact shade in that category, you're not alone. Created by Indian-born, Canadian-raised television personality Monika Deol, according to the brand's backstory, Deol "long felt that medium skin tones are overlooked by brands."
STELLAR Limitless Foundation In S07, $38, Sephora
Priced at $38, the foundation is the most expensive product in the line, which was no accident. According to a video the brand posted on Instagram, it was important for Stellar to remain accessible.
STELLAR Cosmic Blush, $25, Sephora
The range moves from the low $20 range to upper $30s, but most products hover around mid-$20. The Cosmic Blush above is available in three shades, a bright pink, burnished copper peach and coral pink.
STELLAR Limitless Concealer, $27, Sephora
Concealer is available in six colors, ranging from cocoa to light.
STELLAR Cosmic Face Powder In Haze, $30, Sephora
While their Cosmic Face Powder is available in three tints.
STELLAR Absolute Mascara, $22, Sephora
The Absolute Mascara, with its intriguing wand and no-smear, no-flake tubing formula, is the brand's only venture into eye products at the moment.
STELLAR Infinite Lipstick In Dark Matter 02, $22, Sephora
Lips are where things really get interesting, with the Infinite Lipstick line available in satin nudes, reds, pinks, and plums, and a single metallic finish option, Dark Matter 02.
STELLAR Metallic Moon Lipstick In Disco Moon 01, $22, Sephora
And a second, more avant-garde lipstick line, the Metallic Moon Lipsticks.
It's available in four shades (glimpse that golden yellow). Never even knew I needed it.
Images: Courtesy of Brand