Tati Westbrook Just Announced What's In Her Beauty Line & It's Totally Unexpected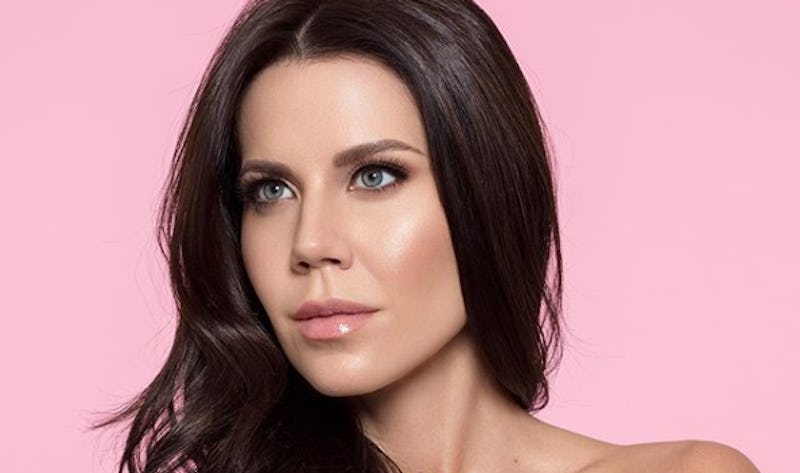 In case you missed the news, Tati Westbrook, aka GlamLifeGuru, is starting her own beauty line. Although some of the info has been kept under-wraps, the big news is finally here. Tati Westbrook's brand Halo Beauty is starting with vitamins, according to her announcement video, because true beauty comes from within. Specifically, Westbrook launched Halo Beauty with one product: a single bottle of vitamins that contains a 30-day supply (two vitamins per day). The vitamins each contain 30 ingredients and are formulated to support hair, skin, and nail health all at once.
YouTubers launching beauty brands is nothing new, but Westbrook's is one to watch. Not only has she invested herself and not tied to any other currently existing line, she's making sure that everyone can get his or her hands on her beauty vitamin. The YouTuber announced in her video that she will be using FedEx to ship her Halo Beauty vitamins and they will go worldwide.
"When we're talking about skin, you guys, a lot of us immediately go straight to the face," the YouTuber says in her video. "And your skin is your largest organ, so this is improving your skin everywhere, head to toe. You're going to have softer, more hydrated, firmer, more beautiful skin."
She says that the brand Halo Beauty is just that — something for everyone. According to Westbrook no matter who you are or where you live, this product is for you. It's vegan, paraben-free, gluten-free, and cruelty-free. Each bottle will be $39.95, and available for purchase on the Halo Beauty website.
That's not the only way that she's giving back to fans, either. She's also making the price as affordable as possible by choosing to initially sell only online. According to her announcement video, Westbrook uses only the best and purest ingredients. She has yet to announce if she will eventually be branching into in-store territory. But, if fan excitement is any indication, there's a good chance it will eventually be available elsewhere.
Westbrook's beauty line launches on March 2 at 3 p.m. ET/noon PT, so get those wallets ready — no matter where you're buying from.
Westbrook has yet to announce what the shipping prices are. Since the products are made in the United States, there's a good chance that international shipping, although available, will be slightly higher.
While the brand is neither skincare nor beauty like fans expected, people from all over the globe are ready to shop the vitamin. This is not your typical one-a-day. According to the video, Westbrook has been using these products for a while now — hence her having such great skin. She also says that the vitamin builds as you take it.
After you see how excited her fans are over the Halo Beauty vitamin, you won't help but join the hype.
It's hard not to get excited when this has been seven years in the making.
Westbrook could have easily just created another eyeshadow palette, brush set, or moisturizer, but she isn't your average YouTuber.
Everything about this product is spot on, according to fans.
It's honestly such a breath of fresh air to see a YouTuber doing something different, and fans are taking notice.
This is what beauty is all about. Dedicated fans that trust a YouTube so much that they'd buy on for their mama.
People are deeming it their favorite brand and it's not even out yet.
The tears of joy are real right now.
Makeup trends and products might fade, but true beauty comes from within. This is genius.
This is a big moment for everyone involved, and fans are happy to be along for the ride.
Needless to say, you should mark your calendars.