The TOMS x Disney Cinderella Collection Will Have You Ditching Flip Flops This Summer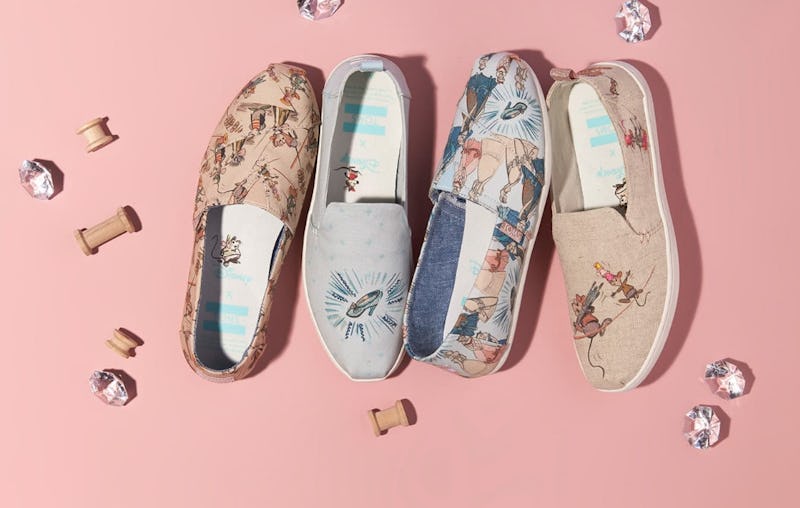 Courtesy of TOMS
Your footwear is going to be fit for a princess this summer! The initial TOMS x Disney Princess Cinderella shoe collection has finally arrived. The first drop of comfy, cozy kicks centers on Cinderella. That's a logical choice — since her signature glass slippers were an important story arc for the beloved character.
As we previously reported, this multi-princess capsule collection will feature multiple styles for women and children. The shoe brand dipped deep into the Walt Disney archives to source the designs, which boast never-before-scene sketches from the Cinderella, Snow White, and Sleeping Beauty stories. These sketches were created in the mid-'30s through 1959 by female artists and animators who were infusing color into the films.
So your footwear is feminist!
Both optical glasses and shades are a part of the range so you can be decked out in Disney Princess accessories from top to toe — quite literally.
The TOMS x Disney Princess range is staggered, with additional collections featuring other faves like Sleeping Beauty and Snow White dropping later in the summer. They will be followed by a holiday capsule collection, as well.
But for now, here's a rundown of what's in the magical TOMS x Disney x Cinderella collection. There is even a modern version of the iconic glass slipper among these adorbs offerings. This is footwear you'll want to live in.
1. The Classics In Blue
2. The Classics In Taupe
3. Deconstructed Glass Slipper
Your summer go-to shoes are here. Thank your fashion fairy godmother for bestowing this style gift upon your feet.
4. Gus & Jaq... Part 2
5. Lace Up Sneaks
The clock is ticking on these shoes being available. Don't snooze — just shop.
6. Gus & Jaq Sunnies
7. Blue Cinderella Youth Slip-Ons
The Cinderella collection is small and focused, featuring so many beautiful and vintage images of one of the most iconic and enduring fairytale characters of all time. You will find yourself falling in love with the Cinderella story all over again.
One of the most awesome things about the Cinderella edition of Disney x TOMS is that it reminds us that being a princess isn't always about the real or imagined tiara on your head. It's also about the shoes on your feet and celebrating the women work worked behind the scenes to add sparkle into the films.
Get shopping this collection before the clock strikes midnight and it's sold out! Who needs slides, flip-flops, sandals, espadrilles, or other open-toe shoes during pedicure season! These closed-toe, super cute Cinderella shoes will supplant those other popular and perennial styles. Wear 'em with jean shorts, leggings, or dresses. They are that versatile!