You Have To See The 'Black Panther' Products In The Vans x Marvel Collab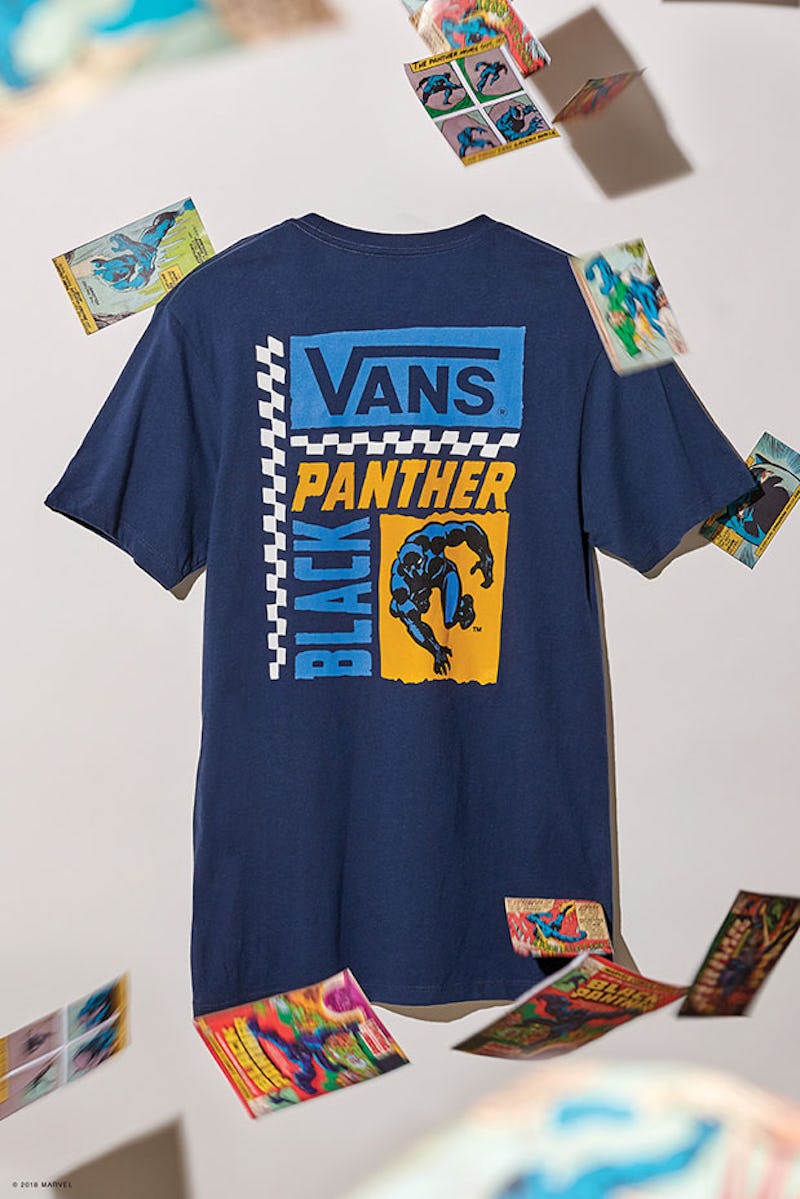 Courtesy of Vans
The latest Vans x Marvel collection dropped on June 8 and it's extensive. There are over 70 items — sneakers, shirts, and accessories. Of course Marvel mainstays like Spider-Man and The Hulk are well-represented by the range. But the Vans x Marvel collection features several Black Panther pieces in the product assortment. The February 2018-released film was a massive success, raking in over $240 million in box office receipts during its opening weekend at the multiplex. Therefore, it makes sense that this fashion collection would include several products connected to the franchise.
It's clear that pop culture fans and comic book lovers care about the characters and will want to incorporate these kicks and beyond into their wardrobes.
Sure, the Spider-Man slip-ons boast super recognizable imagery with the splash of blood red color. Yes, The Hulk checkerboards are rad because they mimic the character bursting out of his clothing when he gets angry via the toes appearing the pop out of the shoe.
But the Black Panther items in this collection are actually the most universally wearable.
There's a tee, a windbreaker, and a pair of high-top sneakers. If Black Panther was one of your fave films of 2018 so far, you are so going to want to shop those pieces first and on the quick.
Our Spidey senses are tingling and telling us they are very likely going to sell out.
There is a Black Panther Sk8-Hi, which references King T'Challa's vibranium suit. It's in the far left of the image above.
This blue tee also features a Black Panther design on the black, with a smaller version on the front. You can your proudly display your love of the brand.
Black Panther is also included in this collaboration via a vintage Torrey Coaches jacket boasting classic-looking comic book art. You can mix and match so many items from this range or you can grab all the pieces that rep your fave superhero or alter ego. You'll be an expertly coordinated superhero fan.
This aerial view should make you want them more.
The Black Panther kicks are even snazzier from the side!
Back it up!
The front view is more simple.
This lightweight and water-resistant jacket boasts the low-key logo on the front.
The Twitterverse was enduring an existential crisis regarding this collection. There are so many awesome pairs of shoes that it will be hard to choose just one pair. But the recurring opinion is that the Black Panther sneaks are not to be missed.
It's a hard choice. We suggest going with both and ASAP!
The desire is palpable.
Here is why we're pretty sure that the unisex Black Panther Sk8 His are going to sell out. Everyone is talking about them.
The other Black Panther pieces in the range are also attracting tons of interest. Because duh.
Who can argue this user's point? These sneakers will go with anything already in your closet. While they are much more subtle than some of the other designs, they are equally as fashionable.
The hype for the collection is certainly real. Shoppers are ready to answer with their dollars.
We echo this sentiment, as well.
The Vans x Marvel collection is available online and in stores right now. If you want to rep your love for Black Panther on your person, start shopping!