TOMS Launched A Disney Holiday Collection That You'll Want To Buy ASAP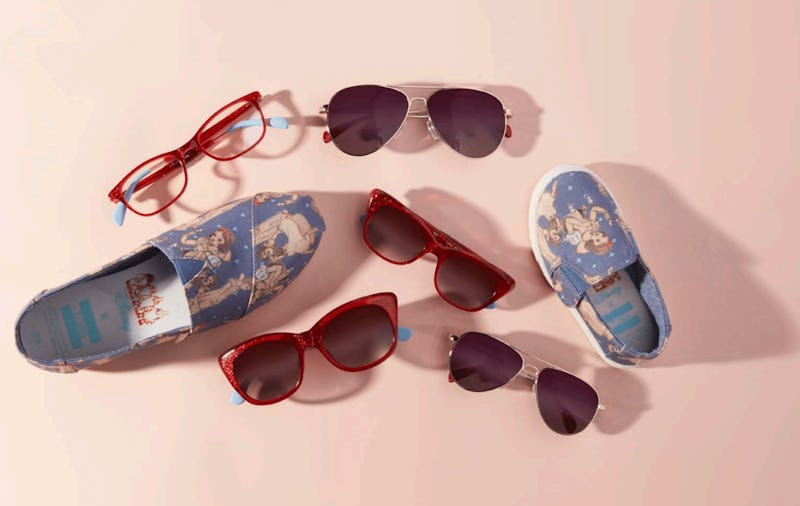 Courtesy of TOMS
The TOMS x Disney Princess collab, which featured a variety of shoes and eyewear, was one of the most whimsical and delightful of Summer 2018. The mashup is back for another round so Disney diehards can whip out their wallets. The TOMS x Disney Princess Holiday 2018 Collection aka "The Extra Magical Disney Capsule" is comprised of shoes, sunglasses, and opticals. This final collection also centers on three iconic and beloved princesses: Cinderella, Sleeping Beauty, and Snow White.
It's not simply their familiar likenesses that factor into the designs. While awesome and aesthetically pleasing, that would be far too simple. Instead, this highly desirable collection features exclusive, never-before-seen artwork created by the all-female Ink and Paint Department of Disney in the mid-1900s.
The images that define this holiday range are female-designed and feature enduring female fairytales and lore. That makes this small but focused collection both fashion fabulous and quietly but powerfully feminist, both vintage and modern, and incredibly wearable.
Plus, you can announce your love for your fave Disney Princess via your footwear and beyond.
The TOMS x Disney Princess Holiday Collection is available as of Oct. 18 via the TOMS site. Everything is under $175 and there are even a few vegan options.
So, yeah, this collection is peak princess perfection.
The range boasts slip-on shoes featuring the raven-haired and red-lipped Snow White. Crimson bows adorn the top of the heel in a glorious detail.
There is a silver glitter, Cinderella-inspired slip-on. This is the new era of the glass slipper.
The Sleeping Beauty Mary Jane is quite precious. The millennial pink base is sweet and the shoes can be worn with leggings, joggers, skinnies, and more. But the best part is the tassel detail that defines Sleeping Beauty's ice blue dress. It's pretty and interactive.
The collection also boasts childrens' shoes in similar designs so you can engaged in some mommy-and-me matching if you so desire.
These poison apple-hued junior's sunnies, complete with silver case and a Snow White cleansing cloth, are adorbs.
There are reading glasses, as well. They are the same crimson shade as Snow White's lips and the poison apple that is so critical to her storyline.
1. Snow White
2. Cinderella
3. Sleeping Beauty
The sparkle in these scarlet shades is subtle but slays all day.
Ditch the basic black or tortoise shell optical frames in favor of this kick of bold, red color. This pair will brighten your entire face and act as a crucial accessory — in addition to improving your vision.
As is the case with all TOMS products, for every product sold from this collection, the brand will donate to someone in need. All products are housed in special TOMS x Disney packaging.
Prices start as low as $49 and go up to $75 for women's and kids footwear. Women's eyewear starts at 79.95 and goes up to 159.95.
These shoes and shades will indulge your inner Disney Princess.