A 'Stranger Things' Collection Exists & It's Gonna Turn Your World Upside Down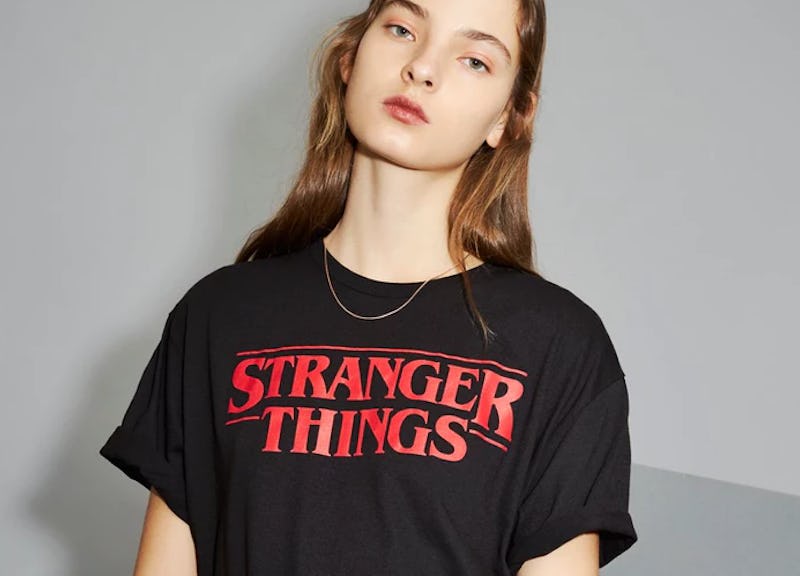 Topshop
Attention hardcore Stranger Things fans: You can now express your love for the sci-fi show while still keeping up your edgy aesthetic. The new Topshop x Stranger Things collection will make sure of it. The launch of season two of the Netflix original series touched down on Oct. 27, and it was met with a great deal of excitement. People canceled their plans to watch the series and made themed snacks and cocktails garnished with Eggos. Now you can even dress the part to watch (or, uhm, rewatch) season two in style.
The fashion line dropped on Oct. 20 online and in select UK Topshop stores. Even if you're on the wrong side of the pond, you can still get your fix with the click of a mouse.
Treating us to a range of 28 pieces, there's a little something for everyone. The collection is both exclusive and limited edition, and the brand has really honed in on the retro aesthetic of the series. Topshop is bringing you printed T-shirts tucked into mom jeans, striped tees that Lucas would love to wear, caps that look like they would be a natural part of Dustin's closet, and even metal lunch boxes that look straight out of the '80s.
'Stranger Things' Raglan T-Shirt, $29, Topshop
But being Topshop, the brand doesn't want you to just throw these pieces on top of sweatpants and call it a day. "Think beyond jeans and trainers, and style yours over floaty blouses and dresses or tucked into a velvet mini skirt," the brand suggested.
Peek some of the range below and start thinking of how you will dress up your own tee.