This Plus-Size Sailor Moon Clothing Line Is So '90s & Here's Every Single Piece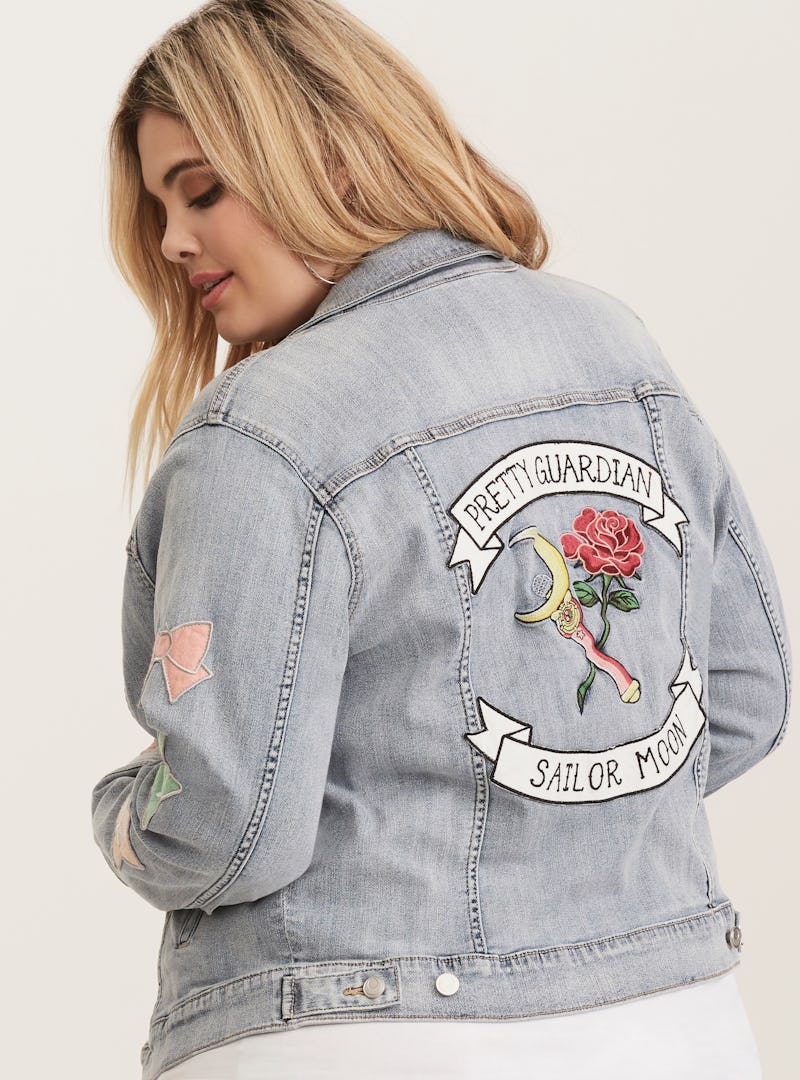 Courtesy of Torrid
Calling all anime fans and '90s pop culture lovers. Torrid will drop the first plus-size Sailor Moon fashion collection on Tuesday, Jan. 9 — and you better be ready. The Sailor Moon pieces will be available via the brand's website, and the utterly wearable collection will give your wardrobe just the refresh you've been looking for.
Torrid x Sailor Moon adds the right dose of '90s flair and these items will pair wonderfully with things already in your closet, since the graphics and details are subtle yet impactful. They're never overly retro, costume-y, or too literal.
The Torrid x Sailor Moon collection focuses on the infamous Japanese shōjo manga comic book character from the '90s. The range includes a trendy denim jacket with patchwork detail, a dress inspired by Usagi's familiar, nautical ensemble, and a tank boasting her transformative phrase "Moon Prism Power, Make Up," and more.
So if you pretty much lived for the escapades of Sailor Moon and her universe-saving friends during your formative years, this collection will speak to your inner '90s child in a modern and fashionable way.
Let's have a look at all of the pieces in the range, the prices of which start at approximately $40 run as high as $100.
An All-Purpose Denim Jacket
Sailor Moon Patched Denim Jacket, $99, Torrid
The light wash denim jacket is adorned with super cute patches. It can be worn through many seasons, especially on those chilly spring evenings and brisk fall mornings.
If you have long locks, you will want to wear your hair in a ponytail in order to show off the design on the back of this topper.
The Signature Sailor Moon Dress
Sailor Moon Skater Dress, $79, Torrid
This adorbs frock is a modern and IRL replica of the dress that Usagi wore.
Look — it's the iconic bow sash. Seriously, could this dress be any cuter? You could even rock this at a '90s-themed bash or during the Halloween season.
Here's the source of inspo, obviously.
A Print Hoodie
Sailor Moon Hooded Cardigan, $65, Torrid
A cozy, hooded cardi is another must-own, multi-season piece. With its smattering of graphics and front pockets, this hoodie can be worn with leggings, skinnies, boyfriend jeans, over a dress or a skirt, and when on the go.
It can be dressed up or down and announces your fandom. But if you are not a Sailor Moon diehard, you can totally pull it off regardless.
A Pretty Kimono
Sailor Moon Kimono, $45, Torrid
The lace-trimmed, loose kimono will add a touch of fun and feminine elegance to any ensemble. It turns up the volume on a pair of jeans.
Check out the moon design on the back. It's such a lovely take on the concept.
Printed Leggings
Sailor Moon Leggings, $39, Torrid
Printed leggings can be tricky, depending on the design. But this pair is the perfect partner for a solid color top in any cut — tank, tee, loose, tight fit, and beyond.
These leggings serve as the foundation of an awesomely layered ensemble.
A Universal Tank
Sailor Moon Lace Back Tank Top, $39, Torrid
This blush tank with Sailor Moon's signature phrase is something you'll wear over and over again until it's threadbare.
The lacy, racerback detail is something else. You won't want to cover it up. But then again, you could (and should) totally pair it with the collection's denim jacket because #options.
There is also a cold-shoulder dress that will retail for $78.90, as well.
While the '90s revival continues to dominate fashion this decade, the Torrid x Sailor Moon range is exactly the '90s infusion your closet needs.