You'll Want This Size-Inclusive 'The Little Mermaid' Collection To Be Part Of Your World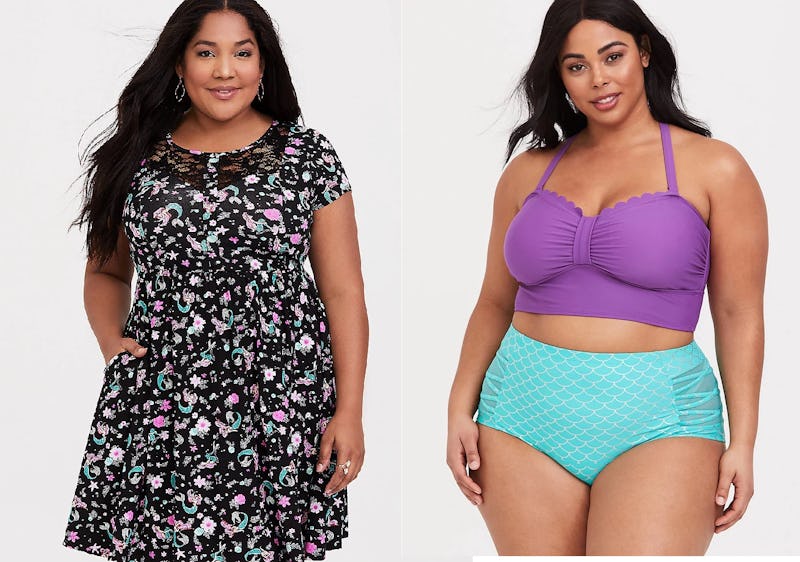 Torrid
If you grew up in the '90s, then chances are you were a pretty big The Little Mermaid fan. You probably drove your mom crazy by brushing your hair with a fork slash "thingamobob," had Sebastian pajamas, and sang "Under the Sea" on repeat. Now with Torrid's Little Mermaid collaboration, you can bring that childhood obsession into your adult life. The collection comes with 16 new pieces that span from size 10 to 30.
The under-the-sea collection will launch on March 21, just in time for The Little Mermaid's 30 Pearl Anniversary. It has been three decades since Ariel brushed off her dad and got legs, and Disney is celebrating the milestone with limited-edition fashion collections. Torrid has teamed up with fangirl brand Her Universe to bring the collaboration to life. The end result is a 16-piece line that includes tops, dresses, activewear, sleepwear, and swim.
As for the aesthetic of the line, it's fit for a mermaid's tastes. The color wheel of the line is blue and purple, just like Ariel's underwater look. Torrid also used pearl and sequin embellishments to bring some of the most iconic characters from the film to life in its pieces.
This isn't the first time that Torrid dabbled with an Ariel-inspired collection. In 2015, Torrid launched a collection inspired by The Little Mermaid, and it had similar looks. In that limited-edition line, the brand offered '50s-inspired dresses with crinoline skirts and sweetheart necklines, as well as Ariel graphic tees, and princess-stamped chiffon blouses.
Then two years later, in 2017, the brand once again released another collection inspired by The Little Mermaid. The line had everything from teal dresses that came in the same color as Ariel's fins, as well as bomber jackets and graphic print leggings. Now that another two years have passed, it looks like fans are just in time for another princess-inspired line. Check out some of the picks from the collection below.
Ariel Bikini
Ursula Mesh Cover-Up
Ariel Floral Skater Dress
Bring a touch of whimsy to your wardrobe this summer with this new Torrid x The Little Mermaid collection. You can never have too much Disney in your life.