Sephora Gives FREE 30-Minute Facials — And Shows You All The Gunk Pulled Out Of Your Skin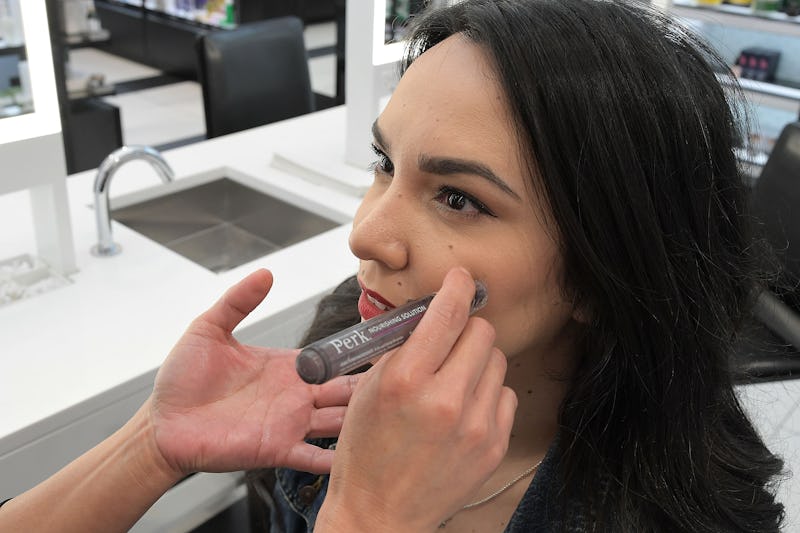 Charley Gallay/Getty Images Entertainment/Getty Images
There's no place that knows makeup quite like Sephora, but it looks like it just became a one-stop shop for facials too. According to previous Bustle coverage, Sephora is giving free vacuum facials to help customers clear out pores. The device literally sucks the gunk out of your face, but that isn't the only benefit from the in-store facial.
The HydraFacial Company has teamed up with Sephora to make for the ultimate in-store shopping experience. The facial, which you can earn after spending $75 in-stores, will quite literally suck the gunk out of your pores. You'll be able to see every single thing that came out of your pores too, just so you know it was worth it.
That's not the only perk, either. According to Business Wire, the device will also "exfoliate, hydrate and nourish skin for instant, glowing results." The consultant will first measure your skin's hydration level, before removing all makeup form your face. After that, they will exfoliate your skin and apply a serum to help nourish and hydrate skin using the brand's products.
Apparently all of that goodness only take 30-minutes to do. Although you get the facial for free, you do have to spend $75 at Sephora to qualify. But, then again, that's not really that hard to do.
All of this is thanks to PERK, a company that created the face vacuum. According to the brand's website, it is "the world's first hybrid facial to merge an in-office exfoliating treatment that includes take-home products to enhance your skin benefits." The idea is to get a facial and then continue the pampering at home with the same product that you used in-store.
"We are thrilled to collaborate with Sephora on the next generation of skincare," said Clint Carnell, The HydraFacial Company's CEO, via a press release. "The partnership makes on-the-go skincare treatments more accessible than ever. Clients that experience the PERK Hydrating Facial will leave Sephora with an instant glow."
The device is not currently available to be bought in-stores though. The only chance to get your skin looking this fresh is to visit a participating Sephora store and experience it there. Unfortunately, you won't be able to take home the vial like you do through the website though. It's a one and done facial.
There are a few catches to the free Sephora facial. The first is that, like noted before, you'll have to spend $75 to qualify for the pamper session. While that means that the facial is not exactly free, you won't have to pay an additional charge. It's not hard to rack up $75 at Sephora though, so consider this a little encouragement for you to take a shopping trip.
The other catch is that not all Sephora stores will be offering the facial. According to previous Bustle coverage, the brand will only be partnering with 100 Sephora stores nationwide. Considering that there are currently over 700 Sephora stores and 386 boutiques inside J.C. Penny's, those aren't great odds.
You'll want to give your nearest Sephora store a call to make sure they have the PERK machine before you go on your shopping spree. As of May 9, there is no website to show you where you can get one, so calling is your best bet.
Of course, PERK also offers the services at select spa throughout the United States. You can go to the brand's website to find a location near you. Unfortunately, it won't be free if you go to any of them outside of Sephora though.
Start getting your favorite Sephora items picked out, because this is as good of a reason to shop as there ever was.