James Comey Got A New Job At America's Top Historically Black College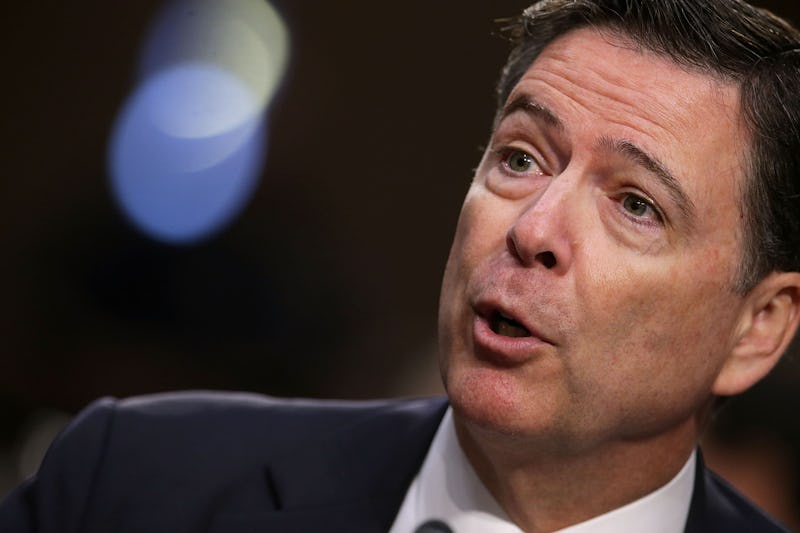 Chip Somodevilla/Getty Images News/Getty Images
In a press release on Wednesday, Howard University announced that it's bringing on a former FBI director to a high-profile lecturing post. Namely, the historically black Washington, D.C. college has confirmed that James Comey will be Howard University's opening keynote speaker this year, and will additionally become an endowed chair in public policy, leading and conducting several lectures.
It's the first follow-up career move for Comey since being fired by President Donald Trump, under perhaps the most controversial circumstances one could realistically imagine. Comey's tenure as the head of the FBI ended unceremoniously on May 9, after which he publicly testified that Trump had attempted to convince him to scuttle the bureau's investigation of former national security adviser Mike Flynn.
In short, it was one of the most explosive firings in recent political memory, and one which could still potentially imperil Trump as far as potential obstruction of justice is concerned. And now, according to Howard, Comey will be paying some more trips to the nation's capital, this time as a featured speaker and lecturer. His first appearance in front of Howard students will happen next month, when he'll welcome students into the 2017-2018 year during the Opening Convocation.
In the statement, university president Wayne A.I. Frederick welcomed Comey to the historic institution of higher learning, considered by some to be the best HBCU (historically black college and university) in the country.
I am pleased to welcome Mr. Comey to Howard. His expertise and understanding of the challenges we continue to face today will go a long way in sparking rich discussion and advancing meaningful debates across campus.
Comey similarly expressed enthusiasm with his new role at Howard, calling it "the perfect place to have rich dialogue on many of the most press issues we face today."
I am honored to hold the King Chair this school year. Howard has a longstanding history of being a vibrant academic community and the perfect place to have rich dialogue on many of the most pressing issues we face today. I look forward to contributing to this remarkable institution and engaging students and faculty alike.
Comey, 56, worked for years as a federal prosecutor before joining the FBI. This will be his second job in academia, having joined Columbia University as a fellow in 2013. The Opening Convocation is scheduled for Sept. 22, so that'll likely be his first public appearance in his new capacity.