Luis From 'Million Dollar Listing: NY' Has Moved On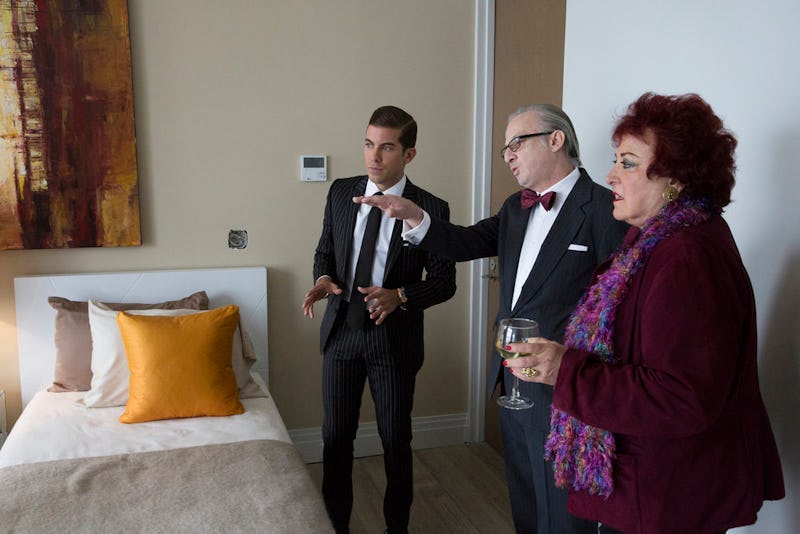 Heidi Gutman/Bravo
The lineup of Million Dollar Listing: New York is changing for the first time in a while, adding Steve Gold, and subtracting Luis Ortiz, the always smiling real estate broker who, according to establishing shots on the show, lived inside the narrowest, most triangular part of the Flatiron building. But what has Luis been doing since the Million Dollar Listing finale? He claimed to be retiring from real estate, leaving the rate race, and going off to enjoy a life free of reality TV's intervention. Then he appeared during the short Million Dollar Listing: Ryan's Wedding spinoff, playing the part of former costar Ryan Serhant's groomsman.
Since then, however, Luis has continued to move on, and maybe that's for the best, considering that he was always struggling a little bit to keep up with Ryan and Fredrik Eglund's ambitious real estate holdings, and he always somehow managed to have bad luck with his big stunts. But the post-retirement life seems to be going well for Luis. True to his word at the end of Season 5, it seems he's moved on from the rat race of highly competitive New York City residential real estate, and that he's never had more fun with life.
He Moved To Paris
Not only did Luis leave behind the Million Dollar Listing part of the show, looks like he also left the New York part. Luis wrote on Instagram:
You may think I have just lost it. ... But perhaps, like Fredrik says, I may have just found it. On March 1st, I am moving to Paris! A city I have never been to before. ... I will be seeing Paris for the very first time when I plan to stay, just like I did in New York. ... I have never been driven by money so my argument, which I don't need to make, is that yes, for now, New York has run it's course for me.
He Has A Beard, But Would Never Change The Hair
Luis' clean cut look led to many, many Ricky Ricardo jokes from his clients over the seasons, but he always stuck to it no matter what. He's since relaxed on the real estate industry's strict dress code, and he's grown a beard, but I guess he just loves his signature haircut.
He's Friends With Fredrik?!
They've come a long way from when Luis threw that bright green tea on Fredrik. Not only did they work together on Million Dollar Listing with less drama since, it looks like they've actually formed a friendship. Luis captioned this photo, "I will see you very soon when you come visit me in Paris! What a great ride my friend!"
He's Addicted To Happiness
Even though Luis retired, he still needs a new gig to replace real estate, and right now it seems like that's he's selling "Happyholic," a vague brand where he sells a couple of gold bands and a sweatshirt emblazoned with "Happyholic," which he defines as "something higher than amazingness."
He Hasn't Returned To Film, But He Loves Video
In his last episode of MDL: NY, he mentioned that he was a former filmmaker. While there's no news about Luis returning to his former craft, he has been filming Instagram videos constantly.
Seriously, He's Still Hanging Out With His Former Co-Stars
And the whole MDL: NY crew got back together in order to celebrate Fredrik's 40th birthday. I'm actually a little surprised that these guys are still friends, or were willing to travel halfway around the world in order to go to Fredrik's birthday party. Perhaps this will be a part of Million Dollar Listing: New York Season 6, or it could just be a particularly lavish celebration. Either way, it looks like Luis is still a part of the Bravo family.