What The Fan Favorite Judge Of 'The Great British Baking Show' Has Been Up To Since She Left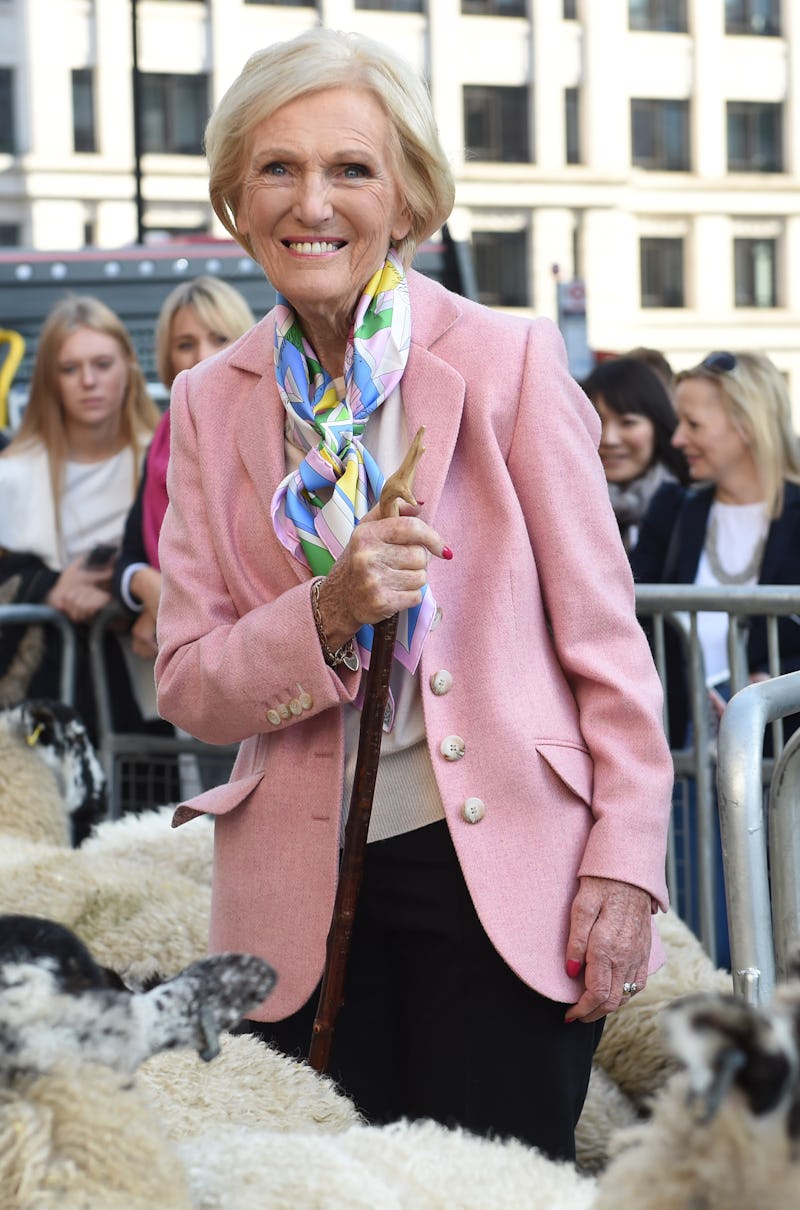 Stuart C. Wilson/Getty Images Entertainment/Getty Images
Mary Berry is best known for being an adorable judge of the Great British Baking Show, and American viewers will get to see her once again as a new (to us) season premieres in the U.S. on June 22. According to Food & Wine magazine, Berry and the other two original judges of the Great British Baking Show left the program last year after it moved to a different channel. Luckily for American viewers, the season that's about to air on our side of the pond is simply one that was filmed before that move was made. So what's Mary Berry doing now that she's no longer a judge on the famed competition show?
The icon has certainly kept busy. She has a new cookbook out — one that the Irish Examiner reported is a reworking of one she wrote in 1981. The outlet referred to Fast Cakes by Berry as "packed with snappy instructions and cakes to rely on," and the U.K.'s Henley Standard newspaper also reports that she appeared earlier this week at a local food festival, answering fans' questions and signing books for them.
She's also been judging on another show — BBC One's Britain's Best Home Cook — so she's definitely not leaving TV just yet.
In an interview with the U.K.'s Times, she made it clear that she was bringing her trademark sweetness to the newest show, and she didn't want it to be a drama fest like other reality television shows. "We don't want tears," she said. "No, not at all. We don't want any of that. We want people to be encouraged and inspired."
According to her, it was a natural time for her to leave the Great British Baking Show, which is referred to as the Great British Bake Off when it airs in the U.K. She wanted to delve into meals as a whole, not just desserts. "I'd done seven [seasons of Baking Show] and I was ready for new pastures. I know about judging and I love doing it. Judging a meal, a bit of savory, you know," she said in the same interview. "With Bake Off, we'd got people baking. Now we can get people cooking. I can't wait for that to happen. We want to inspire people to be a little bit more adventurous."
She also said in an interview with Good Housekeeping U.K. that she had no regrets or hard feelings toward her old home with the show. "I did seven years and loved every minute of it," she said. "But you have to go some time, don't you? It is all about the brilliant format. All the family can watch and there's no bad language. It has continued in exactly the same format and place."
Other than show business and cookbook writing, it appears Berry is enjoying her life with family. In the interview above with the Times, she mentioned that she makes a point to cook with her grandchildren. That care and teaching that must go into cooking with children seems to trickle over into how she treats her shows' contestants.
Speaking with the Radio Times, she said she's not a fan of people crying or getting upset on TV when something goes awry, and it's obvious she would never attempt to elicit a response like that in search of entertainment, which is what makes her such a lovely judge to watch. "If it's going wrong, tell them how they will do better next time," Berry told the outlet. "And find something nice to say." In a world of such antagonistic reality television, it's refreshing to see Berry and her gentle wisdom steering people into the right, no matter what show she's doing it on.