I Ate At The Cheetos Restaurant & It Was The Best Meal I've Ever Had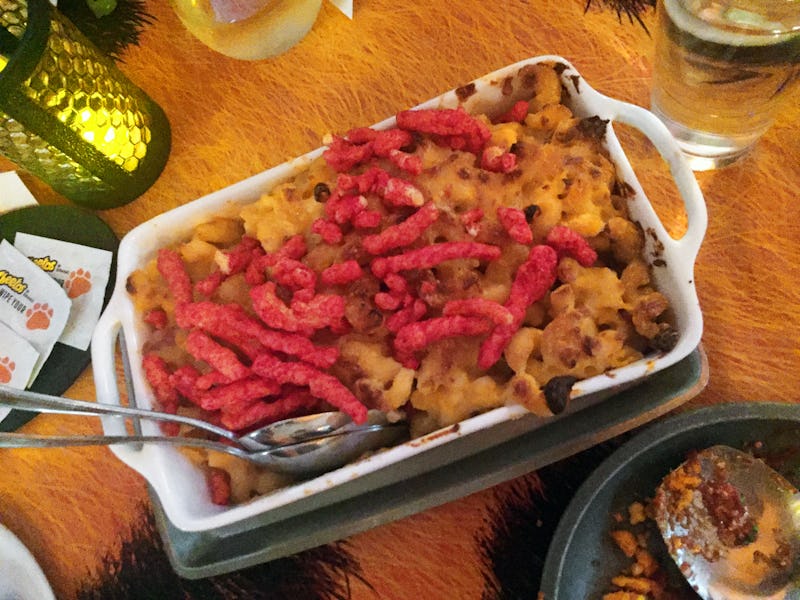 Tanya Ghahremani/Bustle
I had a name, once. Tanya. I remember that I never liked it much, but that's all I can recall. That life and all those trivial concerns feel far away now, like they were nothing more than a momentary crackle of static in an endless stream of white noise. No — that name and that life as Tanya is gone now, and all that remains is the orange-tinted ghost that I am now, a mere memory of who I used to be. What I'm trying to say is that this is the story of how I, Tanya Ghahremani, died at the opening of the Cheetos pop-up restaurant, the Spotted Cheetah, in TriBeCa on Tuesday, after eating the best meal of my entire life there.
Thankfully, the Wi-Fi's great in heaven.
When my former self heard about the Cheetos pop-up restaurant opening in New York, she was skeptical. "A Cheetos restaurant?" I asked my co-worker, incredulously. "I don't know. I haven't eaten Cheetos in years." I remember being slightly comforted by the fact that Anne Burrell, who I already respected a lot thanks to my late-night binge-watching sessions of The Worst Cooks in America (which Burrell has judged before), was creating the menu. Additionally, dishes were only between $8 and $22 dollars, which is actually fairly reasonable for New York dining.
I RSVP'd.
The day of the opening finally rolled along, much to my fear and excitement. Upon walking toward the orange restaurant, my nostrils were immediately hit with the overpowering scent of Frito Lay's Cheetos®. It was at that moment that I realized I was an idiot for eating an entire burrito bowl for lunch earlier that day, because holy shit, how was I going to fit all the food we were about to be served in my body?
I resolved to make room. Didn't someone once say that miracles happen once in a while, if you believe?
The restaurant itself was a sight for sore eyes. Orange streamers hung from the ceiling, and photographs of our lord and savior, Chester Cheetah, adorned the walls. A tree with Cheetos delicately hanging from its branches sat in the corner. The tables were covered in orange cheetah print. The toilet paper was orange. Buckets of crushed up Cheetos sat in the corner of the open facing kitchen.
Once we were seated at the table, the dishes began rolling out fairly quickly. Of course, there's nothing but speedy service at the Cheetos restaurant.
The First Course: Appetizers
Purrfectly Fried Green Tomatoes
The first dish was a place of fried green tomatoes, lightly sprinkled with white cheddar Cheetos over an arugula salad. I felt pretty confident after seeing this dish that I would be able to consume all of the food without my stomach exploding; however, after taking a bite and savoring the richness of the green tomato, the decadence of the panko/flour/Cheetos crust, and the delicateness of the arugula salad, I realized I wasn't out of the woods yet. The crust was perfectly fried, and the tomato slice was just firm enough that it didn't leave the breading soggy, but still juicy enough that it was an A+ tomato.
This food was good, and I was gonna want a lot more of it.
Cheetos Meatballs
Even as I'm now the orange-tinted ghost of Tanya Ghahremani, I maintain that this meatball — which replaced breadcrumbs with Cheetos — is the best meatball I ever had in my short little life. Topped with ricotta cheese and pulverized Cheetos, it tasted like a culinary creation worthy of being a finalist in Top Chef. I'm not even that much of a red meat fan, but honestly, this meat/Cheetos blend was so savory and light, I could have eaten 10 more of these. Also, turns out, Cheetos taste amazing when they're bathed in a creamy tomato sauce?
I think that shortly after consuming one of these meatballs is when I began to go into shock over how delicious everything was, and I briefly wondered if this was the feeling Eminem had been describing in "Lose Yourself" when he rapped about sweaty palms and weak knees. Probably.
Cheetos Grilled Cheese + Tomato Soup
I don't know if I have the best eyesight now that I'm a ghost (everything is tinted orange from all the Cheetos dust, which is honestly a great way to see the world), but I feel like I look pretty alive holding that grilled cheese dipped in a cup of creamy tomato soup. What this picture doesn't reveal is how my taste buds exploded from savoring that much delicious cheese in one course. This grilled cheese slice was stuffed to the brim with bacon, tomato, cheese, and Cheetos, and was more decadent than any truffle grilled cheese I've ever tried in my life. The bread was so perfectly toasted, it just melted in my mouth.
The Second Course: Entrées
Flamin' Hot Mac N' Cheetos
If there's one thing I remember most clearly from human life, it is the fact that this Mac n' Cheetos dish was the best thing anyone has cooked in the history of ever. It was packed with three different types of cheese — cheddar, fontina, and parmigiano — blended with white cheddar Cheetos puffs and crispy bacon, and topped with just enough Flamin' Hot Cheetos to add a tiny bit of spice. (Or, as a celebrity chef would probably say, flavor.) The pasta itself was also creamy AF, which paired well with the crunchiness of the Cheetos.
Anne Burrell is a goddamn genius.
Flamin' Hot Límon Chicken Tacos
You think the best tacos are in Texas and California? You're wrong. They're actually at the Cheetos restaurant in New York City, and they feature Flamin' Hot Cheetos on top of chicken, beans, and sour cream. They were spicy, but just enough that I ended up wanting more rather than searching for water.
If anyone disagrees with me, please tell them they are wrong. I cannot, because I am a ghost, and every time I try to talk, I just cough up Cheetos dust.
The Third Course: Desserts
Cheetos Sweetos Sweet And Salty Cookies
Did you know Cheetos could be sweet? Cheetos Sweetos are cinnamon sugar puffs, and they are just as good as they sound when they're baked into a cookie. It sort of tasted like those sugar cookies they used to give out around the holidays in elementary schools but better, probably because they were created by Anne Burrell and not your neighborhood grocery store. It was paired with a caramel sauce topped dusted with Cheetos Sweetos, and it was around this time that I, the orange-tinted ghost of Tanya, began to leave my human body.
But not fully. There was still one more dish.
White Cheddar Cheetos And Cheetos Sweetos Apple Crepes
If there was such a thing as ghost food for orange Cheetos ghosts, I would only want it to be these crêpes because wow, were they amazing. Featuring a cheese filling and caramelized apples on top, they were better than any crêpe you can find in France, because Cheetos.
Guys? The Spotted Cheetah was good. It was maybe one of the best meals I've ever eaten in my life, and yes, I'm including that time I ordered takeout disco French fries at 3 a.m. and ate them in bed while watching old episodes of Kitchen Nightmares. Sorry, disco fries.
Anyway, The Spotted Cheetah will be open in NYC until Aug. 17, and will offer up these dishes and more (Cheetos-adorned nachos, anyone?). It's not clear if the pop-up restaurant will travel elsewhere in the country, but hey, dreams do come true sometimes. If you don't have a reservation yet, you can join the wait list at The Spotted Cheetah's website, but full disclosure— the wait list is extremely long. You can also just stand outside to smell the Cheetos cheesy goodness from afar. Trust me, your friendly neighborhood Cheetos ghost: It's worth it.