Ben Aldridge's Next Role After 'Our Girl' Is VERY Different to Captain James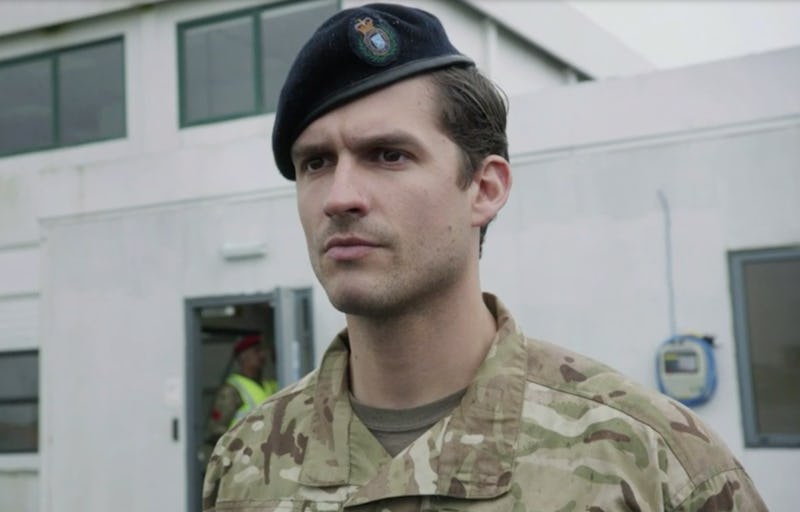 BBC
The latest series of BBC drama Our Girl wrapped up in the most excruciating way — less a cliffhanger than a cliffjumper, if you'll excuse me being unnecessarily literal. And there's no word yet from the BBC as to whether there'll be another series to resolve that brutal ending, or any confirmation on which cast members could be returning. But allow me to answer at least one burning question for devotees of one Captain James: what's Our Girl's Ben Aldridge in next?
Emphatic spoiler alert if you're still not caught up: in the final episode of the series, 2 Section succeeded in rescuing Sumon, the kidnapped son of Inspector Chowdhrey and his wife Barsha. But they were subsequently pursued by the cartel responsible for the kidnapping, as Radio Times recaps, who backed them right up to the edge of a cliff. Their desperate response? To fling themselves off the cliff, on Captain James' orders, ending the dramatic series with the cruelest of unanswered questions. Who survived the jump from the cliff, if anyone did? Is yet another devastating 2 Section death lined up — or multiple, even? And how, then, can Captain James fans sustain themselves until blessed with a potential new series?
According to his IMDb page, Aldridge doesn't have too many projects lined up after Our Girl, though it's entirely possible he's working on things that haven't been officially announced yet. First up is Admission, a short film written and directed by Juan Pablo Di Pace — who plays Fernando on Netflix's Fuller House and appears as Russo in Admission — and Andrés P. Estrada, his long term creative partner.
The film's IMDb synopsis reads, "A South American boy moves to London to study dance and volunteer for disabled people, as he discovers that life isn't always as easy as it seems". It stars Pablo Castelblanco as lead Javier, and is currently on the programme for the LA Shorts International Film Festival. In Admission, Aldridge reportedly supplies the voice of an immigration officer — and that's about all the information out there about his role so far.
Next up is a pilot currently in pre-production for American channel The CW, home of historical romance Reign, in which Aldridge appeared as King Antoine de Bourbon. Skinny Dip is an adaptation of a novel by Carl Hiaasen, according to Deadline; the site reports that the show will follow lead character Joey, played by Sarah Wright, as she seeks revenge on her cheating husband Chaz — who only went and tried to murder her on a cruise ship. And yes, Aldridge is playing Chaz, adding another less than stellar husband to his repertoire (sure, Captain James' marriage to Molly had officially ended when he hooked up with Georgie, but he certainly didn't hang around). Deadline writes, "Aldridge's Chaz is a real jerk, an 'environmentalist' who drives a bright yellow Hummer and is having an affair with a sexy hairdresser." Sounds lovely!
And that's about it as far as upcoming acting projects go for Aldridge, though he does have another somewhat intense challenge ahead, for which he'd best channel the energy of Captain James: he's running a 10 mile Tough Mudder race in September, an extreme obstacle race that includes shimmying up ropes, enduring electric shocks, and ending up completely coated in mud. Delightful! According to his Just Giving page, he's running it in support of Send a Cow, a charity that works in Uganda, Burundi, Zambia, Ethiopia, Kenya, Rwanda, and Lesotho to tackle rural poverty.
So to sum up, here's where to spot Our Girl's Ben Aldridge (or his voice) next: in short film Admission, as an immigration officer; in CW pilot Skinny Dip, as an odious husband; and on an obstacle course somewhere in the UK, entirely saturated with great British mud.
And maybe, if we cross our fingers fervently enough, in the next series of Our Girl?