Reformation's San Fran Store Isn't Like The Others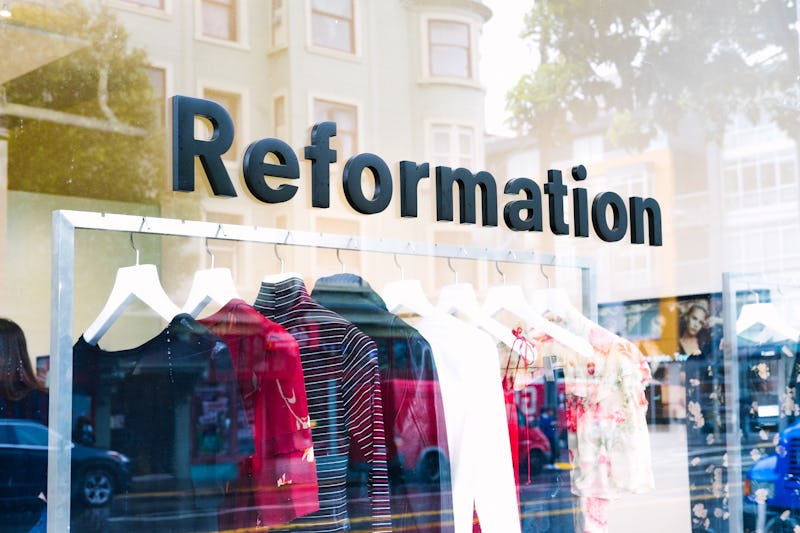 Courtesy Reformation
If you're not already on the West Coast, you're going to want to be very soon. Reformation is opening a San Francisco store, and it's completely turning the typical in-store shopping experience on its head. I'm talking totally tech-ed out everything from the shopping to the fitting rooms. What is Reformation's San Francisco store address, you ask? Here's everything that you need to know about the opening, because it's one that you definitely won't want to miss.
Think of everything that you hate about shopping in-store — terrible dressing rooms and limited size selection, being just a few. Well, Reformation is about to change that. For their first-ever San Francisco store, the brand is going full tech savvy. There are touchscreen monitors, digital fitting room attendees, and "magic wardrobes".
Reformation's San Francisco store is located at 914 Valencia Street, San Francisco CA and will open on Feb. 21.
Since San Francisco is the tech-driven and eco-focused capitol of American the location and concept goes hand-in-hand. The goal is to make customers' shopping experience the most convenient as possible. You'll be able to virtually add clothing to your fitting room with the touch of a button and you'll even be able to control the lighting as you try items on. That's pretty incredible, if you ask me.
"We created a shop we'd actually want to go to ourselves, with a blend of Internet and IRL," said Reformation Founder and CEO, Yael Aflalo in a press release.
Just like they do with their clothing, the brand was environmentally conscious while building the store. They used low VOC paints and reusable totes and hangers made from recycled materials. Basically, everything from the clothing to the walls are good for you and the environment.
Of course, there will also be fabulous clothing as well. The SF store might be a merge between online and in-store shopping, but the items will be just as trendy as always. This will be their fifth worldwide store. Something tells me that it's going to be the best too.
Mark your calendars, because this is one shopping experience that you won't want to miss.