A True Crime Special Is Delving Into An Unsolved Hollywood Mystery With Compelling New Evidence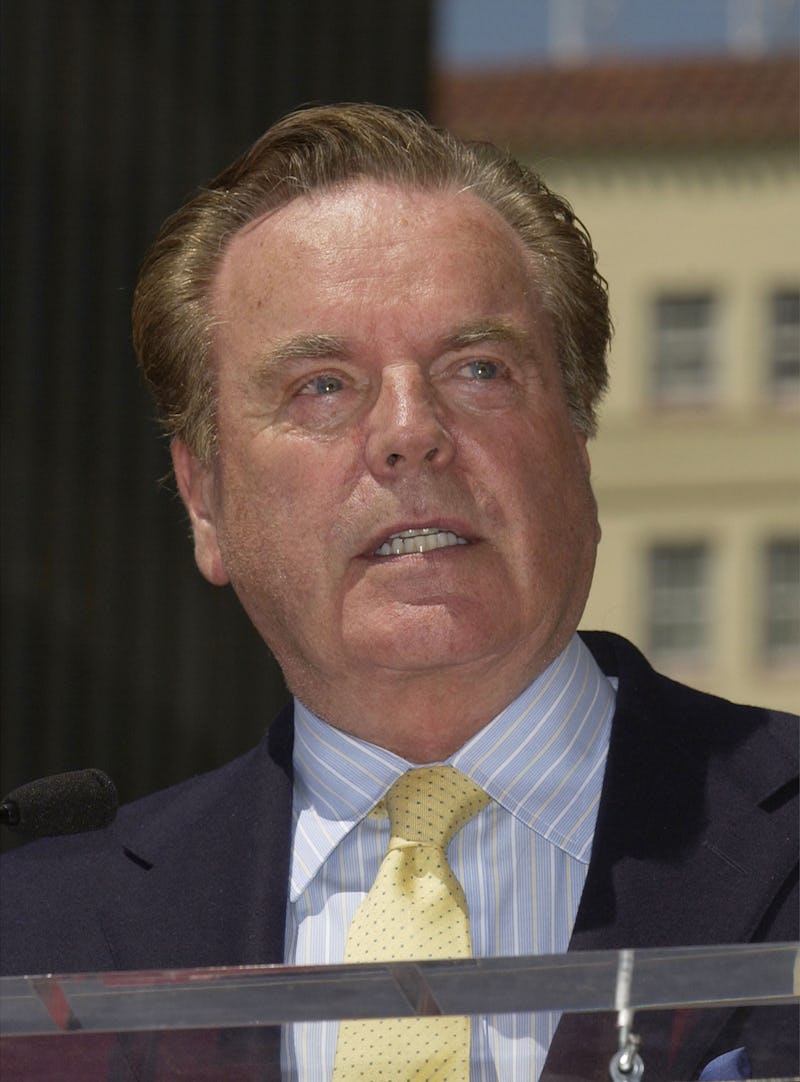 Vince Bucci/Getty Images Entertainment/Getty Images
According to The New York Times, after Natalie Wood drowned to death in late November of 1981, the LA authorities initially ruled her death an accident. Thirty years later, in 2011, the case was reopened as new evidence came to light. Natalie Wood: An American Murder Mystery premieres April 16 on Investigation Discovery and delves into the suspicions, rumors, and questions still surrounding the movie star's death. But what has Wood's former husband Robert Wagner been doing in the nearly four decades since that Thanksgiving weekend? What is Robert Wagner doing in 2018?
Wagner, now 88, has had a long and busy career in Hollywood. He made his first (uncredited) appearance in the 1950 film The Happy Years at the age of 20, and has been working steadily ever since. You probably remember him as the diabolical Number Two from Austin Powers, or as George Lytton in the 1963 classic, The Pink Panther (and then again in 1983 in The Curse of the Pink Panther). He's also well-known for playing the globetrotting millionaire Jonathan Hart in the series Hart to Hart, which ran from 1979 to 1984, and spawned numerous TV movie spin-offs.
Most recently he's appeared as Anthony's father, Anthony DiNozzo Sr., on NCIS — a role he's played semi-regularly since 2010. At the moment he's slated to appear in the upcoming TV series, Donna's Inferno. According to the IMDB synopsis, the premise of the series is that Donna (played by Stefanie Estes) is locked in a building "with seven demons up from Hell on a working vacation." Wagner stars alongside Estes as The Evil One, presumably the head honcho of the working demons. Donna's Inferno is set to premiere on Halloween 2018, but as the show is still only listed as being in pre-production, a lot could change in between now and then.
His jam-packed resume isn't the only thing that has kept Wagner in the spotlight, however. His high-profile relationship with Natalie Wood — and her subsequent mysterious death — has kept Wagner the subject of media attention for much of his career. Wood and Wagner first married in 1957, according to The Guardian, when Wood was just 19 and Wagner nine years her senior. Despite enjoying a reputation as a Hollywood power couple, the pair's relationship had its ups and downs. They divorced in 1962, only to remarry again a decade later. (In 1990, per CBS News, Wagner married actor Jill St. John. The couple is still together.)
After their remarriage, while Wagner was at the peak of his Hart to Hart fame and Wood was filming the movie Brainstorm, the pair were sailing on their yacht off the coast of Santa Catalina Island in Southern California, per Time. Christopher Walken, Wood's Brainstorm co-star, was also present for the trip. On the night of Nov. 28, 1981, the three stars were all together on the boat. The next morning, Wood was found dead, floating in her nightgown and jacket a mile away from the boat. An autopsy found bruises on her body and revealed that there was alcohol in her bloodstream.
The Hollywood Reporter noted that although rumors abounded following Wood's death, the official death certificate declared it an accident. In 2011 however, according to Rolling Stone, the captain of Wood's yacht, a man by the name of Dennis Davern, came forward with some previously undisclosed claims. Davern claimed that he had lied in his early accounts of what happened that night. In his more recent statement, he described an argument occurring between Wood and Wagner just before she went missing. In an interview with NBC News's David Gregory from 2011, Davern claimed to have tried to intervene in the right after Wagner smashed a wine bottle on the table, but maintained that Wagner told him to leave. Davern also claimed that no one — himself included — made any effort to search for Wood until the morning.
A February 2018 episode of CBS's 48 Hours, titled Natalie Wood: Death in Dark Water, attempted to weave the new pieces of evidence from Davern and two new witnesses into the already established narrative. Per Variety, Lt. John Corina of the Los Angeles County Sheriff's Office told 48 Hours that Robert Wagner is now considered a person of interest in Wood's death. "As we've investigated the case over the last six years, I think he's more of a person of interest now," the officer said. "I mean, we know now that he was the last person to be with Natalie before she disappeared." Per the Rolling Stone article mentioned earlier, Wagner has declared publicly that he was not involved in his wife's death. And the piece also notes that Detective Ralph Hernandez told 48 Hours that investigators have not been "able to prove [this death] was a homicide."
According to The Hollywood Reporter, Wagner has declined to talk to the authorities about the night of Wood's death as a part of this new investigation. However, in the above interview on CBS This Morning, 48 Hours reporter Erin Moriarty made sure to clarify that Wagner is not a suspect in Wood's death, merely a person of interest who authorities believe might have some crucial information that could help them solve the case once and for all.