7 Signs You Have A Food Intolerance, Not An Allergy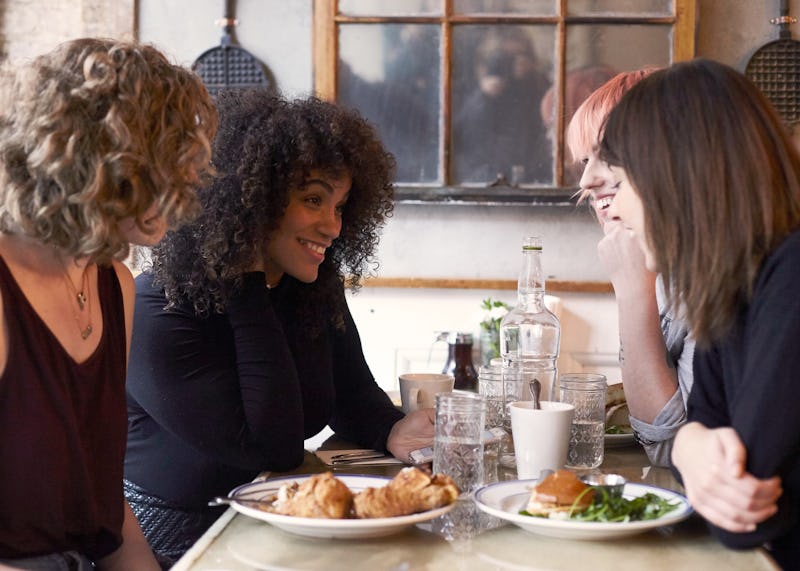 Hannah Burton/Bustle
If you always feel kind of ~off~ after eating a particular dish, you might think you're allergic to it — but that isn't necessarily the case. One of the biggest myths about food allergies is that they're just "more extreme" food intolerances, but there are actually major differences between a food allergy and a sensitivity: The two things are actually medically distinct and related to completely different parts of bodily function. It's important to be able to tell them apart, to make sure that you're not accidentally taking the wrong steps to keep yourself healthy. The confusion, allergy organization Allergy UK tells Bustle, "has promoted a growing enterprise for inappropriately trained people to sell many alternative tests purported to diagnose allergies and intolerances." So don't trust what you find on the health food shelf: know the difference.
It's important to note what a food intolerance is and isn't. It is a digestive issue that means your body can't process the food in your system properly, for a variety of reasons: lacking the correct enzymes (as in gluten or lactose intolerance), irritable bowel syndrome, sensitivity to food additives, or stress. It is not a dislike of a food or a tendency to get sick if you eat past-its-use-by-date sushi. The EU Safe Food Council explains, "Food poisoning from eating contaminated food, and food aversion — where someone just doesn't like a particular food (but will not be ill if they eat it) — are not food hypersensitivities."
So you may be feeling sick because of bad food hygiene, or because you don't really like what was on your plate — but that discomfort should clear up soon, and is avoidable by practicing good food hygiene and avoiding food you're averse to. And of course, the best way to tell if you're intolerant of a certain food or allergic to it is by going to the doctor — and going to the doctor is really the only way you should ascertain if you have what could be a serious allergy. Here are some ways you may be able to tell if you have a food intolerance, rather than an allergy.
This article was originally published on