What Is Liz's Deal On 'The Bachelor'?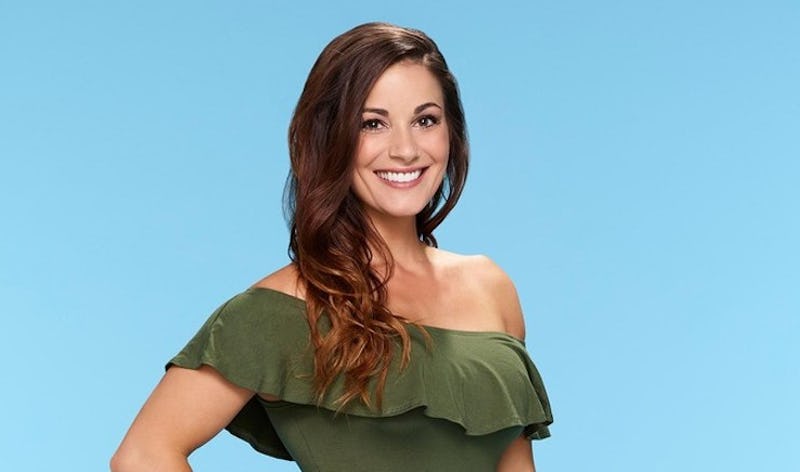 ABC
Finally, Chris Harrison was not lying through his perfect teeth when he says, "in our most dramatic season yet." Nick Viall's season of The Bachelor threw a huge twist at us in the very first episode. One of the lovely ladies who climbed out of the limo was not laying her eyes on Nick for the very first time. Elizabeth "Liz" Sandoz has actually met him once before, and when I say "met," I actually mean that they hooked up. This is clearly unprecedented and I don't even think Nick knew it was coming. So, what's really going on with Liz on The Bachelor? That is the big question being discussed on this week's installment of Bustle's Bachelor podcast.
On this episode of Will You Accept This Podcast? , which you can listen to here, Bustle Senior Entertainment Editor Kelsea Stahler and Romper Senior News and Entertainment Editor Allison Piwowarski are back and ready to figure out exactly what Liz is all about and even get a visit from Bachelor Nation alum Ben Zorn, who was on Kaitlyn's season and can reveal what Nick is really like away from the cameras. Of course, Liz is a huge topic of conversation after the premiere episode aired and for a very good reason. There are a lot of coincidences and curious pieces to the Liz and Nick puzzle.
See, she happens to be besties with Jade Tolbert (formally Roper) and was even the maid of honor at her wedding to Tanner Tolbert. This is where things get interesting. Who else was at their wedding? Why, Nick Viall happened to attend that shindig as well! According to Liz in her video package for the premiere, these two struck up some serious chemistry and spent the remainder of the evening together after the wedding festivities had ended. Nick even asked her for her number but she declined to give it to him because she, "thought he was just trying to be nice." Of course, she plays coy about the whole thing, which makes her motives for appearing on The Bachelor even more suspicious to both Nick and the podcast hosts, though she claims that she is only there because she wanted another chance with Nick.
The whole issue here lies in the fact that Liz is suddenly claiming that she has been wrestling with her leftover feelings about Nick and feels like she wants another chance. Does she really, though? Allison seems to agree with my assessment and thinks that Liz is not there for the right reasons and could just be meant to up the drama. After all, The Bachelor franchise is all about drama. Kelsea is not quite ready to make a final decision on the matter and needs more time to see more Liz's personality and her interactions with Nick. Both ladies do agree that Liz's flip-flopping about her reasons for coming on the show are concerning, to say the least.
Whatever lead to Liz appearing on The Bachelor, she is sure to bring some serious drama for the ride. When you are the only woman in the mansion who has hooked up with the bachelor, things could get interesting. Check out other episodes Bustle's Bachelor podcast here to stay in the conversation as this season continues throwing twists our way.