9 Pink Gins That Taste Delicious & Make For Peak Summer Instagram Gold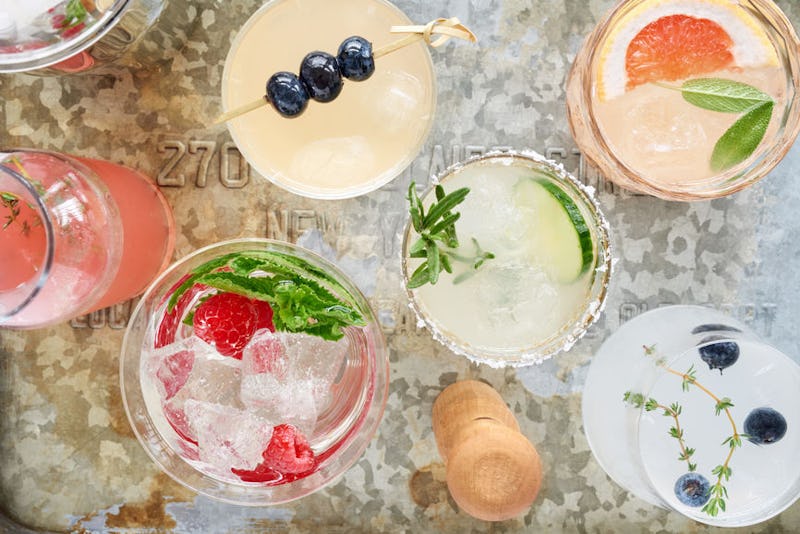 Jill Chen/Stocksy
It's the drink of the summer that is ubiquitous at BBQs and rooftop bars, but what is pink gin made from? According to Barschool.net, pink gin is no different from regular gin save for the addition of red fruits — strawberries, raspberries, red currants, rhubarb, and even grapefruit — which lend the drink its blush hue and a delicately sweet and fruity flavour. The good news is, the sweetness in the gin is derived purely from the fruits, meaning no added sugar.
Interestingly, miles away from its current guise as the Insta-drink of choice for cosmopolitan millennials, pink gin actually has its origins in the form of a cocktail cooked up in the 19th century by the Royal Navy, who combined Plymouth gin — which is typically sweeter than dry London gin — to Angostura bitters in the 19th century in a bid to cure seasickness, according to Gin Foundry.
Enjoy it with a good-quality tonic and plenty of ice or follow the advice of Gordon's and mix yourself a fresh take on an Aperol Spritz by adding lemonade, prosecco, and a sliced strawberry. According to The Independent, reports from Diageo (which owns Gordon's) state that pink gin now accounts for 6 percent of all its gin purchases, but the brand has plenty of competition. Read on for my rundown of the best of the best, and stock up in time for the weekend — because, guess what, the heatwave is back baby.
So there you have it — get involved with the pink gin renaissance.