ColourPop x Hello Kitty Shadows Will Be Sold Solo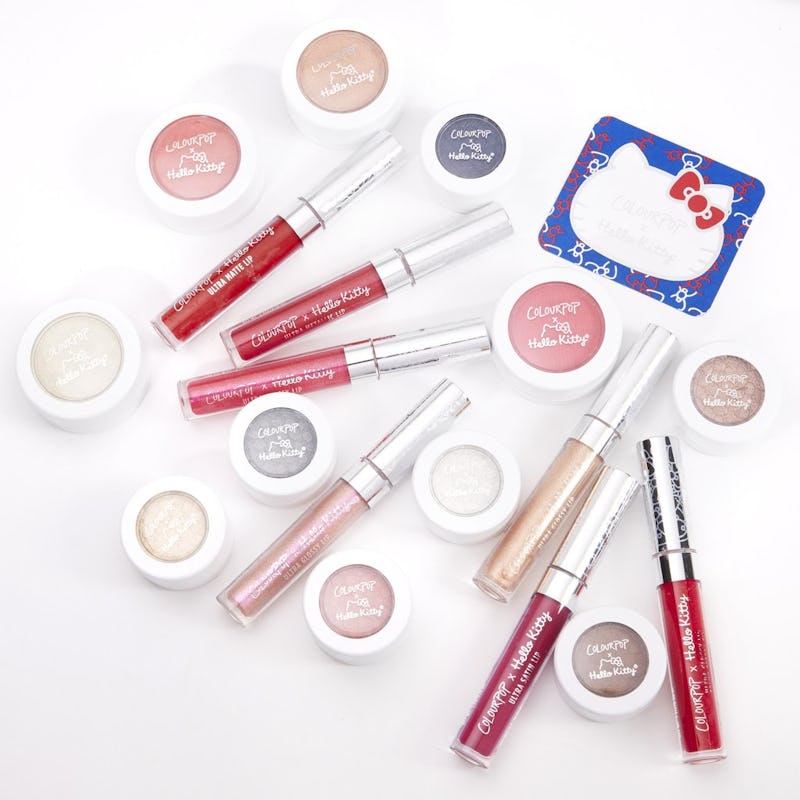 There appears to be two critical updates regarding one of my favorite makeup partnerships. The ColourPop x Hello Kitty collab is a limited edition collection, not a permanent addition to the indie brand's offerings. The CP x HK products, which include lippies in the Ultra Matte, Ultra Satin, and Ultra Glossy formulas, eyeshadows, and more, are still in stock on the brand's site, which is its sales platform. But they will be saying sayonara soon.
The last call for Colour Pop x Hello Kitty is slated for Wednesday, Feb. 1, according to handwritten notes that select vloggers received from the brand. However, those note cards, which are such a sweet and personal touch in the fast 'n' furious digital age, also indicated another key piece of intel. The ColourPop x Hello Kitty eyeshadows, which are currently sold in sets, are being released as single-serve eyeshadows. When can you buy the CP x HK eyeshadows individually?
The HK eyeshadows are available as singles on Monday, Jan. 23.
Bustle reached out to ColourPop reps to confirm the single CP x HK eyeshadow launch, the Last Call date, and if the individual shadows will no longer be available after Feb. 1, since logic would dictate such.
Here's the note.
This is the Trendmood caption accompanying the photo. Screenshots of the same note, addressed to MakeupByJesi, were also posted online. It would appear that ColourPop is offering the shadows on their own for just over week, giving fans and customers another go at the collection in a new format before it sails off into the sunset for good. We can wish and hope that single HK shadows will stick around longer, but that doesn't seem to be the case.
#HelloColourPop was fun while it lasted and it's getting another boost. I personally grabbed three lippies and the makeup bag because I heart Hello Kitty and I heart ColourPop's on-trend, affordable, and quality products.
ColourPop x Hello Kitty... you're leaving us so soon!
This screen grab displays the products. As you can see, the shadows aren't listed as singles just yet.
#HelloColourPop is super lip-driven. But there are other treats with which to play.
Here's the recap: Single shadow versions of the ColourPop x Hello Kitty eyeshadows are coming on Jan. 23. The collection's finale is set for Feb. 1. Write that down now and shop accordingly, ColourPoppers.
Image: Trendmood/Instagram (1); Courtesy of ColourPop (6)