Team 'Arrow' Will Be Reeling From A Major Betrayal In The Second Half Of Season 6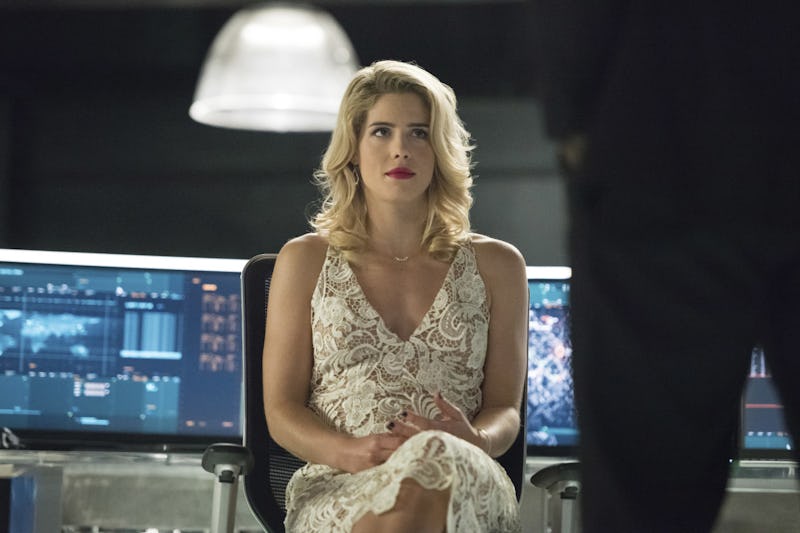 Dean Buscher/The CW
Arrow may still be calming down after "Crisis On Earth X" shook everything up, but the team is taking a break after Tuesday's midseason finale on the CW. Arrow Season 6 returns Jan. 18, 2018, according to TVLine. When it comes back, there may be some major adjustments to Oliver Queen's team.
Supergirl, The Flash, and Arrow all return from hiatus that same week, early next year, starting with Supergirl on Jan. 15 — Legends of Tomorrow will return as well, but that date is TBD at the moment. Black Lightning will also debut on The CW that week after The Flash, but it is not officially a part of the Arrow-verse at this time.
Until that week in January comes, fans will just have to keep occupied with the Dec. 6 Arrow midseason finale and all of the cliffhangers it will potentially provide. According to the official episode description for "Irreconcilable Differences," the team on Arrow will have their hands full before the break. "Quentin Lance is kidnaped by Black Siren and Cayden James, who are looking to trade Lance's life for a weapon of mass destruction. Oliver and Team Green Arrow must figure out a way to save Lance while still keeping the city safe." Sigh. This real-deal Oliver/Felicity wedding isn't happening, is it?
Oh, and there's also the fact that the team has a rat, or a mole, or some kind of rodent in its midst. According to the promo above, someone on Team Arrow went to the police and is willing to reveal Oliver's secret identity as the Green Arrow. So add a turncoat to the list of problems facing Star City, unless another doppelgänger has managed to slip through the cracks in space and time.
When the show returns, the team will clearly be dealing with the fallout from that inevitable betrayal. Who could it be? There have always been some tensions running through this team, but this is pretty major. Oliver isn't the only one who would go down if the witness gives him up. The entire team is full of vigilantes who work above and beyond the legal system.
The Jan. 18 episode is titled "Divided" — producer Marc Guggenheim revealed that on Twitter — and that definitely does not bode well. Is Arrow about to stage its own Civil War, like in Marvel comics? And in that case, who's going to be Team Deathstroke?
In an interview with Entertainment Weekly, actor Manu Bennett talked about returning to the role of Slade Wilson on Arrow and whether or not he might become a villain again. "I've had enough conversations with Marc Guggenheim to know that we're not going to steer off course with Deathstroke," he said. "If anything, we're going to steer forward with Deathstroke." Will Slade return in 2018 to continue this journey? "If this season is a sign of where they're going with Deathstroke, then I'm a thankful actor, because to put that mask on with the elements that are involved this season, you want drama, well they've written it."
It'll also be interesting to see how the team reacts to the alternate universe adventure in the episodes to come. Not only did Oliver and Felicity get married on a whim, but they both met an Earth-X version of Oliver, who is a full-fledged Nazi.
The Arrow-verse just keeps getting richer and richer with new characters, variations on old characters, and at the end of the day, the same old romantic "office drama" that never seems to end well. The midseason finale of the show that started it all could break up the team for good, but that just means they'll have to pick themselves up and redefine themselves yet again when Arrow returns.