When 'Brooklyn Nine-Nine' Season 5 Returns In 2018, The Precinct Will Be Facing New Challenges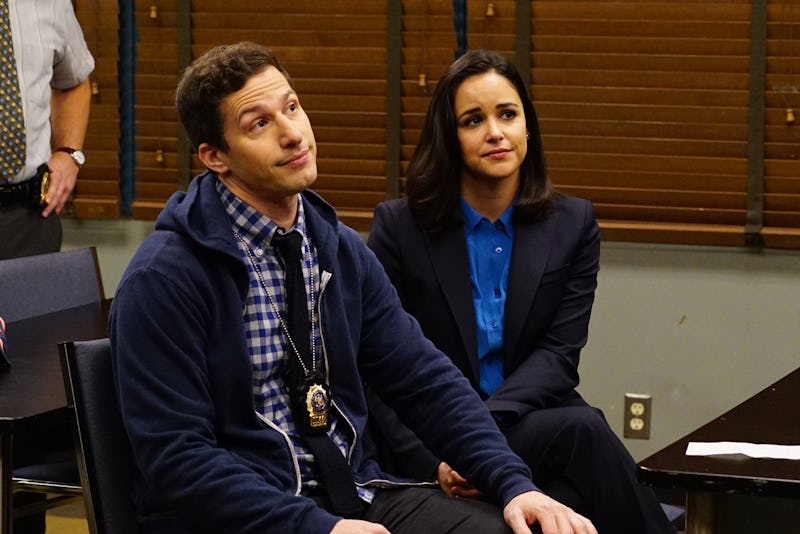 FOX
Brooklyn Nine-Nine is keeping every member of the team busy: Amy Santiago and Jake Peralta are planning their wedding; Captain Raymond Holt is in a tricky situation with a crime boss; and Rosa Diaz came out as bisexual. When Brooklyn Nine-Nine Season 5 returns in 2018, the goofy yet heartwarming shenanigans are sure to continue, including Jack and Amy's big day. The one-hour midseason finale airs on Dec. 12, but a date isn't yet set for the show's return. However, the pattern of previous seasons signals a return sometime in January.
According to the IMDB episode guide, Season 4 had a similar December hiatus and returned early January of 2017 for a two part-episode before breaking again until April. In Season 3, the show was on winter hiatus from Dec. 13, 2015 to Jan. 5, 2016, and then aired new episodes pretty consistently through the end of April.
And fans should be happy to hear that this particular Nine-Nine hiatus won't be long, because the show does have a way with cliffhangers. There's a lot at stake currently that may heighten in the midseason finale. Most notably, Captain Holt turned to crime boss Seamus Murphy (guest star Paul Adelstein) for help getting Rosa and Jake out of prison and may soon deal with some consequences. And usually on this show, when one character is in trouble, the entire group put their badges on the line. The synopsis for the second half of the midseason finale reads:
"Holt owes Seamus Murphy a favor, so the precinct searches for a loophole that will allow the captain to keep his end of the bargain without breaking the law."
The family feel of the series is something that's stayed consistent, even as the storylines have matured.
Dan Goor, Brooklyn Nine-Nine showrunner, spoke to Variety about the evolution of the show, specifically how the work happening in the writers room will go through more changes as long as the show is on the air. Goor said:
"I think as the show ages, the other thing is just trying to make sure the writers are constantly finding new but believable and funny aspects of the characters and stories to tell. In the beginning, it's easier to come up with stories but harder to figure them out. But later, there are fewer stories but it's easier and easier to break them."
As the characters grow and become more specific, the show has been able to reach new creative places, exploring unexpected relationships and more backstory. The voice of each cop and administrator at the Nine-Nine is so clear by this point that delving into deeper layers becomes easier, and more rewarding for audiences. Who would have thought, for example, that Season 5 would see Rosa bonding with Hitchcock and Scully over sitting.
But the Rosa moment that still has fans talking was when she revealed to Boyle that she's currently dating a woman and identifies as bisexual. She tends to try to keep her personal life to herself, but this storyline will surely stretch into the second half of the season, since it's less a storyline and more a core piece of who Rosa is. Stephanie Beatriz spoke with Variety about her excitement over her Rosa's coming out. She said:
"I was so excited about it because as somebody who identifies as bi — queer — I just had nothing like that when I was growing up. The gay characters I can remember were most often stereotypes...And as someone who's bi, you have absolutely nothing — no representation at all. And to be able to try to do something like that on our show and have a character come out as bi was really important for me."
The show has gotten a reputation for being refreshingly inclusive, and Rosa' coming out is the next step in that journey. When Brooklyn Nine-Nine comes back for the second half of Season 5, the Fox comedy will continue to bring the socially aware laughs.