Instagram's Favorite Skin Brand Launched An Avocado Mask To Remind You Of '90s Sleepovers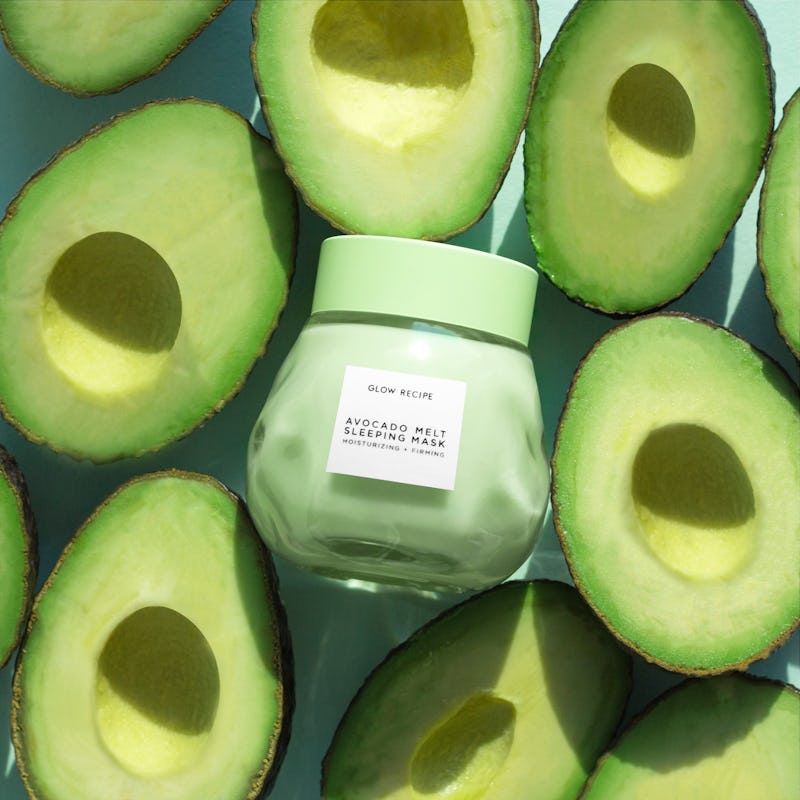 Courtesy of Glow Recipe
Skin care junkies are about to be extremely excited because one of Instagram's most photographable brands is launching a brand new product, and it's going to give you serious flashbacks to those green masks of 90s sleepovers. Glow Recipe's Avocado Melt Sleeping Mask is the latest addition to the brand, and the sneak peek courtesy of Sephora's YouTube channel and co-CEO Sarah Lee is going to have skin care enthusiast counting down the days until launch.
Update: Sephora has since removed the original video from their YouTube channel.
If the name Glow Recipe sounds familiar, good, because it should. The Korean beauty brand began as a K-beauty curator, a place to shop product mean to demystify the world of Korean Beauty. Now, however, creators and CEOs Sarah Lee and Christine Chang have made Glow Recipe into its own brand, and it's been a stunning smash. In fact, it's been so incredibly popular that their iconic Watermelon Glow Sleeping Mask had a 5,000 person waiting list before it even launched.
Now, the brand is expanding again with their Avocado Melt Sleeping Mask, an overnight hydrator for the skin that's focused on natural ingredients and a pillow proof formula to transform your skin. One (of many) of the best parts of the mask is that it's launch is just around the corner.
According to the video announcement, the new sleeping mask from Glow Recipe is set to launch online at Sephora on Nov. 26, and it'll be in stores in December.
In the video, Lee breaks down all of the reasons why the new Avocado Melt Sleeping Mask is going to be your new obsession, and honestly, not the least important reasons are that the bottle is shaped like an avocado (too cute, I know) and it's a gorgeous green a la all of those masks you used in middle school. This beauty, however, is far more advanced than those messy mud masks. Plus, the color is actually a natural tint from the avocado, there's nothing fake in this beauty.
If you're already a fan of the brand's Watermelon Glow Sleeping Mask, the texture of the new avocado-based mask will full much more creamy, but don't worry about it transferring onto your pillow. The Avocado Melt actually does melt into your skin to prevent it from getting all over your bed.
Inside, you'll also find ingredients like honey for anti-aging, hydration, and firming. Plus, the mask includes PHA or polyhydroxy acids, an ingredient meant to resurface the skin in a way that's more gentle than commonly found AHAs or BHAs.
As for the price, the brand has announced that it will retail for the same price as their Watermelon Glow Sleeping mask. Fans of the brands will be totally fine with the $45 price tag.
If you want to be one of the first to get your hands on the new Glow Recipe Avocado Melt Sleeping Mask, mark your calendar for Nov. 26. The new goodie from the brand is coming just in time for all of your holiday hydration needs, and with it's ultra-cute bottle and perfect green hue, it'll make the perfect Instagram post while it treats your skin.