Kim K's Holiday Makeup Collection Includes A Massive Glam Bible Full Of Every Product You'll Ever Need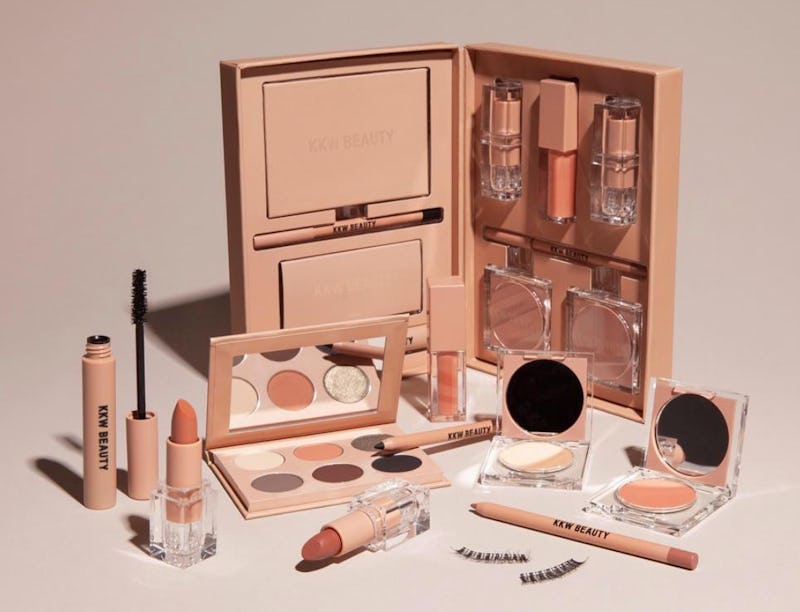 Kim Kardashian West's KKW Beauty is taking you to church — the church of makeup, that is. You will be a believer in the power of KKW glam this holiday season. The brand and its fearless leader shared a sneak peak of the KKW Beauty 2018 Holiday Collection and it's even better than you imagined. This is the stuff a makeupista's dreams are made of.
The KKW Beauty Glam Bible Smokey Volume I arrives via the KKW Beauty Site, which is the brand's main sales platform, on Black Friday, Nov. 23 at 3 p.m. ET/12 p.m. PT. If you are out and about, hitting up the mall, Walmart, Target, or any other brick and mortar retailer, you will need to halt what you are doing and either hop on your phone or head home and shop via the comforts of home by snagging this beauty vault.
The collection features a brand new, six-pan Eyeshadow Palette in stellar and universally wearable neutrals, a crème eyeliner, one set of false eyelashes, mascara, crème lip liner, two crème lipsticks, a gloss, a blush, and a highlighter. The 10-piece suite will cost you $150. It's basically a complete set that caters to all of your features.
This holiday assortment will allow you to recreate some of Kardashian's signature looks.
It's basically the whole Kim Kardashian kit and kaboodle.
Here is the KWK Holiday 2018 Glam Bible in flat lay form. It's a full look under one roof.
The mattes and metallics in the palette will assist you in creating the perfect and multi-dimensional smoky eye. You can purchase the palette on its own for $30.
If KKW swears by these products, so can and so should you. Notice that its dubbed "Volume 1." That would seem to suggest that there is a Volume 2 in our future. Eep!
Are further volumes and versions on deck for Holiday 2018? Or is Volume 1 an intro for others that will follow in 2019? Anything is possible when it comes to Kardashian and Kardashian-adjacent beauty brands, which are known for frequent product drops.
For now, we can simply marvel at the gorgeous products that comprise Volume 1 and plan to shop 'em on Black Friday. They will help fans and followers mimic KKW's instantly recognizable hallmarks — sultry, smoky, and sooty eyes and nude lips.
The Glam Bible Smokey Volume 1 will make you a believer in the power of makeup, of products, and of Kim K.'s scope and sphere of influence. If you are a makeup vet, you will dig this set. If you are a novice who finds yourself somewhat intimidated by a vast array of products and how to coordinate them, this Glam Bible eliminates all the guess work and does the leg work for you.
The products appear designed to work in concert with one another so you can just use them as you wish and to your comfort level.
Yes, Kim, you are indeed right. The Glam Bible looks like a surefire hit. It's a wearable, timeless collection that is affordably priced considering how much makeup is contained within.
This user sums up all the Glam Bible feels. Black Friday might be a day that you usually reserve to shop for others. But it's totally fine to flip the script and gift yourself with this.
It's a need for some and a want for others.
Mark your calendars for Nov. 23 — all you Keeks fans and stans.