Moschino x Sephora Makeup Has A Release Date Now & Fans Are Seriously Freaking Out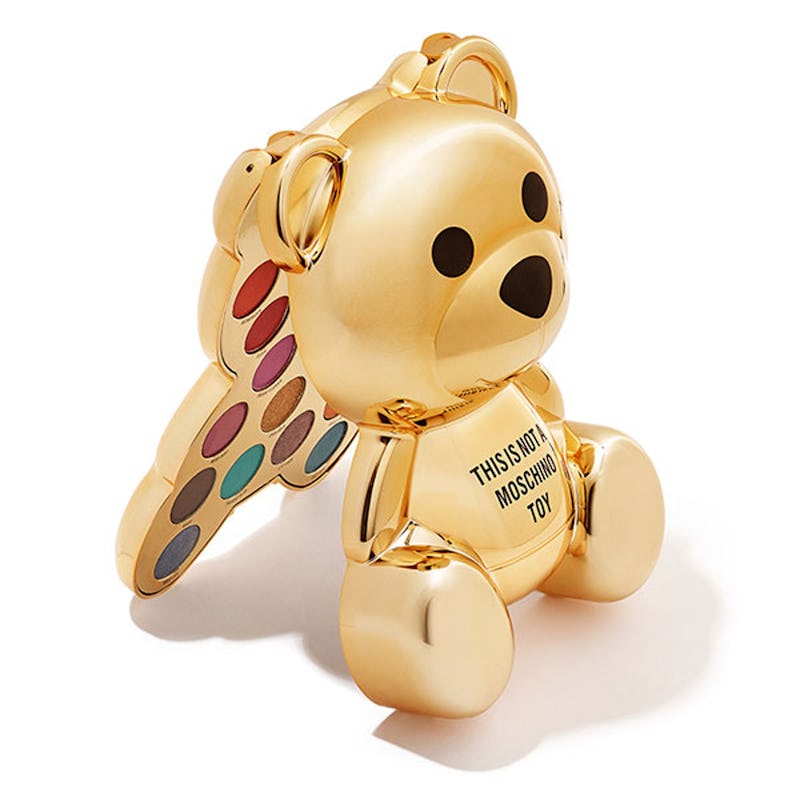 Courtesy of Moschino
Teddy Bear Time is coming to Sephora. The Moschino x Sephora makeup collection, the packaging of which is anchored by a collectible, gold teddy bear motif, is coming soon. Insanely soon. Like so soon that the drop date is slightly more than a week away. Can you handle it, makeupistas and beauty obsessives? When is the Moschino x Sephora beauty collection available to buy?
According to a post on the official Sephora Instagram, the Moschino makeup range and accessories will arrive on Friday, Aug. 11. That gives you just enough time to plan your budget, to pick out which pieces you want the most, and to let your excitement get the best of you.
The products are super cute and pop culture kitschy. So, basically, they are totally on brand for Moschino.
The set's hero products IMO are the eyeshadow palette and lip glosses. Plus, they allow a new customer to get a piece of Moschino. If you can't afford the pricy, Jeremy Scott-designed fashions, you can still experience and connect with the brand via this collection.
Scott posted a bunch of pics of model Devon Aoki rocking the Moschino x Sephora products.
Get ready to overdose on the gilded cuteness that is Moschino x Sephora.
Isn't this cute AF?
The lip gloss x teddy bear charm set is ace.
This palette mimics a mini shopping bag.
Bears, bears, everywhere! This collection is a gateway to glam and to a high-end brand via makeup. It's also adorbs x 10.
Makeup lovers are preparing for a taste of makeup heaven via this collection.
#ByeMoney.
The excitement of beauty junkies pretty much radiates from these Insta comments. Go ahead and make a note in your calendar for Aug. 11.