A Museum Of Ice Cream Beauty Line Exists & There Are SO Many Sprinkles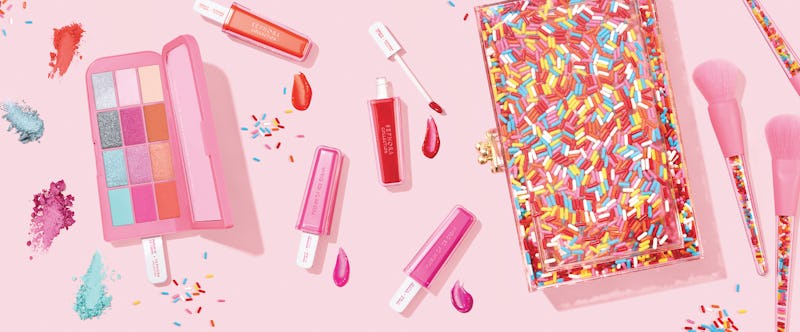 Museum Of Ice Cream
Everyone's favorite Instagram-friendly museum is about to drop a makeup collaboration, and the items look good enough to eat. There is a Museum of Ice Cream x Sephora collaboration in the works, and it's going to give your bathroom cabinet or desk vanity a pretty pop of color. These items will be too good to hide in a drawer.
The two brands came together to create a limited-edition line which will combine the imagination of MOIC and the beauty know-how of Sephora Collection. "Each of these makeup essentials and accessories were inspired by the excitement both ice cream and beauty bring to one's life," MOIC wrote on its site. "Filled with bold colors and delicious designs, this collection features all of the flavors needed for self expression and creativity."
The collection might be limited-edition but it won't be hard to find, as one will be able to shop the full collection at all Sephora US and Canada stores, as well as online. If you happen to be in San Francisco you can also shop the collection at The Pint Shop both in-store and online, with the exception of getting the Rainbow Sherbert Lashes.
All the products are cruelty free since Sephora never tests on animals, and the line is open to all people. MOIC made it clear on their site, writing, "Male, female, non-binary, young, old- our makeup line is meant to promote self expression and FUN for everyone!"
If you're wondering why this collaboration happened to begin with, MOIC has an answer. It might seem a little out of left field for a museum to try to reach its audience through makeup, but seeing how the MOIC is all about expressing your creativity — and makeup is just another way to tap into your innovativeness and express yourself — it makes perfect sense.
"Inspired by our vibrant and inclusive experiences and signature MOIC motifs, this collection is meant to foster and encourage creativity," MOIC shared. "We believe that like ice cream, makeup is universal language — one that connects many of us through a shared interest."
The line will be available starting September 20, and it will be a six piece collection. The collab will feature a 12-pan eyeshadow palette that comes in the shape of a popsicle and has matte and shimmery frosting-inspired shades, as well as popsicle-themed lip glosses that come in four lip smacking hues. There is also a brush set that comes with a sprinkle-themed clutch that is meant to mimic MOIC's iconic sprinkle pool, and the brushes have colorful sprinkles decorating the handles. You can also expect rainbow-hued faux-eyelashes, and a face palette that comes with bronzer, blush, and highlighter packed in a pink wafer.
Lastly, there is a charm bracelet pack that's decorated with cute charms like ice cream cones, gummy bears, and hard candies, and comes with three cream highlighters and two lip and cheek tints.
According to the Instagram account @Trendmood1, the eyeshadow palette will clock in at $42, the lip glosses will be $34, the brush set is $64, and the charm bracelet package is $24. Now all you have to do is wait for the end of September to snap up this sweet treat!