The Yeezy Boost 350 V2s Are Coming Really Soon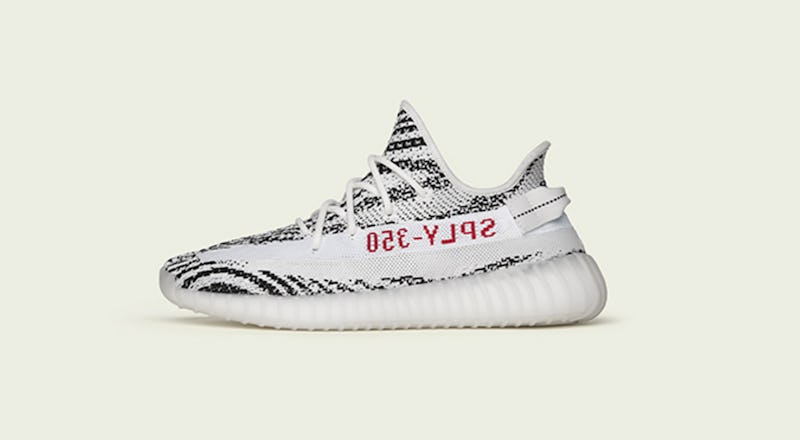 Are you ready for a "Boost," courtesy of your feet, Adidas, and Kanye West? OK, enough with the riddles! A new version of the Yeezy Boost 350s is coming! West's Adidas Yeezy Boost 350 V2, which is black, white, and red, arrives this month! No, I am not kidding. But at least you have some time to prepare if you want to try and shop these shoes.
West's kick s are akin to fashion unicorns and they are really, really hard to nab, as they are accompanied by a lot of hype and are surrounded by a legit shopping frenzy. When, exactly, are the new Yeezy Boost 350 V2 sneakers available to buy?
Your wait time is short. The latest edition of these sought-after and high fashion kicks drops on Feb. 25, according to Women's Wear Daily. If you are a sneaker obsessive, put all of your Saturday plans aside if you want to score these shoes.
An exact shopping time for the new Yeezy Boost 350s is TBD as of press time.
Here's what's new and different about the Yeezy Boost 350s. According to WWD, they are black and white Primeknit Uppers, with a mirrored "SPLY-350" in red on the side and a semi-translucent rubber sole. You can see all those details in the picture below.
Snazzy, right? They are the ultimate in athleisure. Or "ath-yeez-ure." The "SPLY-350" looks cool since it's backwards.
I know your next query. How much will the Yeezy Boost 350 V2s set you back, wallet-wise? They come with a $187 price tag, so says WWD.
Sneaker fiends will be able to shop the Boost 350s at Adidas.com, select Adidas stores, and Yeezy Supply. Fans can also make in-store reservations to attempt to purchase the shoes. You can also attempt to shop via the Adidas Confirmed App.
There's a lot of work for a pair of sneakers. But if you love the look of the Yeezy Boost 350 V2, and eventually score a pair, all of the effort is beyond worth it! Fans and customers can sign up for email alerts on the Adidas site. There is also a store locator.
For sneaker lovers, a new Yeezy Boost drop is a #ByeMoney fashion moment. Good luck scoring a pair of Yeezy Boost 350 V2s.
Images: Courtesy of Adidas (5)